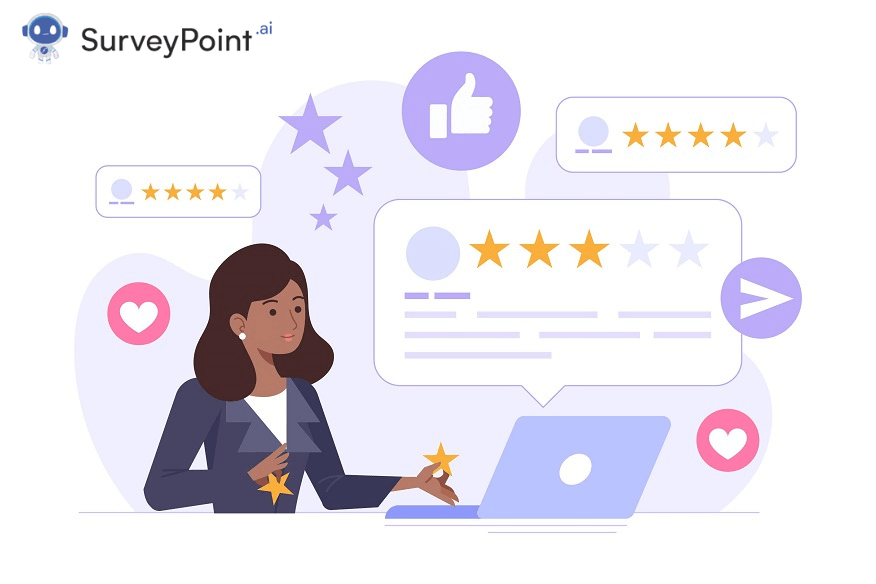 With the use of 360-degree feedback systems, employees can provide and receive constructive criticism. Learning and development efforts can potentially benefit from the information provided by this feedback. While it's important and helpful to convey feedback daily, a more systematic strategy is needed to foster growth over time. So, how might one go about doing this? If you want to answer this question correctly, you must determine which 360 feedback tool is right for your business.
Our list of good 360-degree assessment tools can serve as a good starting point for your search. Stay hooked to explore the best tools for 360 feedback.
What's A 360 Feedback Tool?  
It is precisely what it sounds like: a 360-degree feedback tool. The system allows you to monitor your employees' productivity, performance, and interpersonal relationships. If used correctly, the tool can enable companies to offer the right path to their employees and keep their productivity in check. 
Top-Rated 360-Degree Feedback Software 
With an apparent consideration of all the features, we have created just the list you need. Here are the top 10 360 feedback tools to use in 2022. 
1. SurveyPoint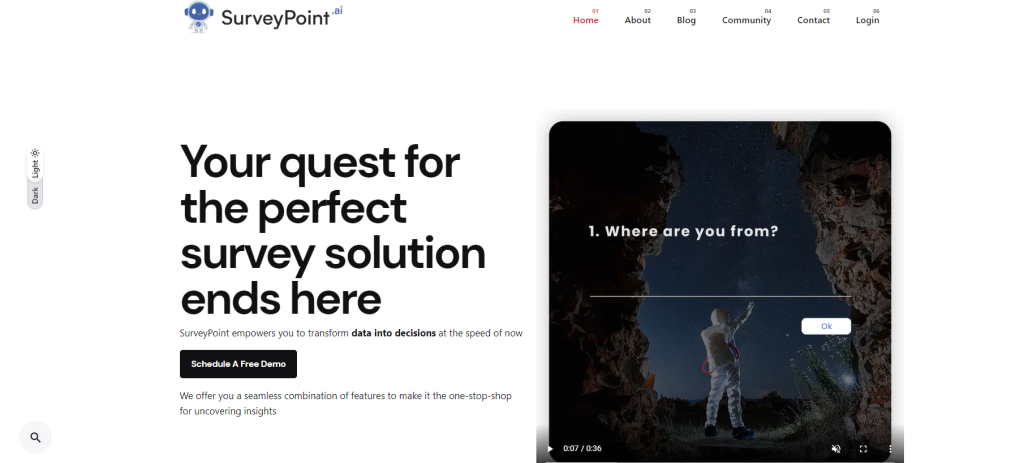 A highly interactive dashboard loaded with advanced features, SurveyPoint makes data collection easy. Besides allowing the users to build polls, feedback forms, and surveys within seconds, it also monitors data tracking intelligently through analytical monitoring. 
The tool follows a multi-UI build, allowing users to make conversational charts and forms. This leads to a higher response rate. 
Why is this right for you? 
Allows users to build highly engaging 360 feedback surveys within seconds. 
Offers unbiased and actual data for productivity reports. 
Email and report customization allowed. 
Keeps employee growth in check and encourages productivity. 
Easy tracking through an interactive dashboard. 
Best customer service. 
 Free trial available. 
Pricing: $15/month for premium packages.
2. SurveyMonkey 
If you want to follow a more tactical approach to feedback collection, this 360 feedback tool might be the one for you. Famous for its anonymous feature and quick data assembling, the tool allows teammates to align and conduct feedback more vigorously. 
Users can customize their surveys by adding their logos or choosing the template style they like the best. This 360 survey tool indeed comes with several exciting features. However, if you are experiencing a financial crunch, it might just ruin your budget. 
Why is this right for you? 
Simple survey creation within seconds. 
Allows your team to work together for information gathering. 
Ready-to-use templates
Several question types are available. 
Pricing: Premium packages start at $31/month. 
3. Typeform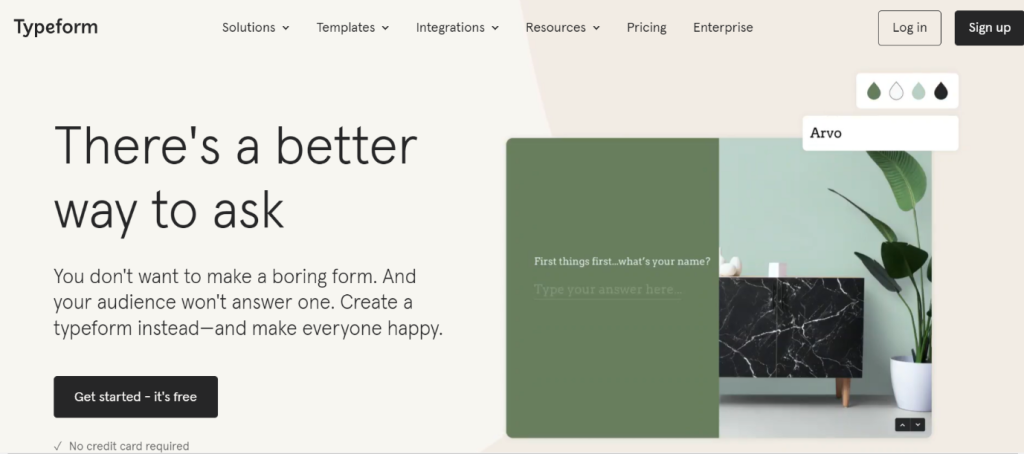 If you are looking for a popular 360 feedback software, Typeform can be the right pick for your company. With advanced features like customization, branding, and a hybrid app model, you can use the software from your phone. 
The app makes collecting feedback easy through an easy interface. Users can also create highly conversational forms or surveys. And, while the tool is a bit expensive with a considerable lack of customer support, you can still use many questions and ready-to-use templates. 
Why is this right for you? 
Readymade templates and themes.
Customizable available. 
Changes can be made to question logic.
Mobile-friendly forms.
Pricing: Premium packages start at $35/month. 
4. Alchemer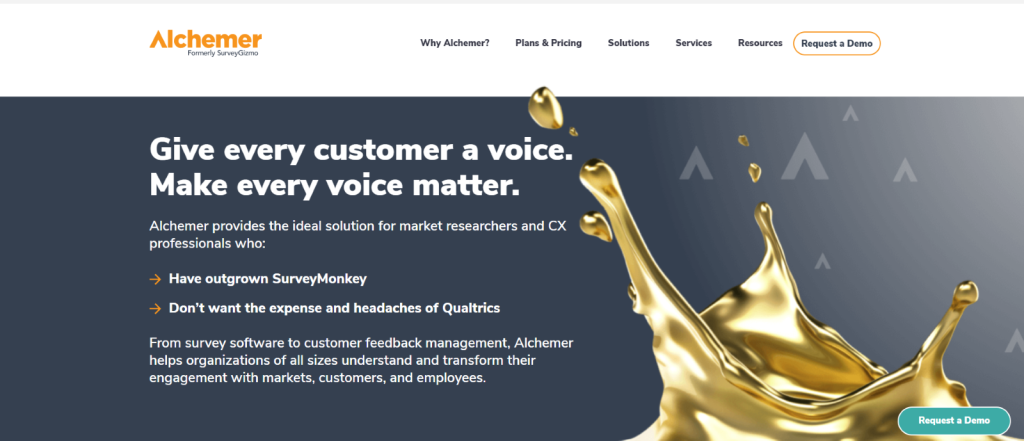 Do you run a huge company? Sending responses to everyone through the mail would be too time-taking. But, with Alchemer, you can do it within the blink of an eye. Users can upload a CSV file on the server and quickly do the survey based on that information. 
Users can add their custom touches to the 360 survey by making reviews easy. However, you might need time to understand the interface properly. Besides a steep learning curve, customer service is also unreliable.  
Why is this right for you? 
External files can be uploaded to build the survey. 
Allows an easy employee evaluation.
Easy poll and survey creation.
Offers personalized and automated reports.
Pricing: Priced packages start at $25/month. 
5. SpiderGap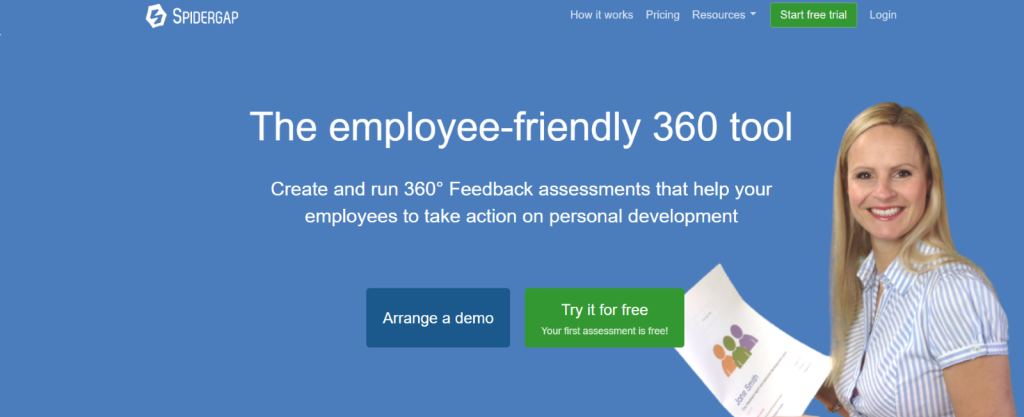 SpiderGap can design the best surveys for scaling companies with around 5 to 500,000 employees. A perfect 360 feedback tool, users can enjoy some distinctive features like a drag-and-drop interface and customized reports. 
It is a fantastic tool. However, the only downside is that it is too expensive. 
Why is this right for you? 
Interactive features are available. 
High-end customization is available. 
Drag and drop interface for easy survey making. 
Pricing: Premium packages start at $79/per employee. 
6. Qualtrics  

One thing that makes Qualtrics stand out from the crowd is it allows the HR to pitch in. Based on the data collected and analytics generated automatically, HRs can make the right decision during the performance reviews. One of the best 360 assessment tools, Qualtrics also allows users to use pre-made templates and select a suitable theme to add a personal touch. 
The platform also offers confidentiality and real-time tracking features. However, the prices are not listed on the website. Moreover, the app does have a steep learning curve and a not-so-good customer support service. 
Why is this right for you? 
Built-in features to optimize confidentiality. 
Reports can be customized. 
You can choose from multiple themes and pre-made templates. 
Pricing: A quote will be provided upon request. 
7. Culture Amp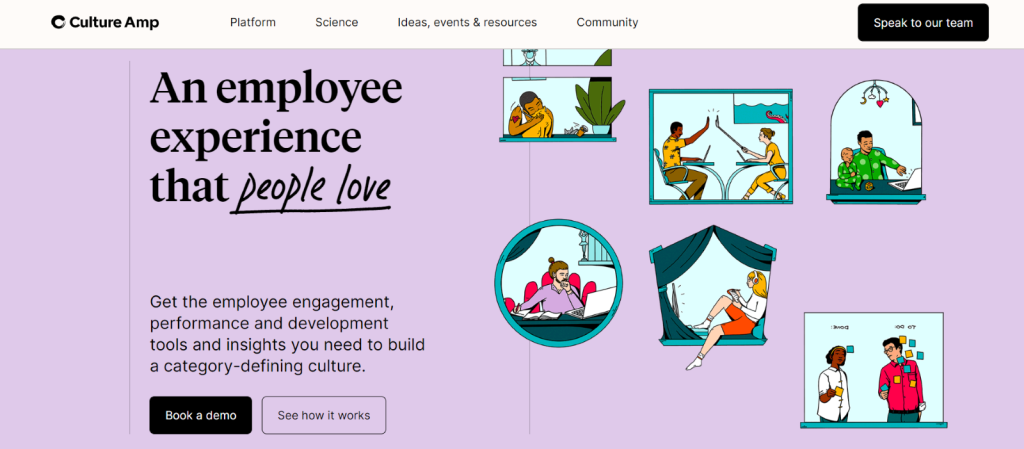 Do you know that science has a lot to do with customer engagement and performance? It's true, especially when it comes to psychology. So if you need a 360 feedback app backed by science, Culture Amp may be suitable for you. As a result of its customizable reports, data tracking, and action-oriented approach, Culture Amp is an ideal choice for handling feedback reviews.  
However, the app lacks integration and needs a better interface. 
Why is this right for you? 
Automated feedback formation allowed. 
Easy poll and survey building. 
Have a wide selection of templates and themes.
Pricing: You would need to request an estimate. 
Which One Is Right For You? 
When doing a 360° assessment, it is common to look at both the person's strong points and their room for growth. Traditionally, 360-degree feedback was used as part of performance evaluations. However, it is now also used as a tool for professional development.
There are indeed plenty of options available in the market to make your review process more convenient. But, when you need to pick one, you would need to consider your budget and the scope of the requirement. While SurveyMonkey is a good choice, it might not be ideal for all, considering the overly expensive package. You can use free apps or those that charge comparatively less and offer the best benefits, like SurveyPoint. 
Heena Shah – Content Writer at Sambodhi