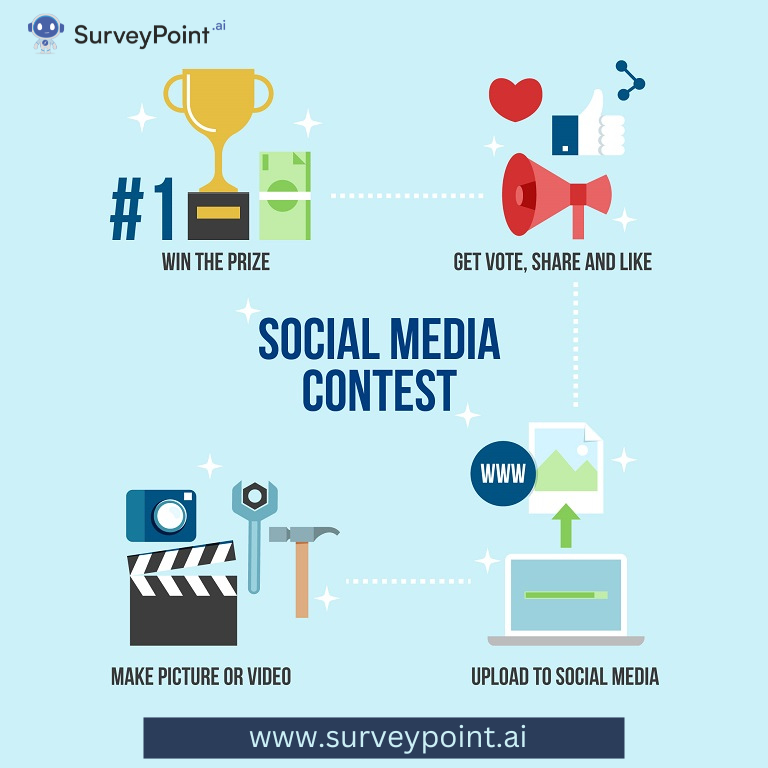 The good news is that we have put together a complete list of creative social media contest ideas that will bring in new fans, start lively discussions, and get you hundreds or even thousands of new followers. These are surefire ways to get what you want, and many people have used them before.
Social media contests are new, and everyone with an extensive online profile knows them. There are so many ways to boost your online profile, from 24-hour giveaways to huge partnerships with influencers, that it seems impossible to come up with a plan that will work every time.
Everyone likes getting things for free, especially from companies they already like. Try coming up with fun competition ideas or giveaways to meet this need and boost your brand's engagement on social media and through word of mouth.
Social Media Contests: What are They?
First, let's talk about social media contests and why your business should host one.
What is a social media contest?
When people enter contests on social media, they usually have to show off their best work by completing a particular task, like a photo, caption, or response.
In this competition, your most creative and skilled followers will have an advantage because they will be rewarded based on their performance. You can make new connections by giving your audience a creative challenge, growing a loyal following, and finding great user-generated content.
Why should your brand have a social media contest in 2023?
When short-form videos are taking over social media feeds, it can take time to develop marketing plans that work for specific groups. From here, you can see some beautiful views. But engagements show that you are building lasting relationships with your customers.
Several organizations now use social giveaways and competitions to try to change this. They can do the following:
Getting more people to follow you:
You might need to ask someone to "like" or "follow" you to join in.
Ask people who want to join your mailing list or enter your contest to fill out a web-based form. Ask for their name, email address, and other information to get it.
Get people to know your brand:
Connecting with other businesses or influential people increases the number of people who might buy from you.
Get people to care more about the brand:
If you keep rewarding your most loyal fans, they will likely come back for future giveaways and events.
How to Organize a Social Media Contest
Now that you know why it's a good idea to have a contest or giveaway on social media, we'll go over how to do it.
Figure out what you need and decide how your contest will work.
Find out if you want to increase brand awareness, social media followers, leads, or the number of customers who stick with you. Think about your goal before you plan a contest or giveaway.
Set goals and decide how to use your resources.
How much money is your marketing team willing to spend on the contest? If you want to keep doing these things all year, put them in your annual budget. This will keep your fans and participants happy and involved.
Once the budgets for advertising and rewards are set, the money can be split up correctly. Decide whether or not you will give away a product, a cash prize, or something else. Consider what your ideal customer likes and needs to help you choose a gift they will appreciate.
Learn about your audience and choose a suitable medium.
Before choosing the best platform(s) for your giveaway or contest, you need to know what kind of people you want to reach.
Make sure your campaign is legal by reading and following the platform's rules for giveaways and contests.
Get ready for your next contest or giveaway and take care of the details
Make sure the following are in your project plan:
Plan out your time frame
choose your goals
make the rules.
Set up a timetable for making and sharing content.
Let the audience know when the giveaway or contest will start and what the prize will be. You can get more people to see it by advertising it on your website, email list, social media pages, and other places. Look at all these submissions! After you get the go-ahead, you can start your giveaway or contest.
You're done with the competition now that you've picked a winner and sent them their prize. Now is the time to think about how well it met the goals you set at the beginning.
Let us now go through various social media contest ideas. The ideas can focus on different segments, like "Social Media Contest Ideas for Employees." 
There are also various creative competition ideas for students that can be implemented.
You Must Read: A Guide to Editing Instagram Photos Like a Pro
Creative Contest Ideas for social media
Like, share, and comment to enter.
People are more likely to talk about your business if they have a chance to win something. If you want your social media posts to get more likes, shares, and comments, you have to offer a reward that your primary audience will wish.
Working with a well-known person in your field who already has a large, interested audience can also help get the word out about your contest. It is one of the most straightforward contest ideas with a large audience.
Contest to Write a Caption
Users try to create the best caption for an image in exchange for points. You can choose a winner by selecting the most votes or drawing a winner randomly. Due to how easy it is to join, this is a great way to get a lot of submissions.
It's helpful to have many entry options and sharing mechanisms for this contest.
Creative Video Contests
Including videos in your contest encourages participation and a higher degree of inventiveness among viewers.
You can have a video contest by asking your followers to make a short video about the contest's topic and send it to you. The winner can be determined using whatever criteria you see fit.
Trivia
Use a tried-and-true method on your page. You may test the knowledge and abilities of your followers by conducting trivia giveaways. Both brand-specific and general knowledge questions are fair game.
The winners of a trivia contest are usually chosen at random. Set it up, so the winners are the first to answer a series of questions successfully. On the other hand, the latter gives you much less time to make an impression on your target audience. It is one of the best contest ideas for customers to measure brand loyalty.
Submit an Essay Competition
Hosting an essay contest is a great way to get user-generated material about your clients' experiences. People can participate in the contest by voting for their favorite entry and spreading the word on social media.
Essay contests allow you to request contributions on any topic, although it's preferable to keep it brand-related. It is one of the famous creative competition ideas for students.
Contests for Follower Milestones
When you hit a certain number of followers on a social media platform, it's a great time to show your appreciation for them. Why not hold a contest in honor of this significant achievement?
Create a message expressing your gratitude to your prior followers. It would be best if you emphasized commemorating the event with a giveaway. Ask for followers, likes, and comments from people to help spread the word.
Collaborative contests
If you want to reach more people and get people talking about your business, you might want to team up with another company or an industry leader.
You could, for example, work with a well-known person in your field to give away one of your items to their fans. You could also work with a related business to increase the value of the rewards in your contest.
Hashtag challenges
Hashtag challenges are a fun and interactive way to get the people you want to talk about your product to talk about it. They are also easy to set up because most of the content is created by users. All you need is a clever hashtag and a reason to use it.
Conclusion
Giving away prizes and holding contests are not ways to get more followers on social media. This means trying to connect with other people in a meaningful way. A lighthearted conversation is the beginning of a relationship that keeps customers returning. It's a must to build a name that people know and respect.
We hope these examples and ideas have given you some good ideas for your social media contests.