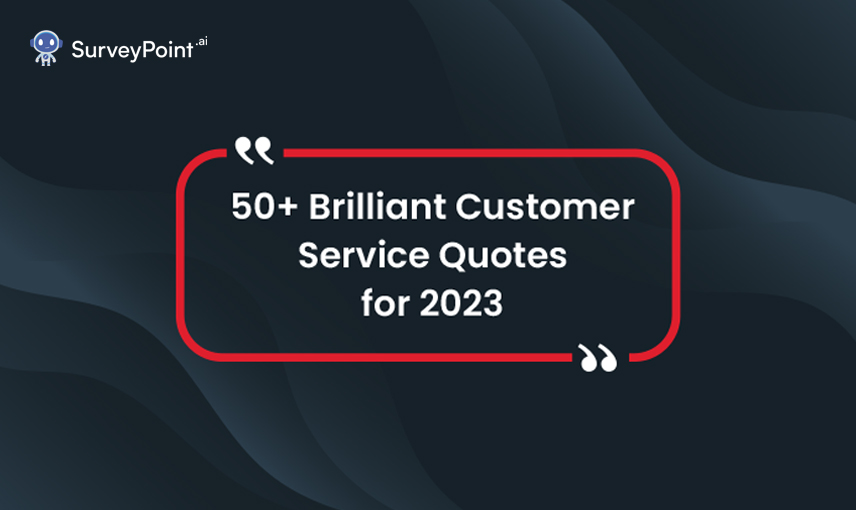 The best customer service quotes discuss both individual and organizational service. Customer service quotes can be used in meetings, as meeting openers, as part of pep talks, and during customer service training to inspire and educate staff members. 
The numerous customer service quotations for businesses, Instagram captions, and funny customer service quotes will all be covered in this post. 
What are Customer Service Quotes? 
Quotes on customer service offer advice on how to handle clients. These quotes offer representatives and leaders guidance on providing exceptional service and generating repeat business.
These sayings motivate employees to always try to give excellent customer experiences.
Great Customer Service Quotes
"The first step in exceeding your customer's expectations is to know those expectations." – Roy H. Williams, Author of Wizard of Ads Trilogy.
"Customers perceive service in their own unique, idiosyncratic, emotional, irrational, end-of-the-day, and totally human terms. Perception is all there is!" – Tom Peters, Best-Selling Author.
"Don't try to tell the customer what he wants. If you want to be smart, be smart in the shower. Then get out, go to work and serve the customer!" – Gene Buckley (Anna Segova).
"A brand not responding on Twitter is like hanging up the phone on customers. With millions watching." – Dave Kerpen, Co-founder of Likeable Media.
"I don't like customer service because I don't believe the customer should have to pay and help out too." – Jarod Kintz, Author E-mails from a Madman.
"There is only one boss. The customer. And he can fire everybody in the company from the chairman on down, simply by spending his money somewhere else." – Sam Walton (Travis Biggert).
"To give real service, you must add something which cannot be bought or measured with money, and that is sincerity and integrity." – Don Alden Adams, President of Watch Tower Bible and Tract Society of Pennsylvania.
"Your most unhappy customers are your greatest source of learning." – Bill Gates (Amanda Austin).
"Courteous treatment will make a customer a walking advertisement." – James Cash Penney.
"I've learned that people will forget what you said, people will forget what you did, but people will never forget how you made them feel." Maya Angelou
Customer Service Captions for Instagram
"Opportunity is missed by most people because it is dressed in overalls and looks like work." – Thomas Edison, Inventor and Businessman.
"Happy customers are your biggest advocates and can become your most successful sales team." Lisa Masiello
Look after the customer, and the business will take care of itself.
There is a big difference between a satisfied customer and a loyal customer. Never settle for just satisfaction.
"Earn your success based on service to others, not at the expense of others." – H. Jackson Brown, Jr.
"A brand is what a business does, reputation is what people remember." – Ted Rubin.
A shoe without sex appeal is like a tree without leaves. Service without emotion is like a shoe without sex appeal." – Unknown
"Sales without Customer Service is like stuffing money into a pocket full of holes." – David Tooman, Customer Service Professional\
A brand for a company is like a reputation for a person. You earn a reputation by trying to do hard things well." Jeff Bezos
"It takes many good deeds to build a good reputation, and only one bad one to lose it." – Benjamin Franklin.
Customer service shouldn't just be a department. It should be the entire company." Tony Hsieh
"Instead of focusing on the competition, focus on the customer." Scott Cook
"Good customer service costs less than bad customer service." Sally Gronow
"The more advocates you have, the fewer ads you have to buy." Dharmesh Shah
Funny Customer Service Quotes
"Customers are like teeth. Ignore them and they'll go away." – Jerry Flanagan, State Farm Agent
"A business absolutely devoted to service will have only one worry about profits. They will be embarrassingly large." – Henry Ford
"Dealing with people is probably the biggest problem you face, especially if you are in business. Yes, and that is also true if you are a housewife, architect or engineer." – Dale Carnegie, Best Selling Author.
"Say and do something positive that will help the situation; it doesn't take any brains to complain." – Robert A. Cook.
"Although your customers won't love you if you give bad service, your competitors will." – Kate Zabriskie, Founder of Business Training Works.
"Customer: A person who indirectly pays for all your vacations, hobbies, and golf games and gives you the opportunity to better yourself." – Unknown
"Any fool can criticize, condemn and complain – and most fools do." – Benjamin Franklin
"Thank you for calling customer service. If you're calm and rational, press 1. If you're a whiner, press 2. If you're a hot head, press 3," – Randy Glasbergen, Cartoonist
Short Quotes to Attract Customers
Looks so Good on the Outside; it'll Make You Feel Good Inside.
Massive Savings! Less Spending.
It's time to get more in Less.
"The customer's perception is your reality." – Kate Zabriskie.
"A complaint is a chance to turn a customer into a lifelong friend." – Richard Branson.
A Moment to Remember.
"The best way to find yourself is to lose yourself in the service of others." – Mahatma Gandhi.
Get the Most Out of Life.
Customer Quotes for Business
"Repetition makes reputation and reputation makes customers." – Elizabeth Arden
"All businesses need to be young forever. If your customer base ages with you, you're Woolworth's." – Jeff Bezos, Founder of Amazon
"Excellent customer service is the number one job in any company! It is the personality of the company and the reason customers come back. Without customers there is no company!" – Connie Edler
"Even your most loyal customers always have a choice about where to take their business." – Marilyn Suttle.
"If you have a job without aggravations, you don't have a job." – Malcolm Forbes, Former Publisher of Forbes Magazine
"You are serving a customer, not a life sentence. Learn how to enjoy your work." Laurie McIntosh
"You know your business model is broken when you're suing your customers." – Paul Graham, Venture Capitalist, and Co-founder of Y Combinator
"Service, in short, is not what you do, but who you are. It's a way of living that you need to bring to everything you do if you're to bring it to your customer interactions." Betsy Sanders
"There is a spiritual aspect to our lives — when we give, we receive — when a business does something good for somebody, that somebody feels good about them!" – Ben Cohen, Co-Founder of Ben & Jerry's
"We don't want to push our ideas on to customers, we simply want to make what they want." Laura Ashley
"What sets us apart as a company is that we want to deal with anyone that owns our product, regardless of where you bought it. If you have an issue with a Santa Cruz Bike and come to us with your issue, we'll help you resolve your issue." Kyle Harder
"Just having satisfied customers isn't good enough anymore. If you really want a booming business, you have to create raving fans." – Ken Blanchard (Mollie Beck)
Conclusion
Customer service is a skill that takes time to learn and calls for patience and practice. The learning process can be accelerated, and the amount of trial and error reduced with some sage advice from customer service professionals. These quotes offer insightful advice on gaining and maintaining customers' trust and satisfaction while balancing earnings with a reputation for excellence and compassion.
Customer Service Quotes mentioned in his post can encourage and inform workers, which can improve customer service. By carefully considering this advice, employers and employees can establish solid reputations and enduring connections with clients.