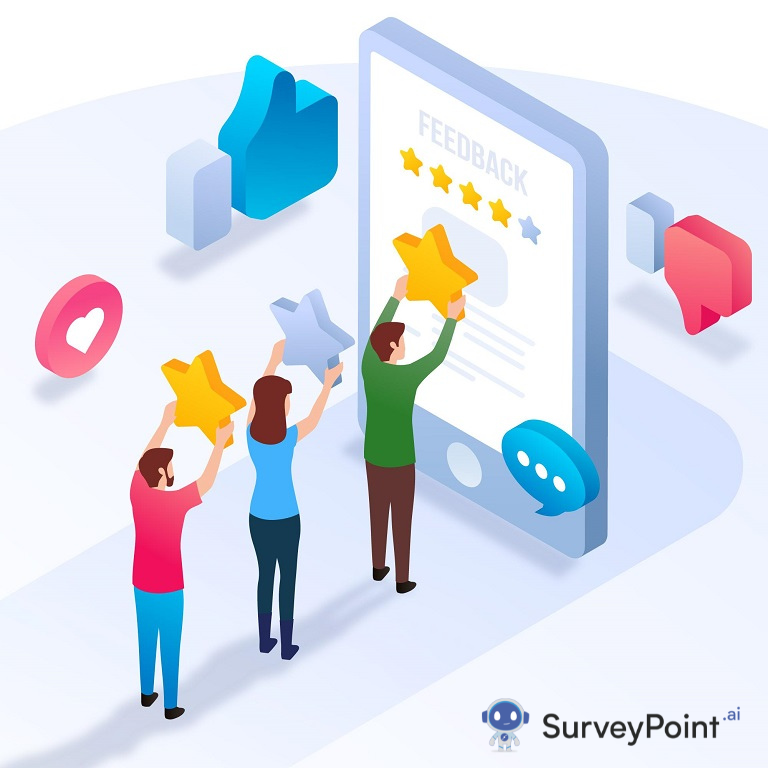 In recent years, researchers have favored using online survey technologies to carry out their surveys. The target audience can reply to the surveys whenever it is more convenient for them. Researchers can send survey forms from their desktops or laptops to be accessed from anywhere in the world.
We will dive deeper into understanding online surveys' types, advantages, and disadvantages. This article will also cover some of the key platforms for online surveys that users may use to create the ideal questionnaires for online polls. Read on to learn more.
What is an online survey?
A questionnaire that the target market may answer online is known as an online survey. Web forms are typically used to create online surveys. The company sends these forms to the audience to conduct market research or get feedback.
Databases are used to store the responses and give analytics.
Online surveys are frequently used by businesses to learn more about the preferences and viewpoints of their clients. Online surveys can be utilized in two ways that are similar to traditional surveys:
To offer more information about clients, ranging from the most fundamental demographic data—such as age, income, and education—to more detailed information.
Social information, such as the activities that the customer favors.
Types of Online Survey
There are various research methodology types. Every kind of online survey has a particular goal in mind. Each form of online survey falls into one of the following three categories:
Exploratory Online Research Survey
A crucial component of any marketing or commercial strategy is exploratory research. Its emphasis is on discovering concepts and insights rather than the statistically accurate gathering of data.
It is most frequently used to prioritize areas that need statistical investigation, further define company concerns, identify future growth opportunities, and consider alternative courses of action.
Descriptive Online Research Survey
Most internet surveys are descriptive and regarded as conclusive due to their quantitative character. In contrast to exploratory research, descriptive research is preplanned and structured in design to allow the data to be statistically interpreted on a population.
This research aims to clarify an opinion, attitude, or behavior that a group of individuals holds toward a particular topic. These inquiries will offer different original insights into the problems than exploratory research. Instead, creating groups based on specified options will produce data that may be statistically interpreted.
Causal Online Research Survey
Causal research is quantitative in character, preplanned, and structured in design, similar to descriptive research.
The goal of causal research is to clarify the cause-and-effect relationship between variables. This contrasts with the observational technique of descriptive research since it makes an effort to determine if a link is causal through testing.
The two goals of causal research are:
Must be able to distinguish between the variables that are the cause and those that are the effect.
To ascertain the type of link that exists between the causal factors and the expected consequence.
Advantages of Online Survey
Depending on the type of information you're looking for and the survey research method you employ, you'll find that there are several benefits, including:
Simple to carry out
In general, surveys are simple to conduct, particularly online. Online survey websites provide access to hundreds of editable templates, making it simple to customize your survey research.
Real-time analysis
Researchers can examine gathered data in real-time from a dashboard using software for online surveys. These tools turn your data into understandable graphs and charts that you can use. 
Quicker
Compared to other survey methods like pen-and-paper surveys, online surveys are rapid to get feedback from respondents.
Cost-effective
Online survey research is the most economical approach to collecting data. Trained personnel are needed to collect, compute, and interpret data for in-person surveys and interviews. Online surveys are significantly less expensive than conventional ones since they require fewer resources.
Accessibility using any device
Online surveys take advantage of this technological breakthrough by giving respondents the flexibility and convenience they need to complete survey forms.
Obtain information from a significant sample
You can quickly get data from a significant population via surveys.
saves time for researchers
Online surveys are simple to set up and send, and because of their simplicity, they frequently save researchers' time.
Gather both quantitative and qualitative data.
It is simple to modify surveys to gather both quantitative and qualitative data. To collect all the required information, use several questions, including multiple-choice questions, Rating scales, list boxes, ranking, open-ended questions, and more.
Minimum error margin
In contrast to conventional survey methodologies, respondents respond to the surveys directly without the help of a middleman. Therefore, the margin of error for online surveys is relatively tiny.
Disadvantages of Online Survey
The use of surveys has various drawbacks, much like any other research method, including:
Accuracy
Because online surveys can be completed anonymously, respondents may not be interested in giving truthful responses.
Non-responses
Some questions may receive a low response rate from respondents, which can influence your findings.
High Potential for Survey Fraud
Customers are more inclined to give mindless responses to lengthy, complex, or confusing surveys to finish them. People are frequently persuaded to complete the survey to receive a reward. Both of these possibilities provide unreliable answers and biased outcomes.
Issues with Respondent Cooperation
Online consumers frequently receive offers, surveys, and other internet nonsense. A significant online survey may be missed or answered.
Sampling Problems
When researchers are still determining whom to survey, sampling errors can occur. Sample problems may hamper online surveys' effectiveness.
Differences in interpretation
Respondents may need help interpreting and responding if questions and responses are not specific enough. A yes-or-no question, for instance, can be challenging for someone who wishes to respond "only once."
Restricted access to some demographic segments
Specific segments of the target population might not have an internet connection. Feedback from these people is frequently helpful for research purposes.
Survey Exhaustion
Long surveys can take up to 15 minutes to finish. It causes respondents to get mentally exhausted, leading to dishonest answers or, worse yet, survey dropouts.
Free Online Survey Platforms
SurveyPoint
Creating a free online survey with SurveyPoint is easy and straightforward. SurveyPoint is a powerful survey software that allows you to create and distribute surveys quickly and easily. With a user-friendly interface and a wide range of features, SurveyPoint is the ideal choice for businesses, researchers, and organizations that need to gather data and feedback from their target audience.
To create a free online survey with SurveyPoint, simply sign up for a free account and start building your survey. You can choose from a variety of question types, including multiple choice, open-ended, and rating scales.
You can also customize the look and feel of your survey to match your brand and add logic to your survey questions for a more effective survey experience. Once you have created your survey, you can distribute it via email, social media, or embed it on your website. With SurveyPoint's real-time reporting and analytics, you can easily track the progress of your survey and analyze the data collected.
Google Forms
Characteristics of Google Forms
Google Forms has 20 simple templates. The absence of templates speeds up the generation of forms.
This survey tool is available to everyone with a Google account without charge. For an additional $6, the business suite offers further customization.
There are few languages available for surveys on Google Forms. The only supported language is English.
They don't provide pre-built integrations with other programs. Only Google products, including Sheets, Drive, and YouTube, can be incorporated.
SurveyMonkey
Features of SurveyMonkey
On SurveyMonkey, over 200 survey templates are arranged by use and industry. There are 40 templates in the basic plan alone.
The capabilities of the free plan are constrained.
Premium feature options start at $32 per month, and for teams, $25 per user per month. For teams, the most expensive plans begin at $75 per user per month and start at $99 per month for small organizations.
In SurveyMonkey, each button and field is accessible in 55 different languages.
It integrates with many programs, including Microsoft Excel, Trello, Slack, and WordPress.
Typeform
Features of typeform:
We may use Typeform to construct forms for various purposes by selecting from several pre-built templates and format modification options.
The cost for the Base plan is $29 per month. It costs $59 per month for the Plus package. The cost of the Business package each month is $99
There are over a thousand available templates, both free and premium. These are just a few template categories, including marketing, educational, events, human resources, and sales.
It offers several embed types and form customization for a web page.
It offers a variety of embed modes and form customization options for a web page.
Conclusion
To survive and remain competitive, businesses must constantly evolve and improve their offerings. Companies must understand how to monitor client wants, preferences, and expectations to create experiences that meet those needs.
One of the easiest and most efficient ways to learn what customers think of your goods, services, and brand is to conduct online surveys regularly. Surveys give companies insight into numerous facets of their business and supply researchers with qualitative and quantitative data that can be investigated and analyzed.