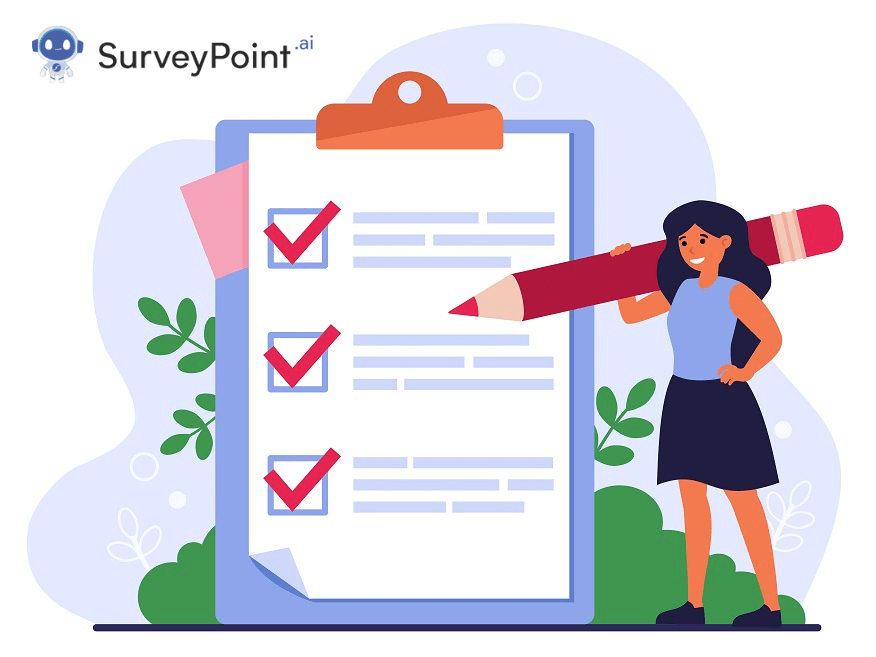 Survey goals and objectives are vital to any survey you create, whether you're trying to accomplish customer feedback or employee evaluations. Your survey will serve its purpose more effectively if you have clear goals and define them accordingly.
A survey's purpose should be determined before you create one or search for the best survey questions.
So, what is the main objective of the research that you are conducting? Learn why and how setting goals is essential for a survey.
What Are Survey Goals & Objectives?
Now, before we get into this, goals and objectives are totally different when it comes to conducting a survey. A goal is the leading aim of the survey. It's a mere statement that defines why you are running a survey and what you are looking forward to from it.
Alternatively, an objective consists of specific actions you must take to reach the survey goal. A single mission statement may encompass a number of distinct aims.
Here's an example:
Let's say you want to learn more about your customers' purchasing habits, so you decide to run a survey.
Our focus here is on identifying what kinds of things customers value most. To get there, follow these steps:
Objective 1: Observe how buying behaviour changes based on the seasons.
Objective 2: Identify the potential revenue boost associated with Black Friday sales or similar events.
Objective 3: To evaluate how many customers have stopped buying your products and why.
Why Establishing Goals And Objectives For A Survey Is Important?
Rather than jumping head-first with a series of questions, setting goals and objectives helps you design a survey that will be both successful and useful.
Also, the responses you gain from a survey can only be helpful if you have clear goals and objectives of what to analyze from the survey. Setting goals can also help you frame the right kind of questions and determine your target audience group.
A survey can achieve the following things when you have a clear goal:
You can write the correct questions.
You can eliminate ambiguous questions.
Setting goals will help you determine the types of questions that will help you meet your objectives.
You can identify questions that can serve the actual purpose of the survey.
As the first step to conducting a survey, the next step is to craft the best survey possible. Using SurveyPoint, you can build surveys from an array of pre-designed templates and themes. You can also customize your survey by adding branding effects to reflect your company's personality.
How To Set Survey Goals & Objectives?
There's no doubt that this can be extremely confusing. Using the following steps, you can clearly define your goals and objectives.
To set crystal clear goals and objectives, ask yourself these questions:
What Is The Topic Of The Survey?
Are you looking for specific types of feedback? Is a survey of your customer support team sufficient to determine customer satisfaction?
Define the topic of the survey. Ask yourself why you want to conduct this survey or what you hope to learn. For instance, it might be a reduction in production costs, an enhancement in the structure or usefulness of the questionnaire, the addition of new features, or an increase in sales.
How Do I Know What I Want?
All clear with the topic of your survey? Now, what do you want to learn? For instance, if you are conducting a customer satisfaction survey, you might want to know their favourite product.
Who Is Your Target Audience?
Let's say you got the above two parts right. The next step is to determine to whom you will ask your questions. Choosing the right audience is key to asking the right questions. This will solve the defining goal of your survey.
How Should I Use The Data Collected?
Once you have collected the data, what do you plan to do with it? For example, you can predict your customer's buying intention by conducting a survey on customer satisfaction. You can also use these insights to formulate some stunning sales and marketing strategies.
RELATED: Example Of A Survey Questionnaire: Formatting Guidelines & Templates
3 Tips For Writing Objectives
Using objectives similar to goals can add a sense of purpose and direction to your surveys. Still, writing goals that are too broad is not always productive. By adhering to the advice provided below, you'll soon be able to draught survey objectives with confidence.
Tip 1: Always Set SMART Objectives
Your objective should be Specific, Measurable, Attainable, Relevant and Time-bound. Each of them can be summarized as follows:
Specific: It is crucial to be as detailed as possible when establishing a goal. Avoid empty gestures and instead focus on achieving concrete outcomes.
Measurable: Your objective should always be measurable. For instance, rather than stating, "increase your customer retention rate by 30%," your goal should be "increase your customer retention rate by 30%."
Achievable: Setting goals that are too far-fetched is counter-productive. While it's great to aim high, you should always ensure your goals are within reach.
Relevant: The objective you set should be appropriate to the topic or subject of the survey.
Time-bound: When you establish a deadline, it's because you want that goal to be finished in a given amount of time.Example: "Increase client retention rate by 30% in the following three months."
Tip 2: Conduct Relevant Research On The Topic
Before you get started with the survey, make sure to conduct as much research as possible. Therefore, you will be able to write better questions and define our audience more clearly.
Tip 3: Get Feedback
Once you have conducted a survey, always send a follow-up email. The email should express gratitude and allows you to analyze the flaws that happened in the survey.
Want To Create an Eye-Popping Professional Survey?
Take advantage of all of the advanced features by signing up for FREE.
Free Trial • No Payment Details Required • Cancel Anytime
Heena Shah – Content Writer at Sambodhi