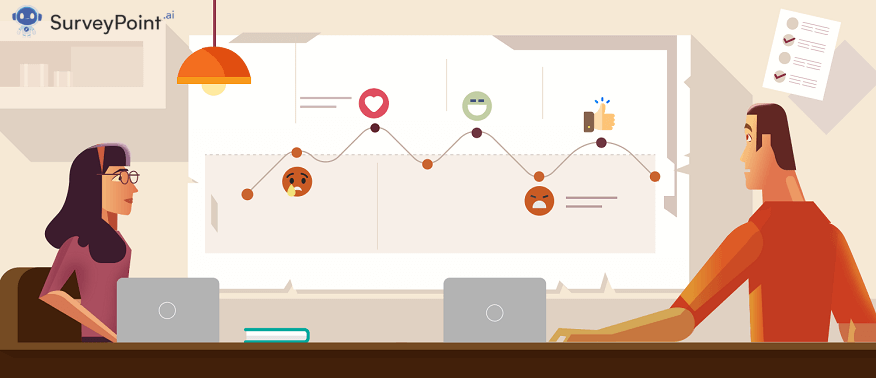 Are you having a hard time understanding your customers? Let's make it simple for you. When you think about your customers, what strikes your mind? Is it their intentions, shopping preferences, or why they would prefer you over competitors?
Defining and understanding your customers' needs and the roadblocks they face can help you visualize your brand better. It also offers all touch points where you need to work and avoid any mishaps in the future.
In this case, a customer journey map can come in pretty handy. Building a customer journey map can help you identify pain points, boost client retention, and uncover insights that can improve your sales and marketing efforts.
Read on to learn more about journey maps and how they can aid you in building a successful business.
What's A Customer Journey Map?
A customer journey map illustrates consumer interaction with a service, brand, or product. By creating a journey map, a company may directly enter the client's mindset and see and comprehend their processes, requirements, and views.
It outlines your customers' interactions with your brand, from the moment they engage with you through social media or advertising to when they interact with your assets. Additionally, it includes all the steps a customer takes to reach a goal.
A customer journey visualization can give you essential insights into your consumers' thinking. The foundation for significant modifications to your product or service or the general customer experience, marketing, and company strategy can then be laid as a result.
Utilizing Customer Journey Maps To Improve Customer Experience
By outlining your current procedures, you can see what the customer goes through in real-time and identify typical problems that need to be fixed.
Through this, you'll also be able to relate to your consumer and, through a mutual understanding, convince your business to emphasize the customer experience (CX).
Here's how a journey map can help you improve CX:
Gain a Better Understanding Of Your Customers
To truly grasp their perspective and be helpful in your organization's customer experience improvement plans, a customer journey map broadens that empathy. By employing this strategy, you can use your customers' viewpoints as a springboard to address any issues they could encounter when working with your business.
When you have a holistic, empathic understanding of your customers, you can better grasp their demands at every point of contact and adjust your customer experience (CX) procedures to satisfy them.
Offer A Customer-Centric Approach
Planning and monitoring strategic customer experience goals requires agreement on shared organizational objectives. When you make a journey map, you have a customer-focused resource to use and distribute throughout the business.
In addition to establishing a shared benchmark for outstanding customer service, using visual storytelling to illustrate your company's story will ultimately enhance customer experience and customer retention.
How To Use Survey Data To Build Customer Journey Maps?
Research requires discovering your customers' motives, challenges, enduring pain points, and accomplishments. If you don't have accurate data to provide answers to these questions, you might be constructing your map based on assumptions, which could lead to strategic planning that is not well-informed in the future.
To gather first-hand customer feedback to incorporate into your customer journey map, take into account employing Net Promoter Score (NPS), Customer Effort Score (CES), or Customer Satisfaction Score (CSAT) questionnaires. To reach your audience wherever they are, select from a range of surveying channels (Email, Web, Link, or SDK).
To gather the right kind of information, here are some survey question examples you can use:
How pleased were you with the onboarding process overall?
How happy were you with our checkout procedure?
How likely are you to advise your peers to use this solution?
Is it likely that you will recommend us to a friend or family member?
I found it simple to compare choices on the website.
Thanks to the support staff, I had no trouble getting my questions answered.
Specify the times and intervals at which surveys are activated during the customer lifecycle after choosing your survey, question, and channel. Your customer journey map will soon include current input so you may start routinely assessing and responding to CX data.
Pro Tip: If you are looking for a platform to gather information and conduct surveys the right way, SurveyPoint can be your second coming. The platform has an extremely easy-to-use interface and an impressive dashboard where you can create a survey and collect, analyze and report the data.
How To Make A Customer Journey Map?
There's no specific way to create a journey map. Understanding every company is different, and it's best to build a map that resonates with your organization well.
Here are some of the essential stages of building the map:
Create A Customer Persona
Based on user and market research, a customer persona is a fictional character that reflects your typical consumer. You can put yourself in the client's position and build the customer journey story by imagining this person's age, job function, personal aspirations, etc.
Start by developing no more than three personalities to assist you in focusing on your character and design.
RELATED: Steps & Tips to Create the Best Personality Quiz
Decide What To Measure
The next step is to decide what you want to measure and what goal you want to accomplish.
You should review your present customer success procedures or examine your prospects' journey through the selling timeline in more detail. Whatever you decide, your customer journey map should change over time to match your company's requirements. You may also make future route maps if your interests and objectives change due to new possibilities.
Identifying Touchpoints
Any time a customer connects with your brand is considered a touchpoint. Consider incorporating various touchpoints in your map, from commercials to the thank-you email they get after purchase, so you can gather feedback and spot trends in how they feel at each engagement.
Learn to work smarter, not harder!
Use our intuitive survey dashboard panel to identify respondents in even the most niche markets.
Free Trial • Cancel Anytime • No Credit Card Required