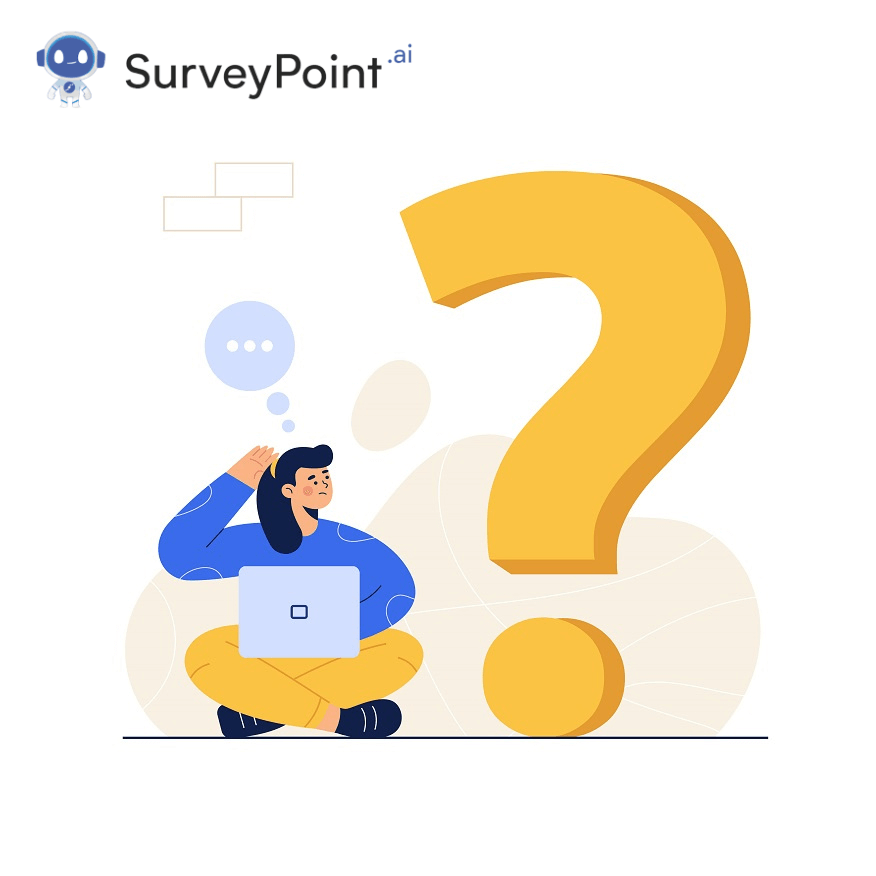 A wide variety of information can be collected from your respondents by asking open-ended questions. And, though this question type does have some shortcomings, they are often a frequent choice when building a survey.
Open-ended questions are ones a sender poses to one or more recipients to get some information back. For instance, what is your name?
This question type does not have any options. In short, the respondents are required to type in the answer.
Understanding Open-Ended Questions
Open-ended survey questions are unstructured and give respondents the freedom to express their complete knowledge, emotion, and understanding in an open-text manner. This query does not only have a few possible answers.
A closed-ended question restricts and narrows survey responses to the specified alternatives. Still, an open-ended question allows you to dig deeply into the respondent's answers and gather crucial information about the issue. These inquiries can be used to draw forth detailed and instructive information about a subject.
They contribute significantly to qualitative market research. This study method is predicated on the researcher asking and receiving responses to free-form, subjective questions on a certain topic. Closed-ended questions are frequently used to get qualitative data from respondents.
RELATED: Understanding Dichotomous Questions: Examples, Benefits & Alternatives
Open-Ended Questions VS Close-Ended Questions
People prefer open-ended inquiries since they have complete control over their responses and don't feel constrained by the few available answers. They can never be answered in a single word, which is part of their beauty. Either lists, sentences, or anything lengthier, like a speech or paragraph, will be used to represent them.
So that you can better comprehend this, here are some examples, making them different than a close-ended question.
Example 1:
Close-ended Question
Do you love working for our organization?
Open-ended Questions
Tell us why you love working with us.
Example 2:
Close-ended Question
How often do you feel anxious?
Every day
Very one in a week
Rarely
Never
Open-ended Question
Tell us about how you have been feeling lately.
Example 3:
Close-ended Question
How happy are you with your position here?
Happy
Somewhat happy
Unhappy
Open-ended Question
What do you expect from your current job?
The researcher learns the respondents' genuine feelings by asking such questions. In addition to educating you about your clientele's thought processes, they offer troubleshooting advice and allow you to understand their inhibitions.
Respondents have various duties to complete for the open-ended and closed-ended questions. Respondents record what comes to mind right away in the open-ended activity. Respondents concentrate their "attention on specific responses selected by the investigator" when completing the close-ended question task.
What does this entail for us, then? Do some qualitative research first, if you can, and make sure your closed-ended questions reflect what people are thinking. Since only a small percentage of responders will choose the "Other" option, the list of objects must be comprehensive. Including things that respondents might not be able to access could also be crucial if they are essential to you.
Benefits Of Using Open-Ended Questions
Here's a list of reasons why using open-ended questions is a good idea:
Ability To Express
Customers require a place where they can express their ideas openly, whether they are happy or unhappy. As there are no offered answers, respondents can share feelings, attitudes, and beliefs that they normally wouldn't be able to in close-ended inquiries.
Creative Response From Respondents
As users are not expected to simply "fill" them out for the sake of it, these inquiries are more appreciative of the replies than close-ended ones.
Original Responses
You could be astounded by the respondents' insight and originality in their responses. You'll be spellbound by links to their blogs or a line or two of poetry.
Expect The Unexpected
In micro surveys with solely closed-ended questions, respondents frequently become disengaged and rush through the survey without giving it any attention. When given the latitude to respond however they like, users can choose the words they use, the details they include, or the tone of their message.
Deeper Insight On Respondent's Mindset
These questions can provide a wealth of information on the respondent's logic, thinking, language use, and preferences.
A Way To Understand Your Clients
You can learn from your respondents to better understand your clientele. These responders can freely express themselves in the open-ended questions, which would be instructive for companies.
Perfect For Identifying Trouble Points
These questions are most effective when the respondents are required to provide detailed feedback or discuss any issues with the products or services.
It helps You Get Answers On Complicated Situations
Complex circumstances call for more information than a simple yes/no response. The level of detail or examination necessary for some crucial and challenging cases cannot be adequately captured by single-select or multiple-select questions.
The 4 Best Ways To Ask An Open-Ended Question
Asking an open-ended question might seem a bit tricky. But here are four different ways through which you can put these questions to light:
1. Understand How They Differ From Close-Ended Questions
You must be completely clear about open-ended vs. closed-ended questions before you begin writing questions. Your online survey's purpose should be obvious; from there, you can determine the questions you should ask.
These are typically employed in situations where the customer's opinions and feelings are highly appreciated. Make sure not to guide the respondents with your questions and give them the freedom to fill in anything they want if you want to receive 100% transparent input on these questions.
2. Make A List Before Creating A Survey
Make a list of survey questions you'd like to utilize once you have clarity on open-ended questions and how to use them. First, your survey can include a good number of open-ended questions that can change based on your responses.
These kinds of open-ended questions are widespread and provide you with additional insightful examples:
Why do you think new businesses must conduct competitive market research before they launch?
How do you envision overcoming these challenges for our project?
Let us know how you found our onboarding procedure.
What are your current top priorities in your line of work?
What line of work inspires you?
Before conducting the survey, you can create a list of similar questions.
3. Rework Any Question Into An Open-Ended Question
Here, observation is crucial. Take a look at the questions you normally ask your clients and everyone else you encounter. Determine whether your inquiries are open-ended or closed-ended. Try to change closed-ended questions into open-ended ones if you think doing so will produce more helpful information and better results.
4. Add A Follow-Up Close-Ended Question With An Open-Ended Question
This trick is quite effective. Changing a closed question into an open one isn't always possible, but you can always ask another question and get an answer.
For instance, if the question is closed and asks, "Do you think the product was efficient?" You can request an open-ended question like "How do you believe we can make the product better?" after providing the options "Yes" and "No."
Want assistance creating surveys that people can't resist?
Sign up for FREE and explore our solutions to collect accurate insights, boost ROI, and retain respondents.
Free Trial • Cancel Anytime • No Credit Card Required