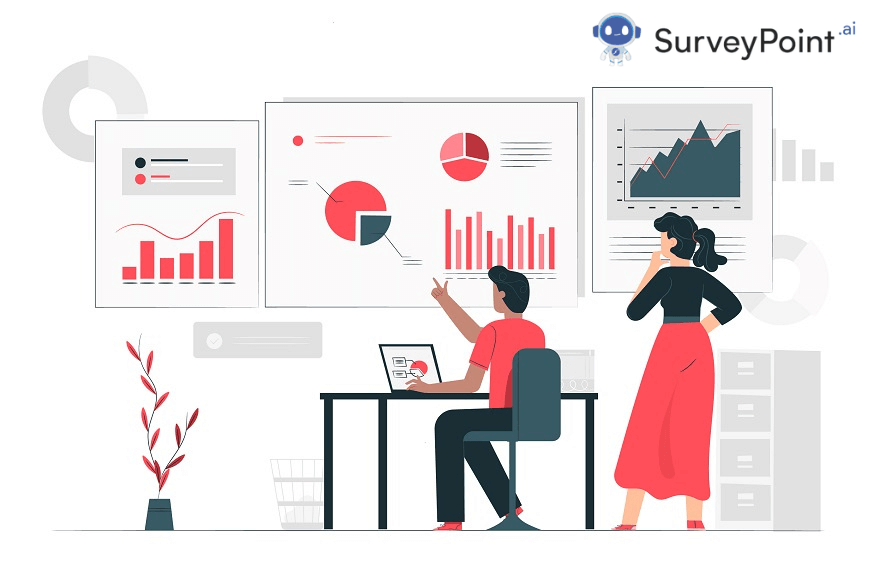 Over the past two years, the proliferation of remote collaboration technologies and the shift to virtual office solutions have demonstrated the value of agility for businesses. To make impactful, audacious decisions, top companies, marketers, product teams, and research groups require quick, precise insights. Thus, the adoption of agile market research has subsequently increased amongst companies.
How you gather that information can indicate whether you're leading or trailing. Traditional agencies may be expensive, excruciatingly slow, and lacking in controls. Manual reporting may result in static presentations that rapidly become outdated due to laborious analysis. You'd struggle to get real-time insights if your data was stale.
Fuel Innovation and Growth
Many businesses frequently refrain from investing in the proper technologies and are burdened by manual analysis. However, with the right automated market research tools, like SurveyPoint, your chances of success can increase exponentially. It gives the opportunity to determine what resonates or not within a few hours before investing more time and effort into the project. Moreover, you get a bird's eye view of relevant benchmarks and diagnostics that indicate areas for improvement, while dashboards show what worked and what didn't.
Don't let your results plummet, Sign up now for free!
What Is Agile Market Research?
Agile market research is a technique that combines processes and technologies to streamline the accumulation and analysis of consumer information.
A primary goal of agile market research is to develop faster, leaner, more flexible, and digitally enabled methods for analyzing and collecting data within an organization. Thus, the company will be able to adapt quickly to market changes and meet customers' demands.
A fast response can be obtained from customers when conducting agile market research. Analyzing real-time data allows immediate insight into new ideas, products, features, and solutions in short cycles. It thus allows new inventions, products, and features to be integrated directly into the system. In addition, it ensures transparency between all parties.
As a result, you will be able to test, learn, and make decisions with greater confidence. No delay, no second guessing – just relevant information when it's needed.
Why Is Agile Market Research Beneficial?
Agile market research offers a value-added service that is considerably more affordable, simpler, and quicker than traditional methods. The process also includes testing products, concepts, and advertising campaigns extensively well in advance of their launch.
New technologies increase the likelihood that certain goods, promotional activities, and marketing campaigns will be rejected by their primary target market, incurring significant expenditures or harming the brand's reputation.
The testing of products and advertising has gained popularity as failures have caused millions of dollars worth of losses, not to mention harm to public relations.
What Are the Stages In Agile Market Research?
Market research using agile methodologies involves various stages that work synergistically to produce a complete result. The stages are:
Explore
Develop a target market identification strategy
Assess the customer's needs
Compile a competitive analysis
Identify the right technology for your project

Create
Decide how customers will interact with you
Select the product's design and navigation
Launch it after testing

Evaluate
Establish a benchmark for performance
Evaluate customer feedback
Calculate the ROI
Identify and implement any necessary adjustments
You might also be interested in reading: How to Ace Audience Analysis with Market Research 
Why Agile Market Research Survey Tool is the Future of Insight?
1. Market research automation is faster and more productive
Tedious tasks like feasibility checks, project scoping, getting a price quote, or launching a project to a global survey panel can be done at the click of a button through automated platforms.
2. Artificial intelligence makes the process smarter
Not everyone has the skills to do efficient market research, especially within a deadline and getting ready to launch a market research survey without falling into unavoidable obstacles.
Artificial intelligence helps in democratizing some complex tasks. The highly advanced technologies behind AI-enabled survey assistants enable even novices to launch professional-level surveys.
3. New products target particular use cases
Once you grasp their fundamentals, methods are often relatively easy to replicate. Whether the concept test is for a brand logo or a self-inflating beach ball, it remains relatively the same. This also applies to other market research use cases like ad effectiveness, brand tracking, customer satisfaction, or Net Promoter Score.
Using case-specific surveys in agile market research creates a seamless user experience.
4. It is not only insight experts who gain insight
It is now increasingly common for companies, large or small, to use other teams to search for trends and additional actionable information, such as product and marketing departments.
Agile market research is a growing field that is dynamically working towards creating and incorporating key outcomes to help accelerate growth.
5. Team strategies are increasingly incorporating agile market research
Previously, some teams could only get a budget for market research when companies planned and strategized for the year ahead. With the efficiency and ease of cost-effective market research survey tools at their disposal, agile market research projects are now available across almost all teams and departments.
You might also be interested in reading: Tips For Creating a Chart and Visualising Data
Conclusion
Agile market research, thus, allows learning and testing with improved decision-making and trust. It approaches a methodology of minimal waste of time and resources and limits the risk situations while maximizing ROI.
While traditional market research is slower and tends to be more expensive, agile market research is efficient, economical, and much more well-executed.
When done effectively, agile market research is often quicker and less expensive than conventional methods. Because of this, some market research teams believe it to be a panacea for cost reduction or a catalyst for aggressive schedules. Defy that inclination. The value of agile projects lies in the way they strike a balance between speed and cost savings.
Heena Shah – Content Writer at Sambodhi