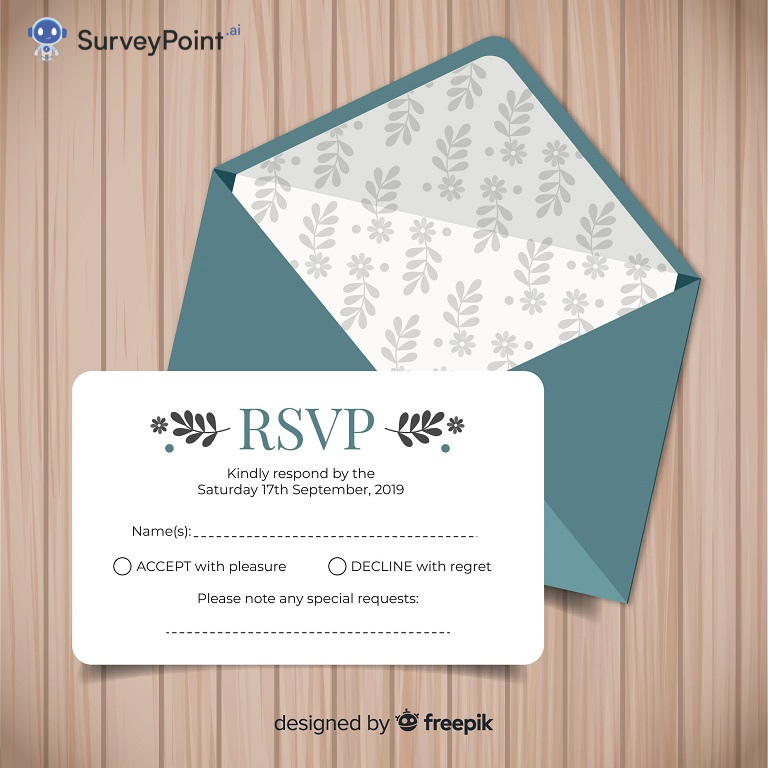 If you've ever been in charge of planning an event, you know how stressful it can be to track how many people said yes to your invitations. When planning a wedding, a birthday party, or a baby shower, it might seem like a lot of work to collect and organize Google RSVP form.
What if there was a more effortless way to do it? If you're hosting an event and want people to RSVP, you may create an RSVP Google form.
This post will show you how to make an RSVP form online and keep track of who fills it out. As a bonus, we'll show you some easy ways to create an RSVP Google Form interactively.
Let's get started!
Steps to Create Google RSVP Form
When you invite people to a party or other event, you want to ensure they can show up. If you know how many people are coming, it's much easier to plan. Be it a birthday, meeting, or wedding RSVP form; you can create it all.
You want a lot of people to come, of course. Still, you can make it more likely that this will happen by making it easier for everyone to RSVP. One method to do this is to use the Google Forms invitation templates for RSVP. To help you out, we'll go through each step of the process. If you follow these steps, it will be easy to create an RSVP Google Form.
Go to Google Forms and pick the suitable form from the list to use the RSVP form. Google Forms can be used to send a personalized RSVP, but the option that's already made takes care of everything. You can fill in by hand anything that isn't on this form. Time is saved in this way.
You'll find the questions you need to ask on the RSVP form. If you want to get more specific, here are four rules.
Under "Event RSVP," you can change the name of the RSVP forms. "Name of the event + RSVP" is a good headline.
For example, "RSVP" for the 10th anniversary, "RSVP" for Scott's birthday, etc.
Below the heading is a space to change the address and add useful contact information like a phone number, email, and social media profiles.
You can change questions on the Google RSVP form by tapping the question you want to change and making the changes.
Touch the trash can icon and the question field you want to eliminate. This will take it off the list of questions already set up.
After the RSVP form has been fully customized, it can be shared using any of Google Forms' many options. Let's look at the three options we've been talking about, along with the steps for how to use them;
First, make sure you've clicked the "Send" button in the upper right corner of your RSVP form.
Second, fill out the pop-up with the emails of the people you like to send the RSVP form.
In Step 3, add extra text to the message box to make it more personal.
Fourth, once you've reviewed the information you entered, click "Send" again to send the form to the email addresses you gave.
You can email the Google Forms RSVP to invitees or give them a link to the form so they can fill it out on their own. This is the way to do it;
First, click the "Link" tab in the "Send Form" window after you've hit the "Send" button.
Second, if you choose the "Shorten URL" option, you can shorten your link.
Next, copy this link to your device's clipboard: Click the button that says "Copy."
Fourth, share the RSVP link through SMS, email, IM, or QR codes (using services like WhatsApp, iMessage, or Telegram). If you're doing your survey with Google Forms, you can generate a QR code too.
If you are planning a public event and want to use Google Forms to collect responses, sharing the form on social media is the easiest way to do this. See below for details on how to move forward;
First, click the Send button after making changes to the RSVP form.
Secondly, You can now share your RSVP on Facebook or Twitter by clicking the Facebook or Twitter icons. It's not that hard.
Last but not least, you can use Google Forms to check by hand how many guests have filled out your RSVP form. This is the way to do it;
First, use your web browser to open the Google Forms interface.
Second, choose the RSVP Form whose responses you want to see.
Third, tap the "Responses" link to the section where people respond.
In Step 4, you will see a list of the RSVPs.
Fifth, tell Google to email you whenever you get a response by checking the box that says "Get email notifications for new responses."
A Google form is a fantastic tool, but have you tried Survey Point? We urge you to visit Survey Point once for the survey building.
Final Take
Using Google Forms, you can make forms quickly that look like they were created by a professional. It is used by many organizations and people for their survey needs. It also does a decent job. How well does it work compared to other ways to do surveys? We wouldn't do something so crazy. Why? Survey Point is just as good as Google Forms, and we'll show you how to analyze the data. RSVP templates are a must-have for all events, whether formal or not.
Google Forms' features are simple, but they help get the job done when collecting information. The tools at Survey Point make gathering and analyzing data more manageable, which helps people make better decisions. And it's a big deal if you want your business to grow in the long run.