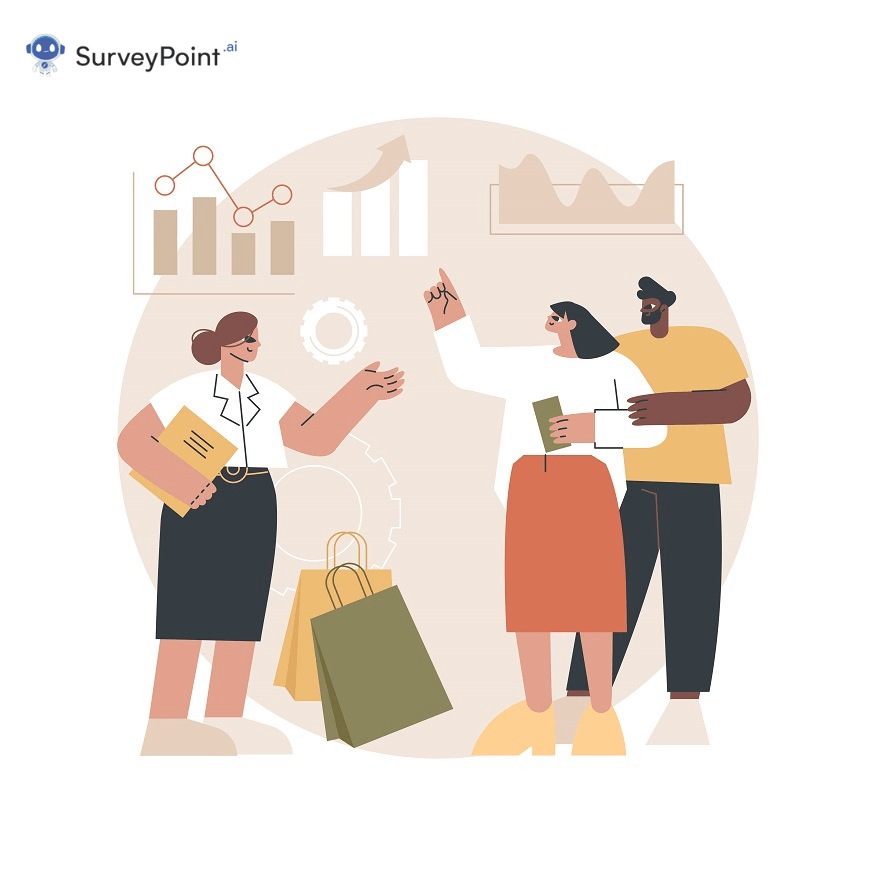 Before buying a product, the consumer goes through various buying decisions. The buying or customer decision process is a continuum of need requirements, information search, evaluation of alternatives, purchasing decisions, and post-purchase product analysis. An organization can scale its growth by analyzing this continuum of customer buying behavior.
Market researchers can use data trends to formulate better marketing strategies by analyzing various factors related to customer buying behavior.
Why Do Experts Study Customer Buying Behavior?
Experts generally study customer buying behavior to draft a more customer-centric business strategy. Good customer behavior-related market research surveys investigate newer and less used ways of marketing a product.
According to Kotler and Keller (2011), buying behavior allows a market researcher to understand the customer's culture, social group, and many other factors.
Different understandings of cultures and their purchasing behaviors have become essential for organizations in this highly globalized world.
With geographical growth, businesses need to understand the inlay of fresh perspectives into their operational strategies with the customer base shifting from one country to another. Thus, the study of buying behavior becomes a must to target all the customers strewn across different geographical locations.
The current market researchers pay close attention to the cultural, lifestyle, taste, and expectation differences before devising full-length marketing strategies.
RELATED: Factors Affecting Consumer Behavior and How to Influence Them
Buying Behaviors Market Researchers Encounter
Extended decision-making
Market researchers observe that customers engage with a brand's luxury products following a certain pattern of high investment. The pattern is generally executed by certain groups of people sitting at a very high level of a country's economic hierarchy.
Extended decision-making involves in-depth research to underline the potential monetary risk a customer associates with the purchase of high-end products daily.
Limited decision-making
Research has shown that buyers exhibit certain behaviors when purchasing moderately priced, time-consuming, and resource-intensive products.
This practice among buyers is known as Limited Decision-Making. Here customers in large numbers compare brands and models before finally making a choice or purchase decision.
Habitual buying behavior
A brand's experienced buyers make repeated purchases without opting for multiple product scrutiny or being highly involved during the buying process. This is because they already have established a token of trust with the brand via their previous purchases.
Generally, the products for repeat buying are perceived as a commodity and don't provide much difference from their competitors.
Variety-seeking buying behavior
Buyers with variety-seeking behavior search for an alternative product to the one they are currently using. In these cases, the buyer may or may not be satisfied with the current product and desires a switch.
They keep two criteria in mind before opting for an alternative:
The cost of the alternative product should be low compared to the current product.
The brand value for the new brand should not be much lower than for the current brand they are using. As with the price drop down, buyers also question the product's quality.
Additional Information
There are a lot of factors that propel a buyer to make a buying decision. We here provide a list of those factors.
Personal Factors: A customer's personal set of beliefs and morals and related demographical elements can drive him to commit certain buying behavior. For example, a vegan might consider cruelty-free products to buy.

Cultural Factors: Cultural traits greatly influence a customer's buying behavior. For example, due to cultural beliefs, many Buddhists do not buy any alcoholic products all over the world.

Social Factors: Factors like social status, expectations, and peer buying behavior influence a lot of buyers. Similar purchase behaviors appear natural to these consumers.

Psychological Factors: A person's internal motivation, reinforcement, socialization, perception, and attitudes can significantly influence their buying behaviors.
Other Related Factors of Customer Buying Behavior
Geographical Availability: In a certain area, if there are a number of stores available— customers can go to different stores at different times to buy the same product or its alternative. The data market researchers gather from analyzing the geographical availability of shops manifest metrics regarding customer loyalty.

Price: The product price may be appealing or repulsive to a customer, based on which he may or may not buy.

Specifications: A customer may buy highly costly products if the product description shows specific items which make it significantly more durable than its competitors.

Time of Purchase: Buying behavior of customers depends on the day, week, month, season, and year.

Payment Options: A brand's products can be purchased or rejected by a customer based on how they choose to pay.
How Can Businesses Benefit From Buying Behavior Analysis?
By having a sound understanding of customers' buying behavior, companies can expand their growth to multiple folds.
Research can be conducted to follow up on current buying behavior standards by comparing data collected over the years at different points. Such surveys can effectively show statistics regarding the brand's popularity, customer engagement, and many other factors.
Buying Behavior surveys help businesses understand the buying behaviors a brand's loyal customers exhibit. A brand based on the yielded result of buying behavior surveys can educate their salesperson better and upscale their sales percentage.
The results of a buying behavior survey can help businesses upgrade their technology. It can show which portions of a business need to be automated. Furthermore, if a company increases its technology proportionally, it can process a vast amount of complex data relatively quickly.
Conclusion
Surveying the trends of a brand's buying behavior only performs the best when it is applied very cautiously to a business's operational strategy.
With the help of data collected from a buying behavior analysis survey, a brand can bridge marketing gaps in its operational channels. The data should also shed light on what new the brand can do to maintain a better customer retention and satisfaction score.
Ultimately, a good buying behavior survey must help a brand make itself visible and customer-centric in its customers' eyes to maximize returns.
Ready To Future-Proof Your Business?  
Sign-up for a FREE account and get a sneak peek into our intuitive survey dashboard panel.
Free Trial • No Payment Details Required • Cancel Anytime