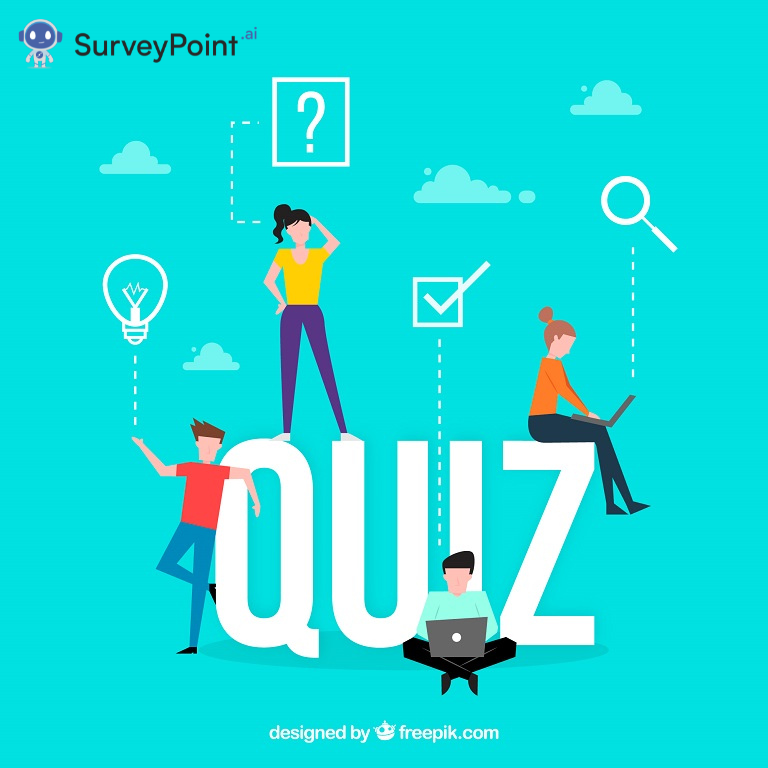 This post will assist you in learning what a personality test is and the best website to build a customized personality test. To help you get started, we will also provide a free personality quizzes template.
According to recent research, 72% of individuals are annoyed by generic marketing. This is where a unique personality test can help. Offering your customers a personalized content experience can help strengthen your relationship of trust with them. Sharing your entertaining personality tests on social media can increase your website traffic.
What is a Personality Quiz?
We routinely evaluate and characterize other people's personalities informally. Various aspects of a person's personality are regularly mentioned when we speak about ourselves or others.
A set of questions on a personality quiz will reveal information about an individual. A personality quiz aims to quantify the recurrent behaviors and habits people display in different situations. You can learn more about your or other's personality by taking a personality test.
A standard personality test consists of a sequence of questions. These questions are mostly closed-ended and have a few open-ended questions as well. It's a fun, contemporary reimagining of the personality quizzes you might have seen in vintage magazines.
A person's preferences, viewpoints, desires, and experiences are examined in personality quizzes. People who conduct the quiz can analyze the results to learn vital information about participants.
Best personality Quiz Maker
Online quizzes are among the finest ways to boost website engagement and expand your audience. Let's examine some of the most popular websites for creating the ideal personality test.
Interact
The finest website for creating online quizzes is Interact. Thanks to its affordable marketing option, you can expand your mailing list and social network following. In addition to being famous, it is also employed by well-known companies like Forbes, HelloFresh, and Eventbrite.
Woorise
Woorise is a budget-friendly lead generation software. It also functions as a straightforward yet effective online quiz creator. It has a built-in capability for creating quizzes. Woorise has a free plan and is easy to use. You can Make quizzes on trivia, personalities, and more.
BuzzFeed Quizzes
The leader in online quiz platforms is BuzzFeed. It features a wide variety of quizzes that are constantly being added and updated on the forum. They have some of the most incredible and fascinating quizzes available out there. You can create a personality test for your friends and send the link to each of them. You'll be able to take quizzes with your friends and compare your results this way.
PlayBuzz
Playbuzz is the site to go to if you want a tonne of simple-to-access quizzes on a wide range of subjects. On Playbuzz, a variety of quizzes are accessible, and you can quickly find more,
Fun Personality Quizzes
Fun Personality Quizzes detours from the other websites mentioned in the list. As you might anticipate, there are many quizzes on the website, but Fun Personality Quizzes focuses more on you and your personality. It is a fantastic choice if you're searching for a means to understand yourself better.
Examples of quizzes that you  may find on this website are "what character are you?" and "what personality type do you fit into?"
You Must Watch: How to Create Google RSVP Form: A Quick Guide
40+ Personality Quiz Questions
We've curated over 40 sample questions to ask your ideal audience in your personality quiz.
How would you describe yourself?
What word would people close to you use to describe you?
Which movie title best describes your life?
Do you like cats more or dogs?
According to you, is the glass half-empty or half-full?
What extracurriculars did you join in high school?
Which quote resonates most with you?
What would be your perfect date?
What is your favorite place that you visited?
Would you describe yourself as a mountain person or a beach person?
What is a destination that you'd like to visit?
What genre of music do you listen to most?
Do you enjoy trying out new activities?
What is your favorite sport?
What color did you have your bedroom painted as a child?
How easily do you make friends?
What is your favorite social media network?
Do you prefer reading a book or watching a movie?
What do you usually do in your free time?
What keeps you up at night?
What is your go-to beverage?
What is your favorite show of all time?
Who is your role model?
If you pick a place to live anywhere in the world, where would it be?
How easily do you trust people?
If you could know the absolute truth about one thing, what would you want to know?
How many times a week do you like going out?
What is the greatest injustice you've personally experienced?
Do you like talking to new people at social gatherings?
What is your greatest personal obstacle?
What's the one thing you'd like to change about your personality?
Do you tackle tasks right away or procrastinate until the last minute?
What are you up to on a usual Saturday night?
What are you watching on Netflix?
What type of shows do you usually watch?
What do you consider your greatest accomplishment?
How do you deal with failure?
What do you do to manage stress?
What is the misconception most people have about you?
Who are the three people in your life you're closest to?
Do you find yourself worrying or getting anxious often?
What is your worst personality trait?
How to Make a Personality Quiz SurveyPoint?
Using SurveyPoint is a breeze. Our platform helps you get meaningful data from the right audience by minimizing efforts and maximizing results.
Step 1: Create a free account
Sign up or sign in using our social login features
Step 2: Move into your new workspace
Create a new workspace and start creating surveys
Step 3: Design your survey
Build a new survey or customize one of our templates using our 50+ design options
It's that simple! Packed with interactive elements, you will fall in love with our features. Our robust analytics, SurveyPoint, can explore your data deeply and present it in any way you see fit. This platform allows you to do more than look at graphs and charts.
Conclusion
Results from personality quizzes are tailored to the individual. This personalized effort increases trust, which generates new leads and increases revenue. Personality tests are an excellent way to expand your email list and quickly attract new prospects. You can use a survey application that enables you to incorporate personality test quizzes into your website.
Are you searching for an enjoyable, simple, and productive quiz maker to run interactive quizzes on? You can access all the tools you need on SurveyPoint to make your own personality quiz.