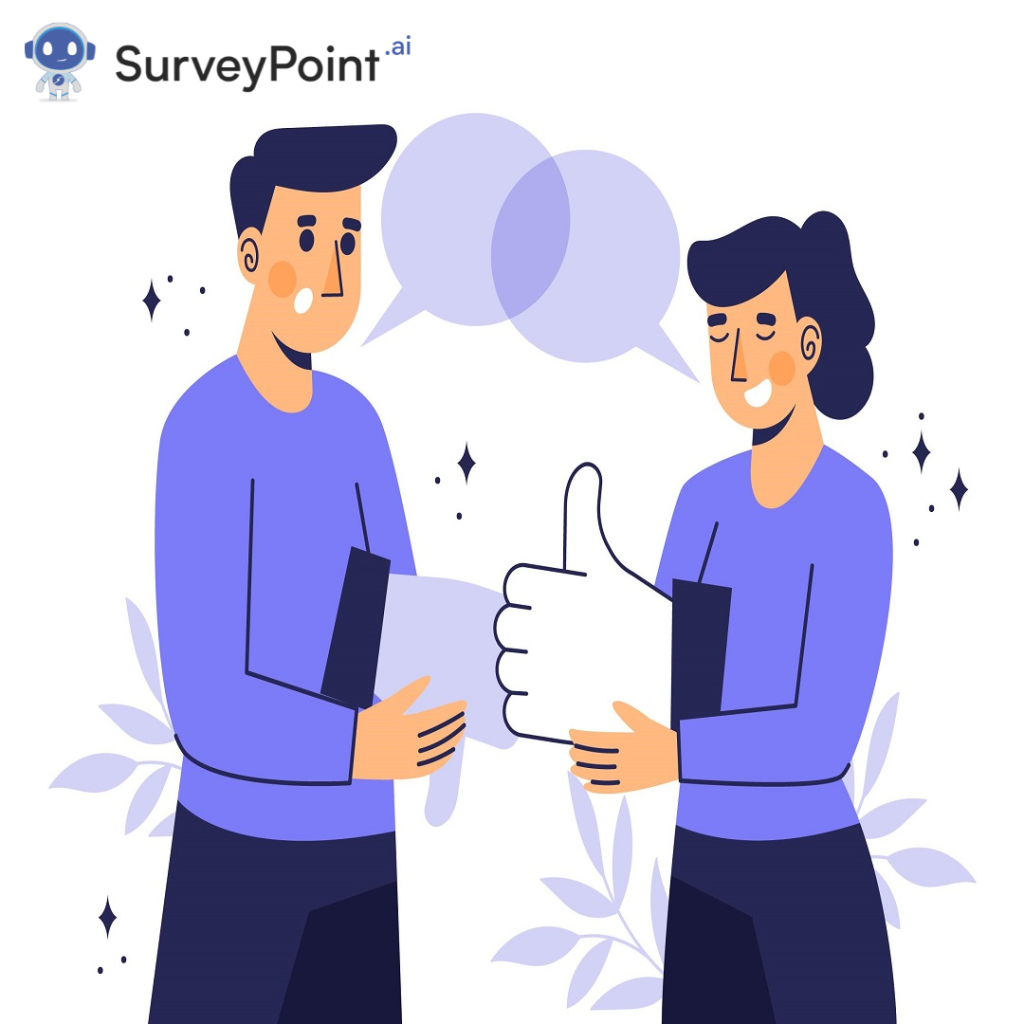 Conversational feedback is a meaningful way to help people and groups communicate and get along better with each other. Conversational feedback can be a valuable tool for individuals and teams who want to improve communication, relationships, performance, and outcomes. 
This article will help you develop a complete knowledge of Conversational feedback and how they are helpful. We have made a detailed list of uses of conversational feedback, advantages, and types of conversational feedback.
What is Conversational Feedback?
Conversational feedback is feedback from a customer given through chat or a direct message. You can ask customers direct questions about their comments, which is a great way to get feedback. Conversational feedback is one of the most important ways to improve communication.
Conversational feedback surveys are interactive. It gets feedback from customers and employees by having casual conversations. As a result, people can express their opinions honestly and freely. People can help each other become better communicators by giving constructive feedback politely and encouragingly.
There are different ways to say what you think during a conversation. Some examples of positive feedback are affirmations and thanks. Negative comments, on the other hand, can include suggestions for improvement and constructive criticism.
Conversational surveys work well on digital channels like Facebook, landing pages, email, etc. However, a thoughtful conversational offline questionnaire can be just as helpful.
Conversational feedback is suitable for the following purposes:
Provide comprehensive feedback and help when it's needed.
Find the areas that need improvement.
Encourage cooperation and communication between people.
Improve the relationships between people and teams.
Improve the productivity of teams.
Tips and Tricks for a Conversational Feedback
It is important to remember that different people can receive feedback in different ways. Some people may be more welcoming to constructive criticism, while others may feel criticized or maligned.
Make sure you approach feedback in a respectful and supportive way. Lastly, be open to receiving feedback in return. Here are some things to remember when giving conversational feedback:
Never criticize people in public. This can offend them and make them feel degraded in front of others. However, praising people in public can boost their confidence and make them feel valued.
Be polite and respectful towards people. Use words and sentences that convey your message without them feeling attacked. Skip associating people with negative adjectives like lazy, careless, or selfish.
Be clear and concise in your feedback. Refrain from making vague statements, especially when the feedback is critical.
Listen to people carefully when they explain their points of view. Ensure the feedback causes no confusion or misunderstanding. If the conversation feedback is going in an unintended direction, gather yourself and paraphrase yourself in the right direction.
Don't push people to people's limits.
Be aware of the other person's body language and tone of voice. Change the feedback course if they get defensive, angry, or upset.
Give more positive feedback than negative. Always be sincere when giving positive feedback. 
You Must Like: A Complete Guide on Types of Survey Questions
Benefits Conversational Feedback
Enhanced performance. Individuals and teams can use constructive feedback to find areas where they can improve and take steps to improve their performance.
Improve communication. Regular feedback conversations can improve communication among people and their teams. This can help set clear goals, build trust, and minimize misunderstandings.
Strengthen relationships. Conversational feedback can help people build stronger relationships. It gives people a place to talk openly and honestly. The feedback that is open and honest helps build trust and mutual respect.
Boost motivation. Positive feedback can make people feel more motivated and inspired to keep performing. People can improve and grow with the help of constructive feedback.
Increasing productivity. Conversational feedback can help people figure out what's important and put their attention on it. This leads to higher productivity and improved results at work.
Develop self-awareness. Conversational feedback can help people learn more about how their actions affect work and others. This self-awareness can help people grow and improve themselves.
Cultivate an environment of continuous improvement. Conversational feedback creates a culture where people are always trying to get better.
Privacy and personalization. Conversational feedback can be changed to fit the needs of each person or team. It gives people a private and safe place to talk about anything they want. Conversational feedback can be informal or formal, spoken or written, and gives people the scope of personalization.
Types of Conversational Feedback
Appreciative feedback. This type of feedback is used to praise and thank someone for their work or actions. It points out the good things the person has done and encourages them to keep doing them.
Constructive criticism. This kind of feedback is used to suggest ways to make things better. It shows the person what parts of their behavior or performance they could change. It also gives them particular suggestions for how to do so.
Evaluative feedback. This kind of feedback is used to give a formal assessment of someone's performance or behavior. It could have ratings or scores based on certain factors.
Coaching feedback. This kind of feedback is used to help someone reach a certain goal by giving them direction and support. It helps people learn skills and act in ways that will help them do well.
Correctional feedback. This kind of feedback is used to fix a specific problem with a person's behavior or performance. It is often used when someone doesn't meet expectations and needs to make changes.
Reflective feedback. This type of feedback is used to get someone to think about their actions and behaviors. It may involve asking questions that make the person reflect upon themselves.
Mopinion
Mopinion is software for analyzing customer feedback. It is especially good at collecting and analyzing feedback from websites and mobile apps. Mopinion's platform has features like customizable feedback forms, real-time feedback reporting, and integrations with several other software applications.
Mopinion's client feedback analytics can help businesses encourage conversational feedback. It uses customer feedback to change how it treats its customers.
Mopinion has advanced analytics features, such as analyzing sentiment and trends. It helps businesses understand customer feedback better and make decisions based on the data they have.
Conclusion
For conversational feedback to work, you must be precise and straightforward regarding what's being discussed. When giving feedback in a conversation, the goal should be to help the person do better or reach their goals. It offers ideas for how to improve or grow.
Conversational feedback can be used in many places, from the workplace to personal relationships. It helps build trust and respect between people. It also gives support and encouragement to the person receiving the feedback.