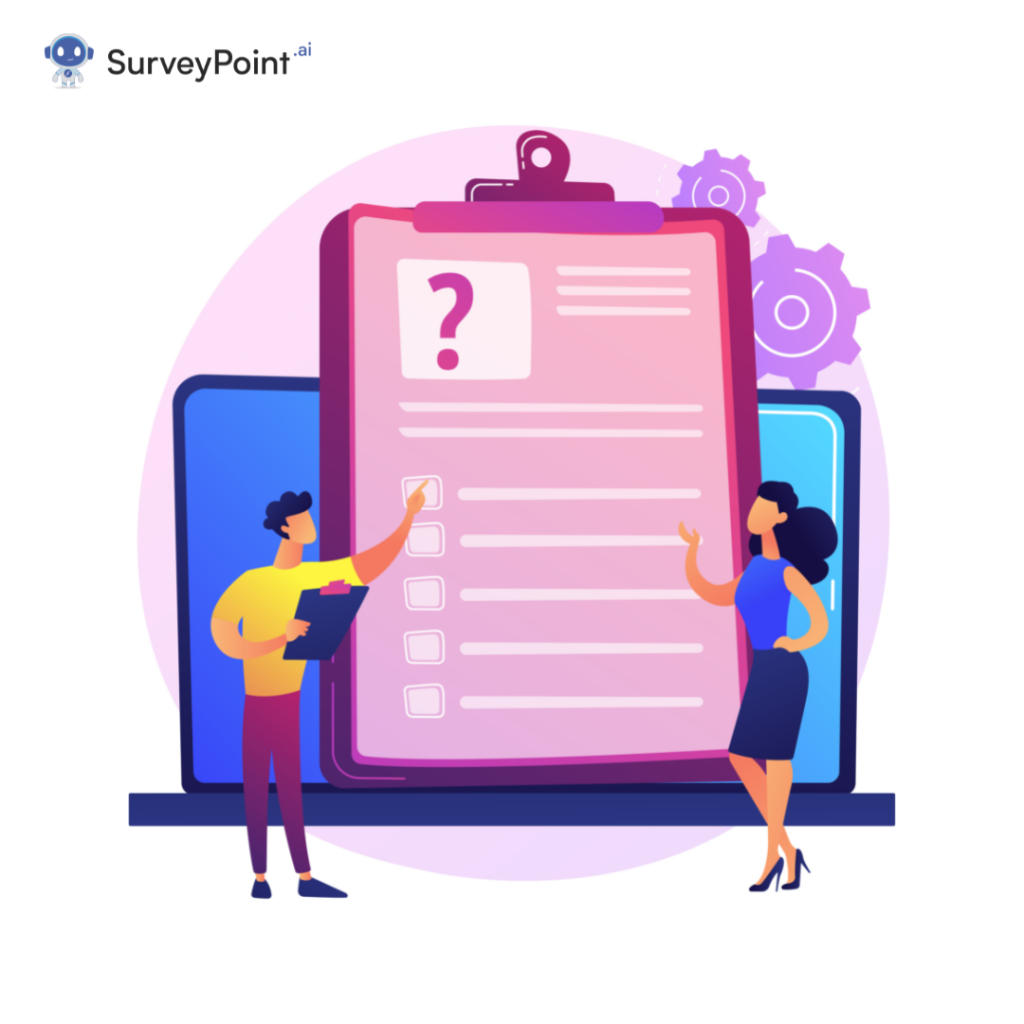 Survey Questions are the most widely used method for conducting research. They can be used to gather information, form opinion polls, and perform market research. While making a survey fit to collect data, researchers can use diverse types of survey questions that will help them make a solid questionnaire.
This article will help you discover various formats of survey questions that an individual or organization can use to collect information for different purposes. We have added examples to each type of survey question so that users can get a better understanding of how they can use these genres of questions.
What are Survey Questions?
Survey questions are queries designed to collect information from a group of people. They are the primary element of surveys. Survey questions are a tool to gather data and viewpoints about various topics. These questions can be asked online, by phone, on paper, or face-to-face.
Researchers may use survey questions to collect qualitative or quantitative data. Survey questions are the most popular research method. They offer a fast, efficient, and inexpensive way of gathering large amounts of information.
25 places you can use Survey Questions
Survey questions can be used to collect information on the following topics:
Educational Research
Population Research
Demographic Research
Public Opinion
Government Research
Attitudes and Opinions
Behaviors and Preferences.
Social Research
Income Distribution
Feedback on Products and Services
Brand Perception
Digital Marketing
Advertising Effectiveness
Product Development
Reader Interest
Assessing Customer Satisfaction
Gauging Customer Loyalty
Measuring Employee Engagement
Training Needs Assessment
Workplace Diversity and Inclusion
Performance Review
Website Feedback
Mobile Apps Popularity
Political Campaigning
Post Webinar Assessment
8 Types of Survey Questions with Examples
You can use the following types of questions in a questionnaire:
Demographic Questions
Demographics are basic survey questions. They ask about the respondent's age, gender, income, education level, and other basic demographic information. They are a helpful tool to divide your audience based on who they are and what they do.
Examples:
What is your highest level of education?
What is your employment status?
Yes or No Questions
Yes or No Questions are also known as Dichotomous questions. this type of survey question can be answered with a simple 'yes' or 'no.' Dichotomous questions are helpful in gathering straightforward data quickly and easily.
Examples:
Are you married? Yes or No.
Do you use Instagram? Yes or No.
Multiple Choice Questions (MCQs)
Multiple choice questions are the most popular survey question type. They usually offer three or more predetermined answer options. MCQs allow respondents to choose one or multiple options from a list of options that you provide.
Fixing options for your respondents provide a more effortless survey-taking experience.
Examples:
How did you get to know about our product/service?
Family and friends
Social media
Newspaper
Television or radio
Posters or hoardings
Others(please specify)
What activities do you like to do in your spare time?
Travel
Read
Watch shows
Sleep
Spend time with friends and family
Others (please specify)  
Open Ended Questions
Open-ended questions let respondents answer the questions in their own words. This provides more detailed feedback. Open-ended questions are difficult to analyze as every response is unique. It's not easy to quantify written answers, and it is better to provide qualitative data.
Example:
What is the most significant impact of global warming, in your opinion?
What makes you like/dislike electric vehicles as the future of the automobile industry?
Ranking Questions
A ranking question asks people to put the answers in order of their preference. They let you know what people think about each answer choice. However, answering ranking questions can take longer.
Examples:
Rank the following subjects based on your likeness:
English
Mathematics
Physics
Chemistry
Biology
Computer Science
Psychology
Rank the following ice cream flavors based on your preference:
Vanilla
Mint
Choco chip
Strawberry
Mixed Berries
Rating Scale Questions
Rating scale questions are also called ordinal questions. These questions ask respondents to rate a product, service, or experience on a scale of 1 to 5 or 1 to 10. Questions about the Net Promoter Score are an example of a rating scale question. They use a scale to determine how likely customers will recommend their product or service to other people.
It is best to select the same rating scales for all questions when making ranking questions. This way, it will be easy to compare the ratings side-by-side.
Example:
How likely are you to recommend this dish to your friends? Rate from 1 to 10.
On a scale of 1 to 5, rate your user experience with our mobile app.
You Must Like: 25 Shopify Apps you need to Grow your Business
Likert Questions
Likert scale questions are the "do you agree or disagree" questions you have in surveys. They are used to gauge respondents' opinions and feelings. Likert scale questions give respondents a range of options.
Likert questions are among the most popular and dependable methods of measuring perceptions, attitudes, and opinions.
Examples:
Michael Jackson is the most popular male singer of all time.
Strongly Agree
Agree
Neutral
Disagree
Strongly Disagree
My team leader provides continuous feedback to improve my performance.
Strongly Agree
Agree
Neutral
Disagree
Strongly Disagree
Image Choice Questions
The image choice question type allows you to use pictures as answer options. They help to make surveys more interactive and grab the respondent's attention.
Image choice questions work great when you want respondents to evaluate the visual qualities, such as product design, an ad, or a logo. It also gives respondents a break from reading.
15 Interesting Survey Questions Examples
What motivates you?
What's your biggest pet peeve?
Who is the person that inspires you?
What is the best piece of advice you've ever received?
What's the best class you've ever taken?
If you could have only three things on your life bucket list, what would they be?
What's a bad habit you're trying to break?
What is one book you recommend everyone to read?
Who is your favorite author?
Which of your personality traits would you consider to be the worst?
What is your favorite form of exercise?
How often do you try new restaurants?
What is your preferred way to unwind after a busy day?
What is your favorite type of music?
Which streaming service do you use the most?
15 Quantitative Survey Questions Examples
How often do you visit a movie theater?
How much do you pay for services at the salon?
How many times a week do you order food from a restaurant?
What percentage of your monthly income do you save?
How many hours do you spend on social media each day?
On a scale of 1-10, how satisfied are you with our product/service?
How much do you spend on medical bills/prescriptions each month?
How often do you work out at the gym?
How many people live in your household?
On a scale of 1-5, how important is the price when making a purchasing decision?
How many times a month do you order things from online shopping portals?
How frequently do you buy pet food?
What is the average shipping time of your products?
How many liters of cooking oil does your family consume in a month?
How much do you pay for your internet services per month?
Conclusion
Survey questions are a powerful tool for collecting data and insights. The results of these questions can be used in decision-making, policy development, and program planning in a wide range of fields and industries.
It is essential to remember that framing the right survey questions is vital to ensure that respondents answer your questions with honesty and interest. Your questions should be clear, concise, consistent, and unbiased. Lastly, you should remember that the type of survey questions you choose are respondent friendly.