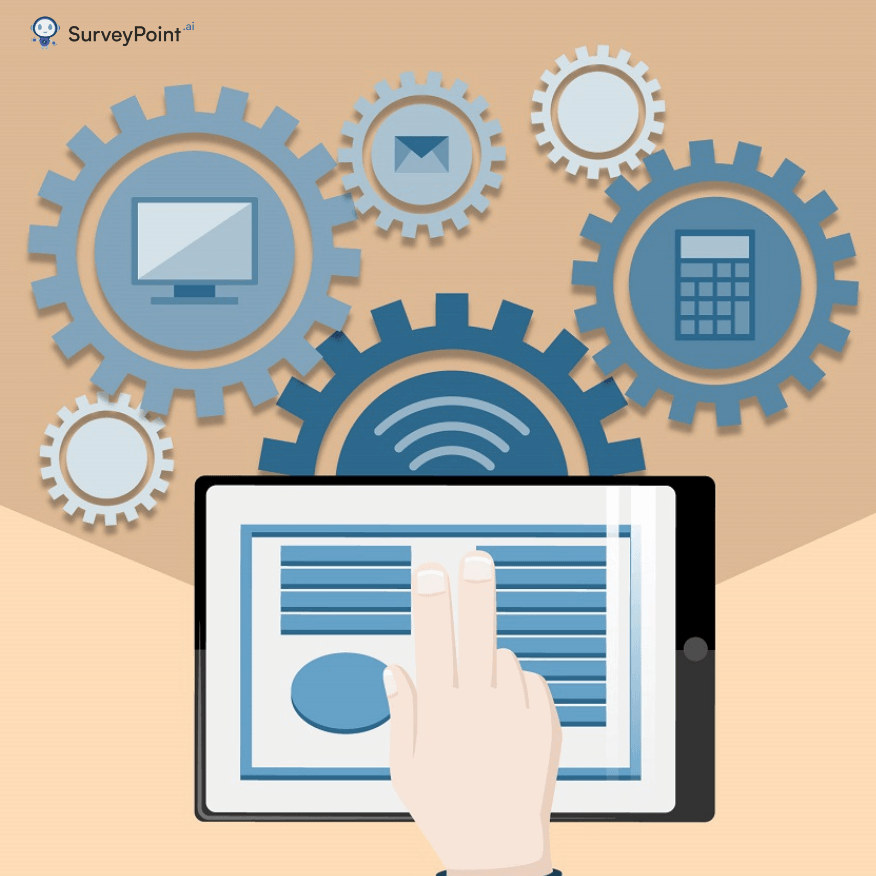 In the ever-evolving business landscape, delivering exceptional customer experiences (CX) has become a cornerstone of success.
To achieve this, harnessing the capabilities of cutting-edge CES (Customer Experience Software) tools is essential.
This article explores the best CES tools that have gained acclaim in the industry.
Harvard Business School highlighted the importance of these tools to revolutionize customer experiences.
Let us now check out some of the best CES tools that are available on the market today.
Survicate: Uncover Actionable Customer Insights
Survicate is a versatile CES platform offering various features that enable businesses to gather and analyze valuable customer feedback.
From surveys and feedback forms to in-app interactions, Survicate provides a user-friendly interface for seamless data collection.
Leveraging advanced analytics, this tool uncovers actionable insights, unveiling emerging trends, identifying pain points, and highlighting areas for improvement.
With Survicate, businesses gain the power to make data-driven decisions that shape exceptional customer experiences; hence, this is one of the best CES tools available.
Premium Plans:
Survicate offers two paid plans: Plan 1 has four levels priced between $89 and $269 based on survey quantity.
Both plans include advanced features and customization options.
Scale Plan:
The Scale plan starts at $299 per month.
It's designed for large organizations.
Offers extensive customization, training, dedicated Customer Success Manager, and unlimited active surveys.
Free Plan:
Survicate provides a free plan.
It offers basic features.
Limited responses per month.
Simplesat: Measure and Enhance Customer Satisfaction
Simplest places a strong emphasis on measuring and enhancing customer satisfaction.
Businesses can gather valuable insights into customer sentiment and satisfaction levels through intuitive surveys and feedback collection capabilities.
This is one of the best CES tools as it simplifies feedback collection, providing firms a greater understanding of client perceptions.
Utilize strategic insights to elevate customer experiences and cultivate unwavering loyalty, paving the way for sustained triumph.
Premium Plans:
Standard plan: $99/month, no custom branding
Pro plan: $249/month, custom survey design, multi-brand support, priority support
Free 14-day trial available.
Free Plan:
Simplest option
14-day free trial
Experience the tool's capabilities before purchase
You'd also like: Demystifying Consumer Research
Qualaroo: Targeted Feedback Collection for Deeper Understanding
Qualaroo offers targeted feedback collection solutions designed to give businesses a deeper understanding of their customers.
With its advanced targeting capabilities, businesses can deliver personalized surveys and gather precise feedback at crucial touchpoints.
Qualaroo's robust analytics empowers businesses to extract meaningful insights, helping them identify customer pain points, preferences, and expectations.
By leveraging this knowledge, businesses can enhance their CX strategies and drive meaningful improvements, making Qualaroo one of the best CES tools.
Premium Plans:
Qualaroo's monthly pricing plans range from $100 to $360, determined by page views and plan features.
The basic plan lacks advanced question types and targeting options.
15-day free trial or demo available for the Enterprise plan.
Free Trial:
Qualaroo offers a 14-day free trial.
Allows users to explore features.
Assess suitability for business needs.
Surveypal: Streamlined Surveys for Actionable Feedback
Surveypal simplifies the process of surveying customers, ensuring a streamlined approach to gathering feedback.
With this tool's user-friendly interface and extensive survey modification possibilities, firms can create surveys that efficiently capture insightful data.
With Surveypal's powerful analytics, businesses can derive actionable feedback, identify trends, and pinpoint areas for improvement.
One of the best CSE tools in the market, Surveypal equips businesses with the resources they need to generate significant CX upgrades.
Premium Plans:
Surveypal offers two plans: Measure ($19/month per agent) and Analyze ($29/month per agent).
Measure provides comprehensive metric reports.
Analyze includes an AI engine.
Free Trial:
Surveypal provides a 30-day free trial.
Evaluate the tool's capabilities.
Determine its fit for your customer experience goals.
Retently: Building Customer Loyalty through Feedback
Retently is a powerful tool for building a strong customer base by leveraging its feedback capabilities.
It offers a user-friendly interface and comprehensive feedback management features.
With Retently, businesses can collect, analyze, and act upon customer insights effectively.This makes it one of the best CES tools available.
Retently customer feedback workflows have streamlined the process of nurturing customer relationships, ensuring timely follow-ups and issue resolution.
Businesses can enhance their CX initiatives by prioritizing customer feedback and cultivating enduring customer loyalty.
Premium Plans:
Retently offers flexible pricing plans starting at $25/month (annual payment) and going up to $749/month for enterprise-level plans.
Plans cater to different user needs and budgets.
A wide range of features and benefits are available based on the selected plan.
Free Trial:
Retently provides a 7-day free trial to let users experience the platform's features and assess its effectiveness.
Users can test the tool's ability to drive customer loyalty within the trial period.
No commitment is required during the trial; users can decide whether to continue with a paid plan afterward.
Hotjar: Unveiling Customer Behavior for Enhanced Experiences
Hotjar is a versatile tool that combines various features, including heatmaps, session recordings, and user feedback collection.
These capabilities make this tool one of the best CES tools, enabling businesses to better understand customer behavior and preferences.
By visualizing how customers interact with websites and applications, businesses can identify areas of friction and optimize their digital experiences.
Hotjar empowers businesses to make informed decisions and create highly engaging customer journeys.
Premium Plans:
Hotjar Ask has three paid plans starting at $59/month, with varying features and response options.
Monthly business plan: $79/month, focuses on survey performance analysis.
Features: Response options, pricing, business plan, survey performance analysis.
Free Trial:
Hotjar offers a limited free plan.
15-day free trial of the Pro plan with advanced features and higher data limits.
Features: Free plan, Pro plan, 15-day trial, advanced features, higher data limits.
You'd also like: Convenience Sampling: A Quick Research Method. 
Qualtrics: Comprehensive Customer Experience Management
If you want a comprehensive suite of customer experience management solutions, look no further, as Qualtrics is here.
This powerful tool enables businesses to collect and analyze customer feedback, measure satisfaction levels, and track customer journeys.
Qualtrics provides advanced analytics and reporting features that offer deep insights into customer preferences and behavior.
Also, this feature is only seen in the best CES tools.
With Qualtrics, businesses can drive continuous improvements and deliver exceptional experiences at every touchpoint.
Premium Plans:
Qualtrics provides customizable pricing plans to meet diverse business needs, such as customer experience management.
Tailored pricing details can be obtained by contacting the Qualtrics sales team.
Free Trial:
Qualtrics offers a free trial to let users explore the platform's features and capabilities.
Experience the platform before committing to a paid plan with the free trial option.
NiceReply: Enhancing Customer Interactions with Feedback
Enhance your customer interactions by collecting and managing feedback effectively with NiceReply.
Businesses may organize and prioritize consumer answers with the help of their feedback management system, assuring prompt follow-up and useful actions.
Businesses may obtain insights into customer satisfaction and make wise decisions to improve their CX strategy thanks to NiceReply's extensive reporting features.
Also, this tool is one of the best CES tools for businesses.
Premium Plans:
Survicate offers four plans priced from $49 to $299 per month.
Each plan has a limited number of monthly responses, ranging from 100 to 2,500.
Survicate provides a free 14-day trial and demo for users to experience the platform before committing to a paid plan.
Free Trial:
NiceReply does not offer a free trial.
However, they provide a 14-day money-back guarantee, allowing users to try the tool and request a refund if unsatisfied.
Conclusion
As the customer experience landscape becomes increasingly competitive, leveraging CES tools has become crucial for businesses aiming to excel.
Many great tools are available for businesses to collect and analyze customer feedback.
This includes Survicate, Simplesat, Qualaroo, Surveypal, Retently, Hotjar, Qualtrics, and NiceReply.
By harnessing the power of these best CES tools, businesses can revolutionize their customer experiences, foster loyalty, and drive sustainable growth.
Not Sure Where To Begin?
Explore our solutions to discover what is most important to your customers,
clients, and prospects. And best of all – it doesn't take any coding!
Free Trial • No Payment Details Required • Cancel Anytime