Introduction
In the ever-evolving world of digital creativity, Adobe has firmly established itself as a household name, offering an array of products designed for designers, artists, and professionals globally. As technology advances, so do user expectations.
This guide aims to explore a range of Adobe alternatives that challenge the main offerings of Adobe: Adobe Illustrator, Adobe InDesign, and Adobe Acrobat. Whether you're a newcomer stepping into the expansive realm of digital expression or a seasoned professional pushing the boundaries of creativity,
This article serves as your roadmap through the diverse landscape of alternative creative software. Additionally, we'll investigate free Adobe Illustrator alternatives and consider budget-friendly options in our fast-paced digital era.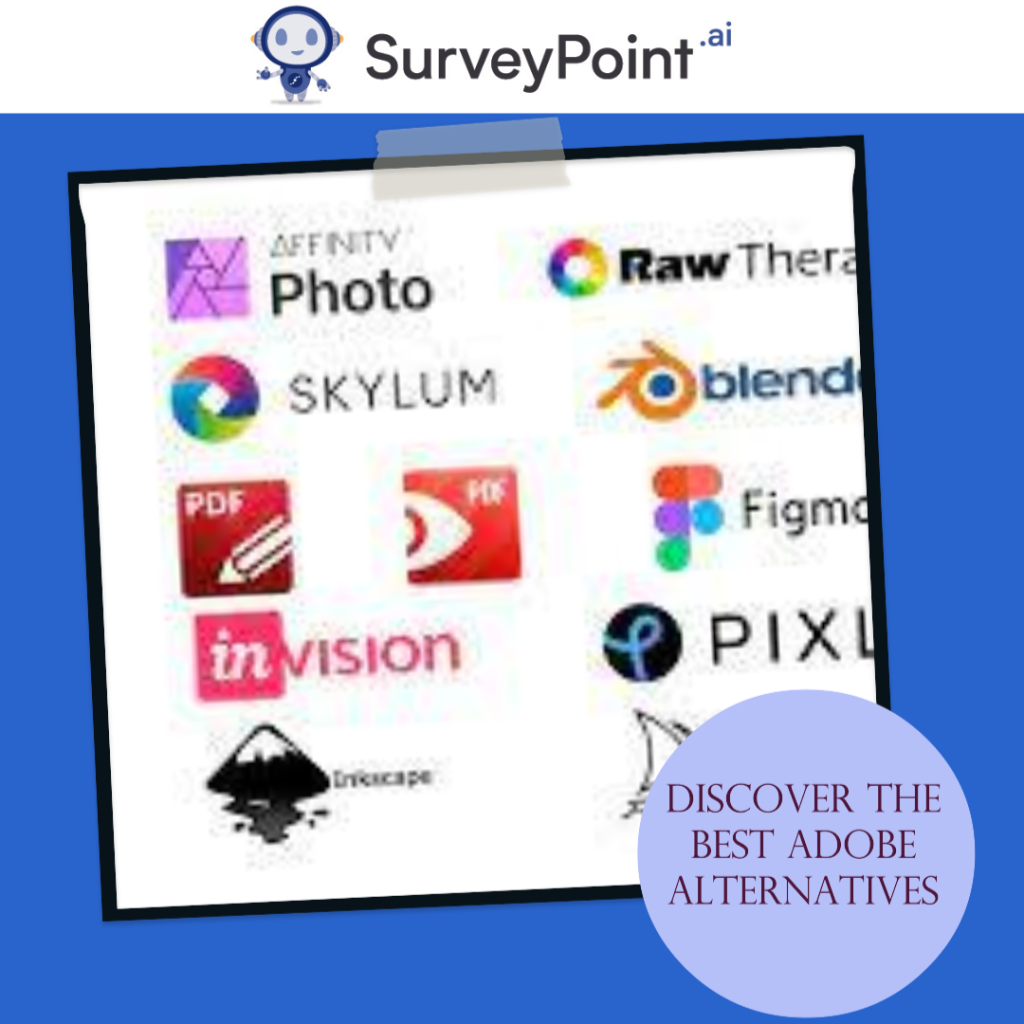 Setting New Standards in the Industry
Adobe Illustrator's precision in handling vector graphics, Adobe InDesign's mastery of layouts, and Adobe Acrobat's seamless document management have set remarkable standards for innovation and quality within the creative industry.
These tools have not only impacted professionals but have also ignited the spark of creativity among enthusiasts. However, as creative trends continue to evolve, there is a growing demand for tools that combine power with accessibility and adaptability.
This demand has given rise to an influx of alternative software developments aiming to not just meet but exceed these benchmarks, ushering in a new era in the landscape of creative software. These alternatives shine as symbols of innovation, providing users with more choices to bring their creative visions to life, regardless of their expertise or budget constraints.
Exploring Adobe Illustrator Alternatives:
Adobe Illustrator's legacy lies in its precision and flexibility in vector graphic design. The realm of Adobe Illustrator alternatives presents options that replicate these capabilities without the hefty price tag:
As an open-source vector graphics editor, Inkscape strikes a balance between affordability and functionality. Its active community ensures a robust feature set and widespread compatibility. The non-commercial nature of Inkscape makes it an attractive option for those on a budget.
Disrupting the market with a one-time purchase model, Affinity Designer offers professional-grade vector design tools at a fraction of Adobe Illustrator's cost. Its user-friendly interface and seamless integration with other Affinity tools have established it as a popular option for those seeking value without compromise.
CorelDRAW Graphics Suite:
A heavyweight in the design industry, CorelDRAW Graphics Suite boasts an extensive collection of vector illustration tools. Its user-friendly design and expansive feature set position it as a robust alternative to Adobe Illustrator.
Exploring Free Adobe Illustrator Alternatives:
For those curious about free alternatives to Adobe Illustrator, the creative landscape offers a variety of innovative choices catering to diverse design needs:
Geared toward beginners and casual designers, Vectr provides an intuitive design platform with collaboration capabilities. It's particularly suitable for group projects and individuals looking to experiment without grappling with steep learning curves. Vectr's accessibility and strong community support make it stand out.
Designed for tablet users and enthusiasts of hand-drawn vectors, Inker provides a unique sketching experience that bridges traditional artistry with digital design. If you appreciate the tactile nuances of illustration, Inker is an enticing option.
Operating as a web-based tool, Gravit Designer removes barriers by offering vector design capabilities directly within your web browser. This enables designing on-the-go without the hassle of complex software installations. Gravit's user-friendly interface caters to both newcomers and seasoned designers.
Exploring Alternatives to Adobe InDesign
While Adobe InDesign excels in layout design, a world of InDesign alternatives offers innovative solutions without the premium price:
With a history in desktop publishing, QuarkXPress offers precise control over typography and layout. Its focus on responsive design makes it valuable for both print and digital publishing, appealing to designers who prioritize precision.
As a free and open-source desktop publishing solution, Scribus caters to those seeking professional layout capabilities without financial constraints. While it may lack some of InDesign's features, Scribus serves as a robust foundation for crafting visually appealing layouts and documents.
Completing the Affinity creative suite, Affinity Publisher offers a user-friendly interface, an extensive feature set, and an affordable price point. Its seamless integration with other Affinity tools positions it as a comprehensive alternative for layout design.
Exploring Alternatives to Adobe Acrobat
While Adobe Acrobat is synonymous with PDF management, numerous Adobe Acrobat alternatives cater to diverse needs: