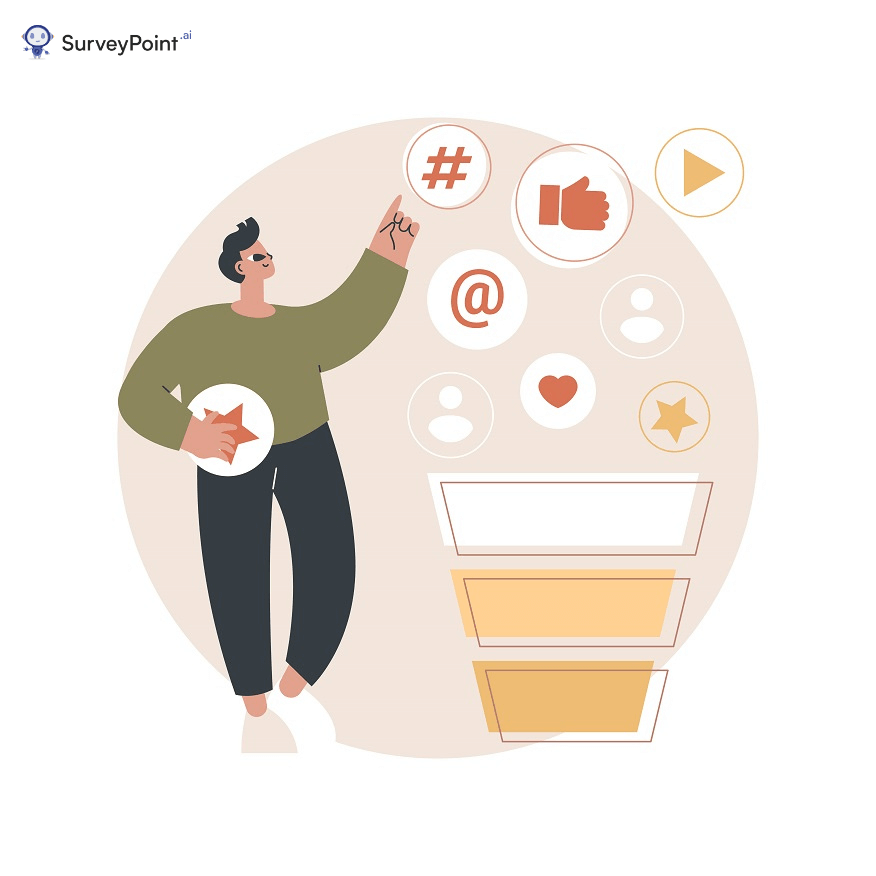 Employee feedback and engagement are factors that help an organization grow and enhance the work environment. Organizations have used many tools to collect employee insights. One such tool is inFeedo. But these days, numerous options are available on the web to suit the unique survey requirements of various work environments. We will explore the top 10 inFeedo alternatives that can be a match for your firm.
SurveyPoint
This tool is one of the most revolutionary survey tools and a great employee engagement tool. Suitable for all business sizes, SurveyPoint has all the required features an organization would seek in an employee engagement tool. Organizations can use this tool to gather valuable employee insights for making data-driven decisions.
Highlights
It has various templates for different events and classes of respondents to foster employee engagement on topics like job satisfaction, work-life balance, career development, and other insights that eventually sum up for the betterment of the firm.
Diverse questionnaires to take out the required responses
Advanced analytics to analyze survey responses in real-time
Multiple device support means that even remote respondents can participate with ease
Pricing
Free plan- available
Paid plan- starts from $10 per month
Quantum Workplace
Suitable for medium to large businesses, Quantum Workplace is a tool that enhances employee satisfaction and, in turn, employee motivation and performance.
Highlights
Collects valuable insights through different classes of employees with the help of different templates and easy customizations
The app fosters growth-oriented conversations that help organizations develop developmental ideas.
Gathers deep insights with advanced analytics and reporting features with its phenomenal employee engagement and satisfaction
Pricing
Free plan- not available; request a free demo
Paid plans- custom plans are available
Lattice
Lattice is a potential inFeedo alternative that gathers continuous feedback, conducts performance reviews, and designs goal management strategies so that organizations can grow based on the feedback collected from their employees.
Highlights
Suitable for medium to large businesses
Lattice facilitates effective 1-on-1 meetings between employees and managers that play a vital role in making crucial decisions for the firm.
Skill-tracking and goal-oriented learning plans make it ideal for ambitious projects and organizations.
Intelligent analytics help make educated, data-driven DEIB decisions.
Pricing
You can request a free demo; plans are customized per user's needs.
15Five
It is a tool that cultivates the most impactful employer-employee dialogue and proves to be the backbone for the development framework of an organization.
Highlights
The weekly check-in feature allows all the stakeholders to put in valuable insights, suggestions, and developments so that you can see the progress on the floor.
The tool is helpful for open workspaces where achievements, acknowledgements, and efforts are shared openly among the team members.
The tool is suitable for updating even the most minor developments in the team, keeping things updated and actions calculated.
Pricing
Free trials are available; paid plans start from $4 per month
SurveySparrow
Known for its interactive questionnaires, SurveySparrow is a tool that can collect employee insights as cleverly as it collects customer reviews. The conversational nature of its surveys is its strength.
Highlights
Multiple-channel feedback collection for a better approach to respondents
Advanced question types, including rating scales, NPS, multiple choices, etc.
Multiple pre-designed templates to suit the mood of surveys so that respondents don't think twice before jumping in
AI-backed survey builder that ensures relevant recommendations on both templates and questions
Pricing
It starts from $19 per month; a free trial is available
BambooHR
This tool curates employee surveys that foster a progressive work culture that implants employees' sense of satisfaction and organizational commitment to motivate them to motivate the firm's success.
Highlights
Performance management feature to acknowledge achievements, set objectives, and support developmental conversations
Employ advanced analytics to make better decisions to gather deeper insights into a target and the development of the firm's and employees' development and templates to suit the context and requirements.
Pricing
Custom pricing and free demo available on request
Pingboard
Pingboard is a lot more of a survey tool for companies and employers. It collects responses and data and organizes them well for future reference. The impressive data analytic feature lets it visualize and update the data automatically.
Highlights
Employee directory to access employee details and developments with time like skill updates, profiles, roles, etc.
An interactive organizational chart that keeps details updated and accessible to the users without making it cumbersome.
The tool promotes peer-to-peer recognition, creating a supportive work environment where colleagues collaborate, support each other, and work together for better results.
Pricing
The initial price is $149 per month.
Engagedly
This comprehensive tool is in this list of inFeedo alternatives due to its user-friendly features and complete results. It would be best if you trusted us when we say it is a tool best suited for small to large businesses.
Highlights
Their Templates and questionnaires are best suited for performance reviews.
Goal alignment feature that reviews responses and sets goals accordingly to align with the ultimate developmental aim of the organization.
Intuitive interface that supports communication and collaboration.
Pricing
Custom plans with a free demo are available.
Glint
This tool is for employers who look for employee sentiments. The features brag about the reporting capabilities that curate deep insights from the responses.
Highlights
Firms utilize the advanced analytics feature to collect insights, enabling them to take developmental actions for the firm and employees.
The comprehensive user interface for seamless survey-taking
With the guarantee of valuable responses, templates foster employee engagement.
Pricing
Custom pricing is available.
CultureAmp
This CultureAmp works not only as a tool to collect employee feedback. This tool helps organizations grow with their employees. The device not only contains insights for employers to gather input for decision-making but also suggests respondent employees with valuable career development tips.
Analytics help firms make data-driven decisions, and the actions help boost employee morale, which is of utmost importance for the long-term success of any organization.
Highlights
Culture and engagement analytics to comprehend patterns of performance, work culture, and potential of employees.
The performance management feature aids growth through practical goal setting and target management and by giving valuable reviews.
The employee career development feature guides employees with individual developmental plans well suited for them as per the insights provided by them.
Pricing
Custom plans are available.
Conclusion
Employee survey or engagement is a factor that has the utmost significance in the development of a firm. If you are an employer, you will not deny that an employee who works on board knows the requirements and potentials better than any other organizational stakeholder.
There are different methods of communication, but the best way to collect employee insights is through surveys. InFeedo is such a tool, but it is not the only tool. Here we have discussed the features of 10 inFeedo alternatives that a progressive organization should look at to claim the most authentic employee engagement.