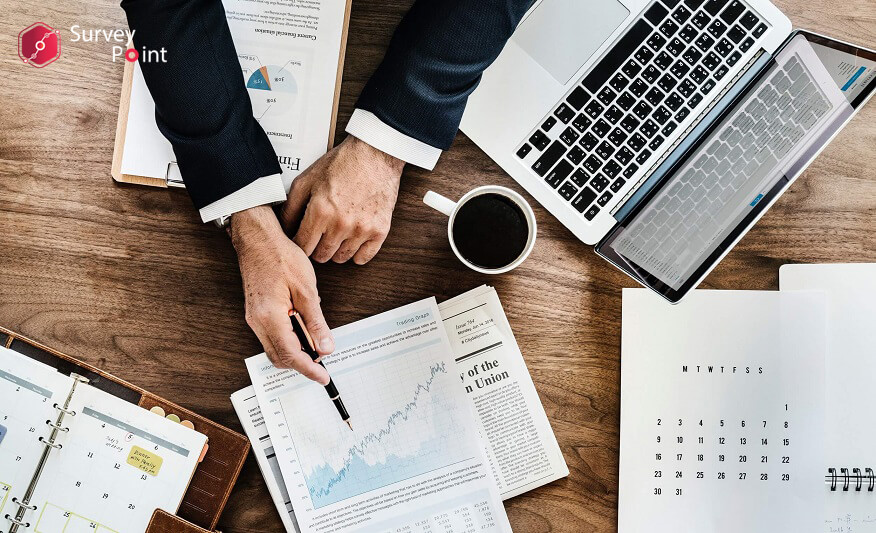 When you receive your online survey findings, analyse them immediately to determine whether they yield the desired outcomes. However, this can be difficult, especially when working with enormous data sets when it's too simple to get lost in the noise of all the data you've gathered.
Organising and analysing data can be done in a variety of ways. Cross-tabulation allows researchers to examine the sea of data to determine if there is any association.
Fortunately, with SurveyPoint, you can analyse specific data sets at a more granular level and see immediately what patterns or trends are emerging from your responses. Sign-up for Free today!
What Is Cross-tabulation?
It is a data table that presents the results from the subgroup you have designed based on your requirements alongside the results of the entire sample. As a result, you can examine the relationships between data sets that might have gone unnoticed.
Suppose a data scientist might want to analyse data collected from a sample's sub-group to understand the results better. It might be challenging for you to look for a relationship without access to relevant data points. Cross-tabulation also called a crosstab, is the answer to your difficulties!
When Should You Use Cross-tabulation?
Cross-tabulation is typically used when categorical variables are available in the collected data. This refers to the division of data into multiple categories. However, this may not be feasible in large data sets. That is where cross-tabulation comes to play!
Let's understand this further with an example.
Imagine designing a survey that examines the likeability of a product that is intended for both genders but more often purchased by women. The collected data needs to be categorised into fields that give separate statistics for male and female customers, alongside product likeability.
Using cross-tabulations can help uncover the hidden insights since these two fields are different, and the collected data needs to be organised.
What Is The Purpose Of Cross-tabulation?
The motivation behind a data collection exercise is to find valuable insights that help achieve an organisation's goals. Through cross-tabulations, researchers can organise data in ways that reveal categories and the relations between these categories. Such a feature allows uncovering insights from a dense data set that is difficult to interpret.
By identifying hidden relationships between different categories, cross-tabulation serves as a valuable tool for organisations looking to collect data and make informed decisions based on complex data.
Other uses of crosstabs include:
Exit interviews: These evaluations are conducted to determine why employees leave an organisation, how to improve the workplace, and if there is a connection between leaving and advancement.
Employee feedback and management: measures employees' satisfaction with their current jobs across departments and compares the variables.
Product and market research: assesses the market and demographics' perceptions of the product across regions and how it differs from region to region.
Evaluation surveys at organisations: used to receive feedback about relevant topics and understand the correlation between two or more variables.
Customer behaviour research involves understanding how customers engage with a product and improving products/services by assessing and comparing them with other products.
Advantages Of Cross-tabulation
As a tool, cross-tabulation helps make the data organisation and analysis process more straightforward and efficient in the following ways:
It reduces the scope of error.
It is of utmost importance that large data sets be cleaned for further processing. They need to be broken down into smaller, more manageable categories, allowing the researcher to understand and identify their significance and implications effectively and efficiently. Cross-tabulation helps achieve this goal and reduces the chance of errors during the organisation stage!
Valuable data comes to the forefront.
Identifying the most valuable points among a sea of data is necessary for the analytical process. Through this tool, valuable data comes to the forefront, which helps identify reliable information that facilitates strategic decisions.
Significant data insights are revealed.
The purpose of collecting and analysing data is to initiate strategic decision-making, allowing businesses to reach their goals, produce value and reduce risk. Cross-tabulation in research helps companies to uncover these data insights that enable them to achieve the best of their potential.
Which Software Do I Use To Create A Crosstab?
What can you do to make this process more manageable? Try out SurveyPoint for free. The tool facilitates the creation of the best surveys, enabling you to analyse all relevant data utilising its built-in cross-table analysis feature.

A crucial component has the "right tools and equipment." Your staff cannot be expected to sit down and create a complete cross-table for several variables. Humans make mistakes more frequently than computers or software, so it would be a waste of time and resources.

Despite being complex, crosstabs are made efficiently using software such as SurveyPoint. With this tool, you can select the parameters you wish to understand and employ crosstabs to understand the relationship between different categories. Getting direct insights from your audience has never been easier!
Aishwarya Bhatia – Content Strategist at Sambodhi