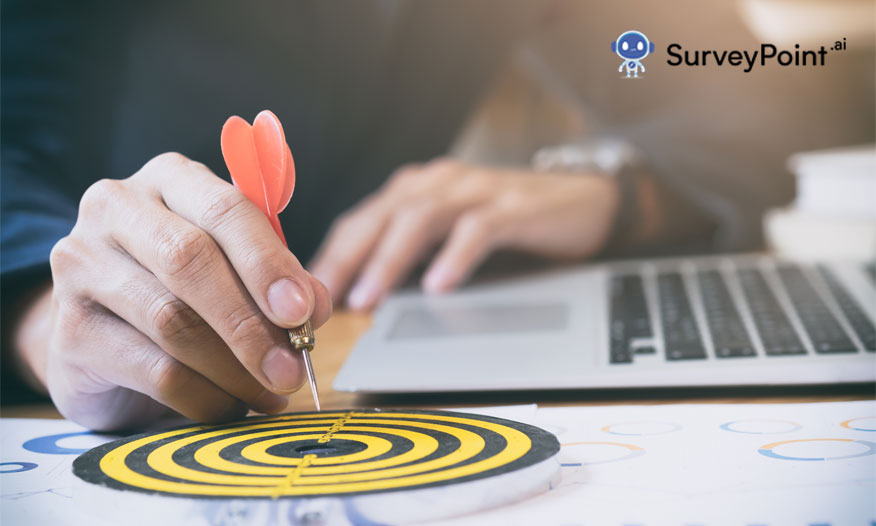 The thrill of exploring uncharted territory often brings a corresponding sense of apprehension. What if you don't catch on to the new procedures, personnel, and team dynamic in time to make an excellent first impression? Before you go out and try to reach, it's vital to clarify your goals. Whether appearing for a new job or coming up with a ground-breaking business strategy, with a 30-60-90 days plan, you can set achievable goals and outline a path to success.
Over 80% of small business owners don't have a set plan for their businesses. Without a well-thought-out plan to measure your efforts against, even the most promising organization with the best services will inevitably fail.
A business 30-60-90 day plan can also help you grab important information and develop new possibilities to tackle a situation. But if you are new to this one, don't worry. We've got you covered.
Keep reading to learn the fundamentals of putting up a 30-60-90 day strategy.
What Is A 30-60-90 Days Plan?
Businesses must have a well-defined one- or five-year objective. However, if you don't include intermediate milestones in your planner, your long-term goal may be ineffective. A 30-60-90 day plan helps you with just that.
It's a roadmap outlining the steps to be taken over a year to realize a predetermined objective. Furthermore, it is not geared only toward companies. You can employ it even if you are upskilling or applying for an internal promotion.
Having a short-term goal in your head helps you meet your deliverables in time and stops the excitement from fading away. A unique aspect of this plan is that it can be customized to suit any department. You can easily find a 30-60-90 day plan for managers or a 30-60-90 day plan for an interview on Google.
Why Create A 30-60-90 Days Plan?
This plan can benefit both the employer and the employees. Having a clear picture of monthly goals can allow for a transparent communication flow between the teams and meet the tasks before the deadline dreads. The employer can keep track of productivity and ensure all deliverables are met with this method. Therefore, it ensures alignment among all members of the organization.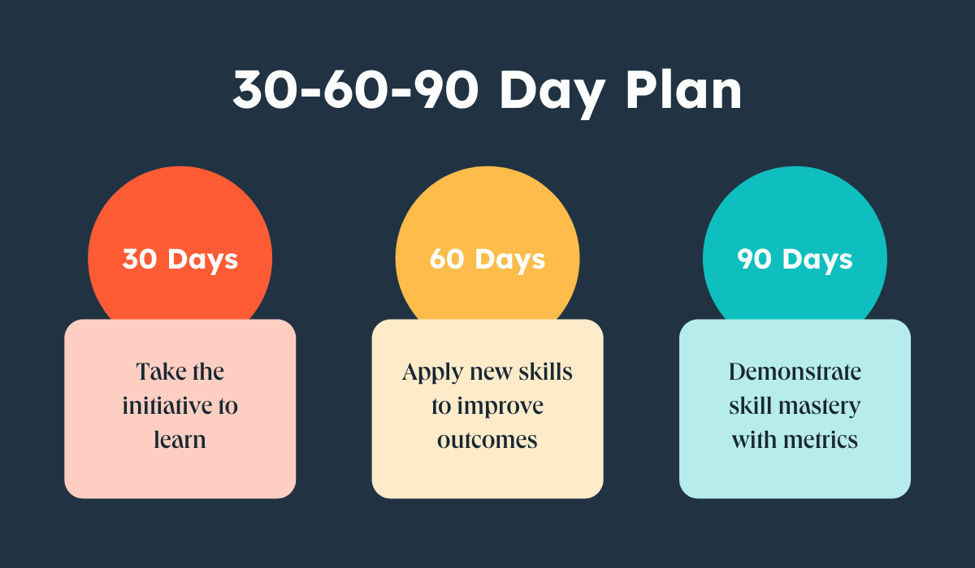 Here are some benefits of using a 30-60-90 day plan:
1. Enhances Team Productivity
With priorities set and expectations made clear, there's no way your team would look for a way to slack. It will keep your employees in touch with the deliverables and help them meet their goals in time.
In fact, the 30-60-90-day plan for managers is about having a specific milestone to meet every month. It sets objectives and stops your employees from working for a futile goal.
2. Sets Honest & Transparent Expectations
Having a clear picture in writing allows you and your team to have improved transparency. In short, no one is left in the dark. Each person would have measurable goals and understand how the plan impacts the company.
3. Enhances Your Goal Setting Tactics
A 30-60-90 day plan lets you strike off mundane tasks that would not affect the organization either way. The plan will also enable the team to keep their priorities straight and collectively work on that specific goal.
Moreover, you can also maintain your personal checklist containing all the measures you need to take to attain the quarterly goal.
4. Eliminate New Job Jitters
It's normal to have those jitters before you meet your new team. A 30-60-90 day plan for a new employee can eliminate that instant anxiety of not being able to contribute to the new organization.
Additionally, it will keep things organized and relieve some of the stress associated with starting a new job.
5. Keeps You Organized
Accountability is the big key when it comes to goal accomplishment. You might find yourself or your team dodging bullets when it comes to being accountable for a passed deadline.
The fact is that if everyone is accountable, then no one is. A 30-60-90 days plan eliminates this confusion and makes people responsible for their deliverables. Hence, operational efficiency improves as a result.
6. Sets Your Priorities Straight
Quite often, the actual job gets lost in the shuffle of new and unexpected responsibilities. A 30-60-90 day plan helps you stay in touch with your priorities and zero in on what really has to get done.
It's a subtle reminder of unmet tasks, pending deadlines, and new priorities.
What Elements Should Be a Part of a Strategy for the Next 30-60-90 Days Plan?
Now that you understand why this strategy is so crucial, we can dive into its construction. The 30-60-90 day plan, as its name suggests, is broken up into three distinct periods.
In each segment, you'll need the following:
Specific Focus
SMART Goals
Success Metrics
Taking a closer look at each one will help us understand each better.
Specific Focus
Everything in your quarterly plan should revolve around a clear focus. This particular emphasis can also shift as needed. When looking for 30-60-90 day plan team leader examples action plans, learning should be at the forefront. However, as a new hire, your 30-60-90 day strategy should focus on learning as much as possible about the firm.
SMART Goals
Once you are done with goals, the next step is to define SMART goals. For 87% of people, failure to achieve their goals is directly attributable to the lack of a SMART goal. The question is, what exactly does SMART mean?
Specifics: Outline the goal, who is accountable, when it must be accomplished, and why it is crucial.
Measurable: Define in figures. For instance, I need to lose 9 pounds in 4 weeks.
Attainable: Is it achievable? Identify the steps you need to take to reach your goal.
Realistic: Has it been realistically planned?
Timely: Is there a time limit on when you need to complete your objective? What is the estimated time frame for finishing this project?
Success Metrics
Now that you are all set with the goals, how will your measure them and their success? You'll need a metric for this. The planner must state the success metric you'll use to measure your success.
Tip: Make sure to set individual success metrics every 30 days.
How To Make A 30-60-90 Days Strategy?
Once you are set with the above components of the quarterly plan, making an actual plan is a piece of cake. But, to simplify it for you, here's how to make the right 30-6-90 day plan that actually works:
Create A Template: Yes, you can jot down the above components in any way you want. But, with a template, you are more encouraged to stick to it. Start your 30-60-90 day plan with one of the hundreds of free 30-60-90 day plan templates available on the internet.
Set Goals: Create a list of SMART objectives (educational, professional, and individual) that you have decided upon.
30-Day Target: Set the first 30-day target. Usually, it would include learning about your new venture.
60-Day Target: The next step is to set a different target for the next 30 days. It can include understanding responsibilities.
90-Day Target: The last 30-days will focus more on team leading if you are following a leadership plan. Put your first 60 days on the job to good use by confidently leading your team.
The Takeaway
True, achieving success is a continual process. However, a 30-day, 60-day, and 90-day plan is available to assist you in monitoring your progress and staying in touch with your goals and objectives. In this way, you can stay on top of things and make sure you don't miss any of your deadlines.
If you're unsure what has to be included in your 30-60-90 day plan, use SurveyPoint, a 360-degree data analytics tool to assist you in foreseeing potential needs. Sign up to start off on the right foot!
Heena Shah – Content Writer at Sambodhi