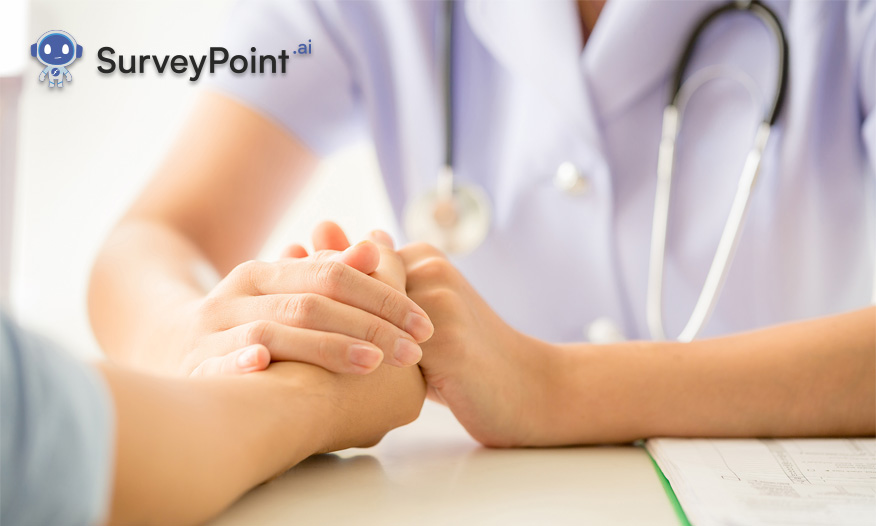 Patient satisfaction is a crucial deciding factor in the healthcare industry. Since the entire industry is rapidly moving towards value-based services, so conducting feedback surveys is imperative for gathering meaningful insights. Adding the best patient satisfaction survey questions will help you make the best feedback form. 
But before we get into the most crucial questions to include in your satisfaction surveys, here are some pointers to bear in mind when designing your surveys.
5 Patient Satisfaction Survey Tips To Consider 
1. Keep The Survey Short 
You might want to gather loads of information from your patient. However, offering someone to fill out a never-ending questionnaire can be draining and might lead to lower responses. So, to ensure you get higher answers and valid feedback, ensure your survey is no more than 3 minutes long. 
2. Visualize The Design 
Don't be afraid to add a fun element to your surveys. Be creatives! For instance, instead of asking your patients to scale your services from 1-10, you can simply ask them to give you a star rating, thus making it more interactive. To boost engagement, you can add some common patient experience survey questions, like open-ended or multiple-choice questions. 
3. Focus On The Format 
Place your questions in such a way that it can help you gather loads of information in just a few questions. Also, instead of adding generic "Yes" or "No" answers, you can enhance your survey by adding options like "Agree," "Disagree," and "Somewhat Agree."
4. Switch To A Real-Time Feedback System 
A 2016 study clearly stated that surveying a platform that allows real-time tracking can help you gather valuable, essential insights. You can use some famous survey-building tools like SurveyPoint. 
Those figures don't tell the whole story. Real-time data collection is essential for making effective business decisions, such as rearranging priorities and developing innovative approaches.
5. Decide The Distribution Method 
When it comes to deciding the distribution channels, it's essential to consider the goals, time, and budget. You can use SurveyPoint to both create a poll and distribute it through emails or embed the survey on your website. 
Top Patient Satisfaction Survey Questions You Need To Add To Your Survey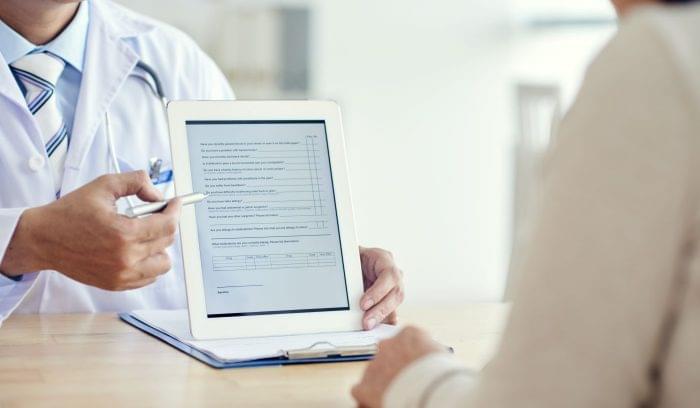 Here are some of the most common patient survey questions you can include in your patient satisfaction survey: 
Important Questions 
How likely are you to recommend our medical services to your acquaintances, friends, and family? 
Rate your level of satisfaction with our appointment booking process. 
Do you have any concerns or issues with your experience? 
On a scale of 1-10, rate our professionalism in providing you with the services. 
Rate the level of cleanliness and hygiene in our clinic. 
While booking the appointment, did you interact with our primary medical caregiver? 
Rate your experience of the time you spend with the doctor. 
Will you visit our clinic in case of a medical emergency? 
On a scale of 1-10, rate the coordination between the different departments. 
Do you have health insurance? 
How satisfied are you with your doctor when it comes to an accurate diagnosis of your condition? 
Please rate the level of your satisfaction when it comes to prescribing the medication. 
Please rate your overall experience from 1-10. 
What was the waiting period for your consultation? 
Did the doctor inform you about the possible side effects of the prescribed medicines? 
Other Patient Satisfaction Survey Questions You Can Add
Were you satisfied with the degree of attentiveness our doctor and staff showed toward your condition? 
For how long have you been visiting our medical facility? 
How frequently did you visit our medical facility in the past year? 
Do you recall receiving conflicting information from different medical facilities? 
Did you consult with another doctor before you visited us? 
Do you feel our working hours are flexible enough to suit your needs? 
Is our medical facility located near to you? 
Rate the level of satisfaction when it comes to navigating our location on your map. 
Were the prescribed medications readily available at the drugstore? 
On a scale of 1-10, rate your level of overall satisfaction with our services. 
Were you provided with helpful information for living a healthy life? 
Are you fully aware of all the services we offer? 
Was it easy to schedule a follow-up appointment? 
What was the turnaround time for our lab to get back to you? 
Did the pharmacy charge the correct amount of deductibles from you? 
Do you think our services and diagnosis are transparent? 
Do you think we provide better services than other medical facilities you have visited? 
Did the doctor assist you in providing a better alternative for the services we do not offer? 
On a scale of 1-10, rate the care provider's willingness to offer you the service.  
Was our staff empathetic towards your condition and needs? 
Were you happy with the treatment provided to you? 
Was the doctor able to answer all your questions and solve all the issues? 
How smooth was the billing process? 
Were the treatment and final diagnosis explained to you adequately? 
Did the medical facility divide the bill between coinsurance and co-payments? 
As a female, did you feel comfortable while consulting the gynecologist? 
Did the ambulance reach your location in time? 
Did the staff handle your addiction problem well? 
Was the psychiatrist sensitive towards your mental condition and guide you in the right direction? 
Please rate your level of satisfaction with our "XYZ" care services. 
Did you receive the scan reports on the same day from the 'XYZ' department? 
How long did the veterinarian take to diagnose your pet's condition? 
Where do you feel like we are lacking? 
Do you have other concerns you would like to list? 
The Takeaway 
Patient feedback surveys are essential to understand where you lack in providing medical services and what you can work on. A well-built survey can help you get your hands on some crucial data. You can use this information to improve your services and keep your patients happy and satisfied. 
Moreover, if you are searching for a survey-building tool offering advanced features at the lowest prices, go for SurveyPoint. The tool can help you customize your surveys and create highly engaging surveys. Put it to the test right now with zero obligation.
Ready To Build Your Own Survey?
Free Trial • No Payment Details Required • Cancel Anytime
Heena Shah – Content Writer at Sambodhi