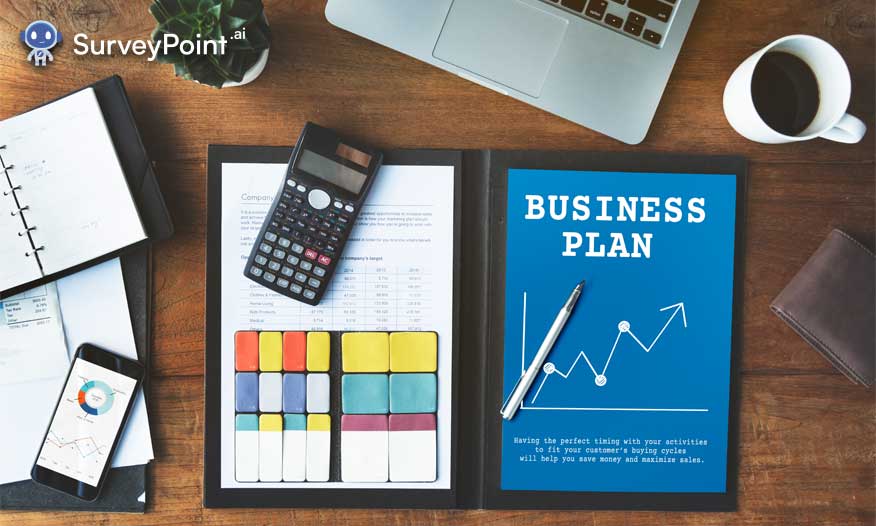 Did you just come up with a stunning business idea? Though you might have the perfect strategy to turn this idea into a thriving business, you need a business plan to back you up. It's probably not a stretch to say that corporate life is stressful and competitive. When constructing your own plan, you can rely on the right business plan examples.
For those interested in exploring what a business plan actually needs, we have compiled a list of 5 best practice examples of business plans.
Top 5 Business Plan Examples To Use
1. Business Plan Example 
Ready to list out every detail? This can be your go-to template. A little bit detailed in nature, this business plan example states everything from a summary to expectations.
Here's an accurate breakdown of what it looks like:
Summary
Market Problem
Solution Summary
Market Condition
Competitor Lists
General Overview
Why Our Business?
Expectations
Market forecasts and trend mapping
Highlights in the relevant finance industry
Amount as finance required
Opportunity
Problem and solution
Target audience
Current competition and your business' differential
Execution
Marketing and sales strategy
Business operations
Measurables and goals
Company
Company Overview
A brief on team
Financial Plan
Financial forecast of the company
Monthly expenses and projected growth
Financing sources
Balance sheets and other statements
Appendix
Financial forecasts for a few months
Additional documents, if needed
While this might seem a little exaggerated, it can keep your priorities in check and help you communicate your goals more efficiently.
2. The One-Pager Plan
Creating a business plan can be challenging when you have too much information. Below is an example of a business plan your advisors might find helpful. Although it might not include much information, this one-page plan is a great tool to back up your elevator pitch.
This plan should include the following:
Opportunity: The problems the target audience faces and how the business plans to cater to them.
Team Members: Why is your team right to help your company grow?
Target Market: Who is your target audience?
Timeline: What is the product or service launch timeline, and why do you think it is right?
Finances: Summarize your current state and financial projections for the coming year.
3. US SBA Business Plan Example
US Small Business Administration business plan is another quick way to back up your unique idea in the form of a solid business plan. This example of a business plan is ideal for start-ups or small companies. It outlines your target audience, competitors, your differential, rules for using your product, product lifecycle, and pricing structure. You can either make it in a presentation or add all the data to a document.
4. HubSpot's Business Plan Template
If you want to create a business plan from scratch, this sample strategic business plan is the right way to go. Stakeholders or investors can easily share such templates, which allows you to develop a comprehensive plan.
Here's what it should include:
Summary: Give a one- or two-page overview of your company. A mission statement will include your vision, history, leadership, inspirations, projections regarding finances, competitors, and the differentiation that will make you stand out.

Business Description: This section will include the products or services you offer. You can also add information on your target market and why you think they would be interested in your services or products.

Pricing Structure: The section will include how and why you priced it a certain way and what is the current pricing structure of all the services or products you offer.

Market Analysis: In this section, you will discuss your target market, the market's financial situation, and the problems your prospects face that your product will address.

Sales and Marketing Strategies: This part will include your marketing and strategies to help your business gather the needed attention and increase your sales.

Legal Notes: Write down the legalities surrounding your business and products or services.

Financial Consideration: You can add this section if you need finances or do not have enough to launch the business.
5. US SBA Service Business Plan Example
This type of business plan usually aims to increase productivity and reduce expenses for other businesses, CEOs, product managers, and HR departments.
In your plan, you could describe how your services or goods will help them deal with some of the challenges they face. It is also necessary to state how much your services will cost.
While this plan might take a lot of research, it can be great, especially if you plan to pitch in the professional world.
Related: The Ultimate 30-60-90 Days Plan To Hit Your Objectives On Time
What Should Your Business Plan Include?
As discussed above are several ways through which you can draft a plan. But what should your plan actually include?
Here are different sections of a good business plan:
Summary
This part should include a general but descriptive overview of your business. You can add the following things:
Mision
Vision
Company goals
Differential
Technology used by the company
Financial projections and current state
Make sure to keep the section full of direct information.
Company Description
Once you have provided a descriptive overview of the company, step down to the services. Define your target market, the current state of the market, the financial condition of the market, and the problems your target audience faces.
You should also include how your service or product will solve the market's problems.
Market Analysis – This part will include market size, the population targeted, the services or products they might be interested in, and the current market shares of the company.
Company Structure – This section majorly revolves around the team, hierarchy, different business operations, and why they are deemed fit for the job.
Products and Services – Provide a descriptive overview of what you will offer. This section will also include the pricing structure of your services.
Funding – State the company's current finances and why or if you require someone to invest in your company.
Competition – The part will include your competitors and why you stand apart from them.
Marketing Strategies – State your sales and marketing strategies to help you achieve your goals and accomplish all measurables.
Summing It Up
Creating a business plan can offer a descriptive layout to business owners. It also provides the right direction for the owners to walk in and what to consider when setting goals or defining the target audience.
Are you interested in creating winning business proposals? Try SurveyPoint, a web-based survey tool with zero obligation. The tool can help you customize your surveys and create highly engaging surveys.
Ready To Build Surveys Your Respondents Can't Resist?
Free Trial • No Payment Details Required • Cancel Anytime
Heena Shah – Content Writer at Sambodhi