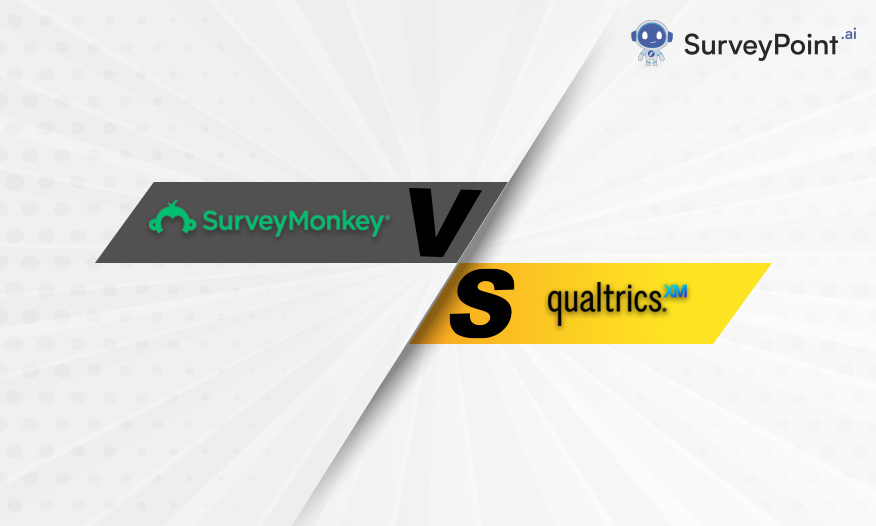 Need help creating stunning surveys and questionnaires? How about an online survey builder? Currently, there are a lot of alternatives available on the market. Qualtrics and SurveyMonkey are two of the most well-known in this industry. If you're also confused between Qualtrics VS SurveyMonkey, we've compiled a guide that should assist you in choosing which is the right choice for you.
Before we start debating SurveyMonkey vs Qualtrics, let's examine what makes these two tools different.
How Does Qualtrics Work?
If you need a tool with highly advanced features, Qualtrics might be ideal for you. Factually put, Qualtrics is a survey-building tool used mainly by researchers with vast surveying needs. Though the platform is a little expensive, the tool has plunged into popularity for its several features.
The company was acquired by SAP back in 2019. It has a significant international presence and poses as one of the most popular tools for companies and tech giants.
Stating again, Qualtrics is expensive. The most basic pan with limited features starts at $1500/year. However, if you want to use more advanced features, you'll be required to move up to other premium packages. Regardless, considering a user-friendly interface and numerous features for survey building, this tool is worth every penny.
How Does SurveyMonkey Work?
Now that you know what Qualtrics is let's look at SurveyMonkey. Since its inception in 1999, SurveyMonkey is perhaps a world-famous choice for survey and poll building. While it includes limited but noteworthy features, the interface is pretty easy to navigate and use.
The whole concept behind this tool is the usage of templates. Using the tool's premium plan, users can construct a survey within seconds using a variety of templates. Users can also select pre-built templates for customer satisfaction survey forms and market research questionnaires. In short, you don't need to start from scratch.
Regarding pricing, SurveyMonkey is a bit overpriced. In contrast, Qualtrics charges only $28 per month for some of its premium features if we compare the figures. So, if you are someone with limited research needs, this can be an excellent alternative for you.
Related: 5 Best SurveyMonkey Alternatives Worth Exploring
Qualtrics Versus SurveyMonkey: A detailed comparison
Qualtrics is indeed a bit on the expensive side. However, what makes Qualtrics better than SurveyMonkey is its advanced features.
Here's a breakdown of all the features offered by Qualtrics:
Easy To Navigate Interface
There's no denying that SurveyMonkey has an easy-to-use interface with many ready-to-use templates. However, Qualtrics is far better in terms of providing templates.
The tool offers certain features that allow users to experiment with different designs and themes and choose what suits them best. Moreover, supported by logical options and a purely block-based core, Qualtrics will enable users to do better surveys.
Moreover, the dashboard offered by the tool allows easy navigation and access to all the previous surveys. Also, users can switch projects without actually visiting the Home Page with the tool. You can even watch the preview in desktop and mobile form simultaneously and make minor edits without entering the editing mode.
Personalizing The Surveys
Both Qualtrics and SurveyMonkey come with their own set of features. However, what sets Qualtrics apart is the ability to set rules on how the respondents are required to enter the information.
Unlike SurveyMonkey, where results are based on specific questions, Qualtrics puts logic into gathering the actual data. And once you have collected the data, you don't need to access Microsoft Excel to export it. You can use the Qualtrics interface to see all the collected responses with just a single click.
Apart from this, Qualtrics also offers some reporting features like a cross-tab editor and weighing editor to filter out the collected data.
Aside from such features, another thing that makes this platform extraordinary is its accessibility. Qualtrics does not have a steep learning curve. You can understand the interface in less than a day and use all features at once to create the best quality poll or survey.
As a result, if you wonder what Qualtrics does, it helps you build surveys with advanced, easily accessible features.
What Features To Go For When Considering A Survey Platform?
Before you figure out which survey tool is suitable for your research needs, let's consider the things to remember when selecting the right survey-building platform.
Design
No matter how intriguing questions you add, it's essential to figure out the right design. Therefore, when you make surveys with a tool, ensure you have a variety of design templates and themes at your disposal.
Skip Logic
It can be possible that your respondents might not always be comfortable answering all questions. Hence, skip logic is pretty useful in this situation. This feature allows the respondents to skip the questions they don't want to answer.
Display Logic
It is incredibly important that you pay attention to the display logic of any application. The feature inserts or adds additional questions depending on whether the respondent answered the previous question. Therefore, valuable information will be gathered for you.
Related: The Best Online Survey Tools Checklist for 2022
Which Survey Tool Is Right For You?
As stated above, we have added several points making Qualtrics a better option than SurveyMonkey. So, though the tool is overpriced, you get a lot of features you can use to create and customize your surveys with absolutely no hassles. However, the right choice depends on your research needs.
Do you have vast research needs and the finances to take care of them? If yes, we say Qualtrics is the right option for you. However, for independent researchers or those on a budget, SurveyMonkey may be a better option.
Do these still seem to be an expensive option for you? In 2022, it's no secret that data is paramount. As a result of the digital ecosystem, market research has reached new heights. Rather than risking their reputations by assuming wild guesses, companies today prefer to take a data-driven approach.
Much like most desirable goods and services, there are many alternatives in the online survey business.
Why not give SurveyPoint a shot? This web-based form generator offers a surprising number of high-end options without breaking the bank.
Ready To Build Your Own Survey?
Free Trial • No Payment Details Required • Cancel Anytime
Heena Shah – Content Writer at Sambodhi