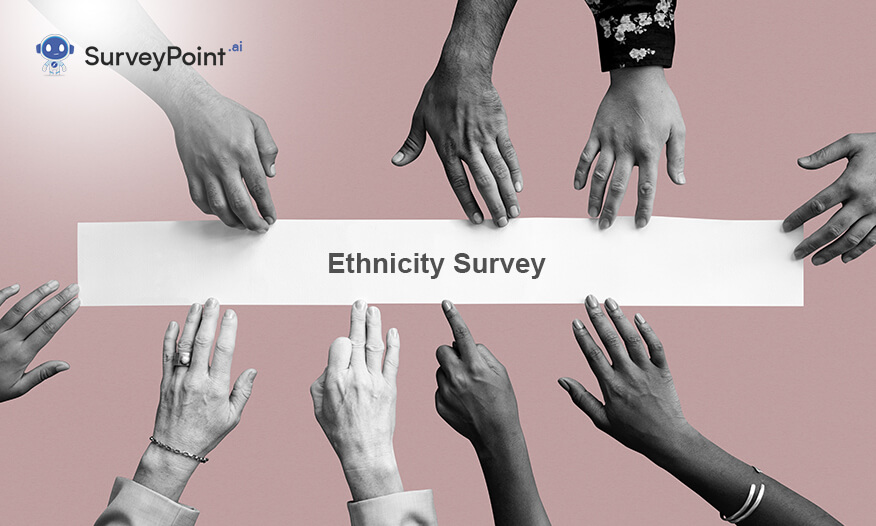 Race or ethnicity can be a sensitive topic. However, these are controversial topics that raise loads of questions. So, how do you ask the person about their race in a survey? How do you choose the right ethnicity survey questions without hurting your respondent's sentiments?
Here's a quick guide to what exactly ethnicity surveys are, why you need them and how to conduct them.
What Are Ethnicity Survey Questions?
Before we get into picking the right race-ethnicity questions for a survey, let's understand what race and ethnicity are. To simplify it, the race is based on physical characteristics such as eye color, hair type, or skin color.
On the other hand, ethnicity might refer to the traits embedded in someone's culture—for instance, religion, language and customs. Unlike race, ethnicity can get a little complex.
Therefore, questions regarding race and ethnicity are usually grouped together. These questions help you determine the demographics of your respondents and find the connection between different user patterns across the globe.
According to the FDA, a two-question format can be an approachable way of asking about someone's race and ethnicity. Here's an example:
Select all options that describe you.
Choose all the racial labels that are most relevant to your situation.
When Should You Ask Demographic Race Questions?
Here's a rule to help you understand better. Before you decide whether you should include such questions or not, ask yourself the following two questions:
Is asking the question relevant to me?
Why do I require this type of information?
Let's suppose you are a product manager of online software. If you want customer feedback for your software, you won't be required to collect racial data.
In contrast, if you led the company's Culture department, you might have to survey your employees about their race and ethnicity.
And despite the fact that such questions can be extremely delicate, asking the correct race-related topic on a survey might shed light on how a respondent's values or culture may influence their response. This helps you identify your target audience in a better way.
Related: 5 Simple Formulas for Success in Demographic Survey Questions
How To Ask Race And Ethnicity Survey Questions?
In addition to the FDA's approach, here are three different techniques you can use to ask questions:
1.

The Getting To Know Approach
In this case, you can start your survey conversational and keep it a bit informal. You can create questions that might look like you are trying to know your respondent well. Here's a series of statements for better understanding:
What's your name?
Interesting! Can we know the meaning behind your name?
Also, what is your native country?
And, then you can move on with your survey.
2.

The Fill Ups Approach
An open-ended question is a great way to learn someone's ethnicity or race. You can simply leave an open blank, asking the respondent to fill it.
Your questions can look like in the following format:
Tell us more about yourself, like your nationality or race.
The idea is to ask them about this sensitive subject without directly confronting them. For instance, if you are doing a survey for a beauty brand that specializes in foundations, you can ask them, "How would you describe your skin color?" rather than asking, "What's your race?"
You can leave the blank open-ended. Though this might affect the response rate sometimes, it can be a non-invasive way of triggering a sensitive topic.
3.

The Question Combines Approach
You can ask ethnicity or race questions through a series of questions and give appropriate choices underneath. This is perhaps the most common approach most researchers follow. Here's an example for better understanding:
Question: How would you describe yourself?
White
Asian
Black
Mixed ethnic group
My racial identity is not listed here
I prefer not to say
Related: Survey Questions 101: Are You Making These Bizarre Mistakes?
6 Tips To Make Things Easy For You
Here are some tips when asking a race-ethnicity survey question:
Always stick to the rule stated by the FDA. In other words, only ask racial questions if you need the related information.


Add a brief disclosure of why you need this data from your respondents. This will help build trust and improve your response rate.


Keep all your questions in a multiple-choice format. A 360-degree online survey tool such as SurveyPoint enables you to build a survey and add MCQs quickly.
Resist adding "Other" to your sequence of options. Instead, you can add an option like "Not Listed 'or "Not Included." Moreover, when conducting a race or ethnicity survey, it is crucial to include all racial and ethnic groups, especially if you are trying to reach a global audience.


Start the survey with primary categories. It would be helpful if you researched this and added it to your survey. Once you start getting responses, you can edit the survey and keep it more inclusive.


Keep all the racial and ethnicity questions optional. Contrary to popular belief, this will increase the trust factor and response rate.
The Takeaway
Asking race questions can help you gather data on how physical appearances or different customs can affect other user preferences. In short, it can be a great way to collect global data and improve your response rate. Just keep in mind the above tips and make sure to include all or primary races or ethnicities so your survey feels a bit more inclusive.
Using SurveyPoint's library of pre-researched templates, you can easily collect data on taboo subjects like race and ethnicity. Pick the question you believe will elicit the most helpful comments and suggestions. The next step is to tailor your responses so that responders are compelled to continue to the next question. 
Ready-to-use survey questions, right out of the box
Heena Shah – Content Writer at Sambodhi