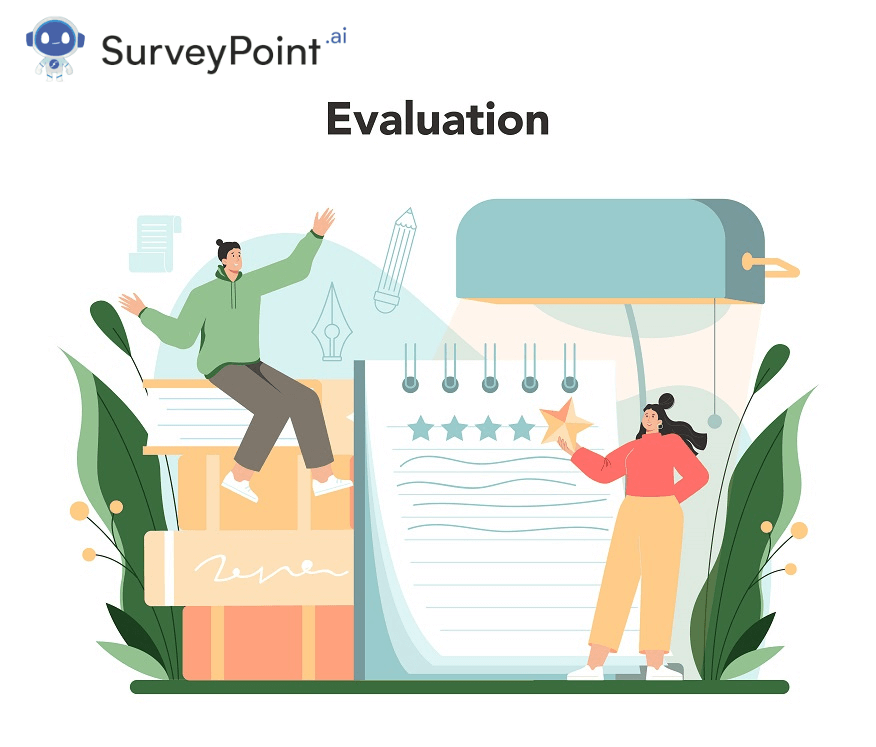 Is it that time of the year? The annual employee performance review time! But did you know that intrinsic motivation is perhaps the best motivation you could ever get? And, if you are looking for some self-evaluation examples or questions to add to your annual survey, look no further. 
An employee's morale can be greatly boosted by monetary rewards, annual trips, and even free food. To ensure that the enthusiasm lasts, you should have your staff do a self-assessment survey to determine their strengths and weaknesses.
In fact, your employee's growth can be deeply affected if they know what they lack and how they can work on it. So, if you are conducting a self-evaluation review in your company, here's what you need to know.
Discover the top 5 self-evaluation examples for performance review and how to do it correctly.
5 Self Evaluation Examples For Surveys
Writing your personal or professional goals might seem easy. In reality, it's quite challenging. And honestly speaking, self-evaluation encompasses more than just that. A company's self-evaluation is a significant undertaking, so it is vital to get it right.
A self-evaluation can occur in different scenarios. Here are the top 5 scenarios or self assessment examples to help you better understand.
1. The Company's Culture Evaluation
This type of evaluation requires you to jot down points or paras about why you feel like you fit in the company's culture. In addition to explaining your ability to fit into and align with the company's culture, you also have to explain how and why you are culturally suitable.
Here's an example: 
A sense of purpose and passion has been rekindled in me by the culture and my coworkers. I feel more in line with the long-term goals of [business name] and genuinely like working with coworkers that are open to my suggestions, no matter how naive they may be!
To cut to the chase, I feel free to express myself in the most extraordinary way possible, and I think we can all achieve great things together.
Related: How Do Surveys and Feedback Help Maintain Company Culture?
2. The Future Goal Talk
As part of the culture talk, employees can also explain their future goals and how the company can assist them in achieving them. Moreover, while evaluating the current performance can be a great way to start your self-evaluation, it can often be overwhelming. Talking about future goals can hint at hope and encourage employees to do better at their job.
Here's an example: 
This quarter, I took it upon myself to develop a personal brand. So far, I've been able to gather 5000 targeted followers across all my social media accounts. My content focused on how technology and innovation can address [relevant problem] consumer pain points.
As we move forward, my objective is to gradually introduce our goals, products and offers to these people while also increasing interaction by approximately 25%. I'd like to discuss some ideas for cooperating with micro-influencers in our niche soon.
3. Showcasing Accomplishment
Working hard is essential. But, showcasing the accomplishments are as significant. And this is one of the critical parts of self-evaluation. Talking about actions gives a sense of pride to the employees. It lets the organization know how that employee has contributed to the demands.
An employee can discuss their recent or quarterly accomplishments during this self-evaluation.
Here's an example:
This year, while working on the customer success team, I developed and implemented a loyalty program to encourage consumers to make more purchases. It has gotten a positive response, and compared to the previous year; the total retention rate has increased by 22%.
I also evaluated a few trial programs to promote our products and services without encouraging commitment from potential clients. Our overall cost of acquiring new customers decreased by 12% as more people tested out our services, loved them and decided to join our team. And all of that was organic, which reduced the cost of acquiring customers.
4. Showcase Problem-Solving Skills
Employees should get a chance to showcase their problem-solving skills during their self-evaluation.
Here's an example for a better understanding: 
Coming up with original answers to problems is one of my greatest strengths! Both [Name of Team Leader] and the rest of my team know that I am not one to seek assistance from others constantly. Instead, I give my imagination time to come up with solutions, sometimes even coming up with Plan B and Plan C.
When things don't go according to plan, I have a fantastic team to call on for support and advice.
5. The Weakness Talk
Just as your employees showcase their strengths, employees should also discuss their weaknesses. It's no secret that everyone has them; self-evaluation is how you highlight and rectify them.
Here's a self-evaluation sample on weaknesses: 
I occasionally find it challenging to work well with others because I lack patience and discipline. This makes it difficult for my team and me to operate at our best.
My objective for the upcoming quarter or year is to improve. My first step will be to become more disciplined in my personal life. Your continued belief in my abilities and faith in me is greatly appreciated. I won't try to disprove you here.
Tips For Self Evaluation
Here are some dos and don'ts for writing a performance review for yourself:
Do's
Talk about the KPIs and metrics that you were given. They would provide a precise understanding of your task.
Utilize numbers to your advantage. Divide these numbers by their percentages. By doing so, you gain a better understanding of your job's impact.
Keep a journal of your "everyday accomplishments," great or small, and consult it when assessing your performance. Your efforts will pay off later on.
Embrace your flaws and admit that you are a work in progress and are always learning.
List your individual and team accomplishments.
Instead of just focusing on meeting company goals, describe how you contributed to improving the company's values.
Don'ts
Never write a self-evaluation in a hurry. Take your time, gather all your ideas, write a draft, revise it, synchronize it, and submit it.
Make the self-evaluation about more than just you. Discuss the role that your team, management, and family played as well.
Self-evaluation should be at most three paragraphs or 250 words.
Write your accomplishment without bragging. As a result of your reasonable effort, write it.
Avoid using jargon. It works best to use short, straightforward sentences.
Related: The Art of Writing Effective Overall Performance Review Comments
Summing It Up
It can be challenging to write a self-evaluation. But, if you keep things natural and straightforward, it can actually work out for good. Not only will this give you the hope and encouragement to perform better, but it will also allow the company to understand you correctly.
There are two main reasons why companies choose not to implement feedback and assessment tools for their staff. They either don't know such a tool exists or can't afford it.
Just hand over the work to SurveyPoint. The entire procedure of gathering employee feedback—from conducting surveys to evaluating data to determining employee happiness and performance—is streamlined by its 360-degree assessment platform. 
Want to conduct performance reviews yourself?
Sign up for FREE to design interactive surveys people love to answer and convert the collected data into actionable reports.
Heena Shah – Content Writer at Sambodhi