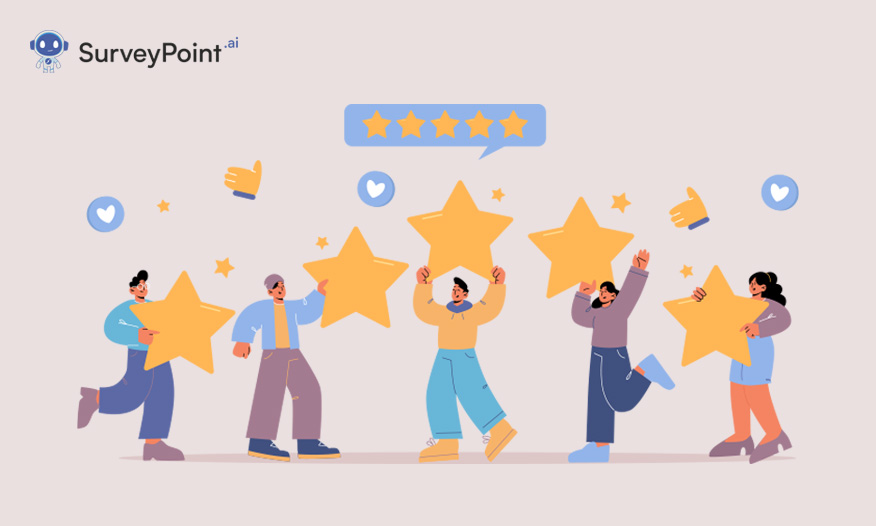 Customer feedback, whether good or negative, represents a valuable investment of time on the part of the customer. When things go well, the customer is impressed by your diligence and speed, but when things go wrong, they are frustrated. Whatever the case, a simple "thank you for your feedback" from customers might help you look on the bright side.
You will learn how to adequately express gratitude to your consumers for their comments, ensuring that they will not forget to provide you with further feedback.
What's The Point Of Saying "Thanks" To Customers For Their Comments, Anyway?
Why? Because if you don't, your clients may stop responding to your surveys altogether.
Whether it's in response to a customer's purchase, a user's registration, or a colleague's performance assessment, we always make sure to express our gratitude.
Why not end the feedback loop by saying thanks to the person who provided the feedback? At first sight, it could be easy to brush off as a minor detail.
However, the five-word phrase "thank you for your input" packs a powerful punch. One of the most useful expressions, yet it is frequently overlooked.
Whether favourable or negative, timely responses to client feedback can demonstrate to customers that you value their opinions.
And saying that "thank you" sincerely can go a long way toward keeping customers happy and motivating them to provide additional comments or suggestions.
Successful Methods For "Thank You For Your Feedback"
Listed below are all of the emails and social media posts you've sent to say "thanks" for people's comments and suggestions.
Do not let criticism upset you. Take a deep breath and relax at first. Neither the planet nor your performance is doomed if this occurs.
Make sure your message resonates with the recipient. You can make it seem like you're responding to the consumer, even if using a pre-made template for your feedback. You only have time for a quick remark, so make it count.
Never resort to passive aggression or defensiveness. We'll be the first to admit: it's not easy. Although taking the moral high ground and showing humility is essential to creating long-lasting connections with customers.
Try to maintain an attitude of gratitude. Express your appreciation whether the feedback you receive is positive or negative.
It's essential not to take people's comments to heart. It has nothing to do with you as an individual and everything to do with your company and how you can better serve your customers.
Attend to what must be done now. In other words, every single customer review and every single reaction is a chance to enhance the CX you provide.
Express your gratitude. In this age of constant connectivity, it's no surprise that your patrons take the time to fill out your survey, provide feedback on your offerings, and provide glowing testimonials. It would be rude not to at least express gratitude.
Make sure you follow up. Tell them what you did with their suggestions and how you plan to move forward as a result of their input. They'll feel good knowing they made an impact, and you'll have an opportunity to strengthen your relationship with them.
Best Practices For Expressing "Thank You For Your Feedback."
It's far simpler to reply to a client who has provided favourable feedback, such as in an email, and express gratitude for their time and effort. However, the actual reaction is only part of the story.
Ideally, you want your customers to remember your brand after leaving a great review.
The following suggestions may be helpful:
It would be best if you could publicly thank the client for the review on the same site.
You can demonstrate your thanks for their feedback by providing them with a coupon code or discount. As an example, you can take a look at the rewards provided by well-known software comparison sites. Such sites frequently offer gift cards as a "thank you" for even shorter ratings.
When you want to impress your customers and show them you care, try sending them a handmade thank-you note. It's a personal touch that not all businesses provide nowadays, but it will make your business stand out.
The review can be posted on your company's social media and tagged. You can also send it to your email list if the consumer permits you.
Best Practices For Responding To Constructive Criticism
Though it's more pleasant to get praise than criticism, know that both are inevitable. Positive experiences are rarely shared with others. The truth is you're just a satisfied customer who has little desire to leave a positive review.
Alternatively, suppose you are unhappy with a business. In that case, you are more likely to tell your social circles, current clients, and potential new clients about it. And if the company doesn't address your concerns immediately, you'll never buy from them again.
Does this sound familiar to you? That's just the way people are wired.
If you get some criticism, try not to let it get you down. It is inevitable that this will happen. Put it to use to educate yourself, advance in your career, and fulfil the needs of your clientele.
Responding to a customer's complaint or criticism might be a golden opportunity to win them over as a loyal supporter of your business.
To demonstrate your attentiveness and interest in their thoughts, just:
Be professional in your response (and without letting your emotions get the better of you; it's easy to be carried away by emotions, but it's not worth it)
Express your sincere apology for any inconvenience caused.
Attempt to resolve the issue collectively.
As suggested by Starbucks, follow the LATTE rule: Listen, acknowledge, act, thank, and explain.
Ensure that the problem does not recur by preparing personnel for further training.
Spin a negative review into a learning opportunity. In some cases, a negative review can be more valuable than a great one, as it shows you in which areas you need to improve.
RELATED: How To Deliver Negative Feedback Without Dampening Motivation?
The Bottom Line: It's not all about good reviews
Positive feedback, outstanding teamwork, or exceeding goals are all reasons to say "thank you." However, learning how to show gratitude to clients who have provided feedback despite having a negative experience is vital.
It demonstrates that you care about your customers as people, not merely as a source of revenue.
For your company to move forward, customer feedback is the most valuable resource. It is a gift that keeps giving if you are thankful for it.
Gathering constant feedback is essential if you want to evolve into a customer-focused business. To efficiently collect consumer feedback during every funnel step, try out online surveys with SurveyPoint.
Not sure where to begin?
Explore our solutions to discover what is most important to your customers, clients, and prospects. Brownie points – it doesn't take any coding!
Free Trial • No Payment Details Required • Cancel Anytime
Heena Shah – Content Writer at Sambodhi