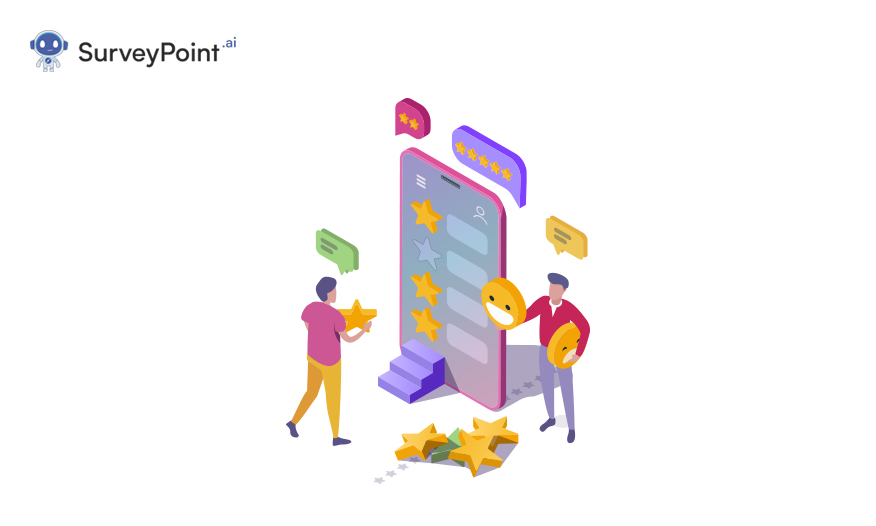 Would you like to build exemplary products? How about conducting a product survey?
Getting feedback from people who will use your product is the best way to get accurate information. The answer to all your woes may be as simple as conducting a survey. A survey can give you insight into what your customers think about your product, what needs to be improved, and what makes you stand out.
But, before you start, you'll need two things: the best survey-building tool and a set of product survey questions. In addition to helping you find a set of survey questions, SurveyPoint can perhaps be the best online survey tool for creating high-quality surveys.
What's A Product Survey?
In a product survey, you ask your customers a series of questions to determine how they feel about your products. These surveys can determine how functional or durable your products are and how businesses can revamp their marketing or sales strategy to get better sales.
In short, a product survey tells you what the customers think about your product. This technique can also help in ideation, product pricing, placement and design to keep your customers happy.
Product Survey Question To Put In Your Survey
It's true that you can find plenty of survey questions to lead you through your survey. But which ones are the best? Here are some sample questions to enhance the way you get feedback from your customers:
Question 1: Did Our Product Meet Your Expectations?
It is a simple question to determine whether the product has won their approval. It would be best to ask a follow-up question to focus on the factors influencing their decisions.
Customers wouldn't hesitate to express their opinions in such a straightforward yet powerful way. Although this is a comprehensive question, it is detailed enough to provide you with information you may use.
Customers will eventually churn if the product doesn't suit their needs, resulting in a significant loss of revenue and brand value that will be challenging to recover.
Question 2: How Will You Define Or Describe Our Product?
Ask your clients to select the word they feel best describes your product from a list of words using this product survey question.
Customer perception of your goods is significant. Instead of you presuming the product is exceptionally clever and fantastic, it clearly illustrates how well it fulfils them. You can determine from the results whether your items' claims are effectively conveyed through their performance.
Consider the debut of a new mobile phone marketed as the device of choice for gamers or frequent travellers. You've been successful in including a long-lasting battery.
However, suppose your product takes a while to recharge after being used up. In that case, your customers will complain about the inconvenience as a weakness. If you put too much effort into enhancing one element, you risk ruining another.
RELATED: How to Ask the Right Questions on Brand Perception Surveys?
Question 3: How Well Did Our Product Meet Your Expectations?
This is a broad question yet again. But it still offers valuable information.
Delivering excellent customer satisfaction requires that your product provides your customers with everything they expect and more.
Based on the above scenario, the smartphone should achieve this if it is advertised to have 4,000 hours of battery life. If not, you should look into it and fix the problems. There should be a follow-up question for this product survey question in case you need to go more and determine the precise cause of the incident.
Question 4: What Is Your Level Of Satisfaction With Our Product Based On The Following?
You will provide a list of specific features and qualities for your clients to rate with this inquiry. The Likert scale inquiry type provides you with incredibly detailed and valuable information.
Each attribute can be measured independently and compared. By observing which characteristics have been well-liked and accepted, you could tell which have failed to achieve high marks.
You could then launch the following product following this. Or you could tell which feature should be promoted more in the advertising.
RELATED: How Likert Scale Survey Can Bring Your Business The Most Value
Question 5: How Likely Are You To Find An Alternative To Our Product?
Identifying your closest competitor is one of your top priorities.
Well, the answer to this product survey question will undoubtedly lead you there (and prepare to be astonished!). This product survey question aids in locating your actual competitor, as determined by the buyers.
Once you've created a unique list of companies to watch, you can search for them.
If you don't want to be tricked, it's better to keep an eye out for these companies and their products. Their goods may be strikingly comparable to yours. To successfully retain customers, you must consistently stand out as the best.
Question 6: What Did You Consider When Shopping for Our Product?
This is a different iteration of the earlier product survey query. It's always better to be aware of the products people perceive as your competition's replacements. If you choose to use the feedback to enhance your product consistently, the odds will be in your favour. This would reassure your clients that you remain their best choice.
Question 7: Which Is The Best Feature Of The Product?
Your products are jam-packed with unique features designed to handle a variety of activities and purposes. You can determine the most popular quality by answering this product survey question.
Knowing your areas of strength will undoubtedly guide you in the right direction, and you won't be able to use that strength to your advantage until then.
Question 8: What Are The Top 3 Features In Our Product?
Once more, the purpose of this product survey question is to gather information about the top characteristics your product has to offer.
For SaaS businesses, this is essential. You would learn about the responses your clients have to your goods. In fact, you might be startled to see that the things you thought were optional are at the top.
Question 9: Which Features Did You Think We Missed Out On The Product?
Give your consumers a highly tailored customer experience if you want to keep them as customers and lower turnover.
This means you must guarantee that the customers enjoy a flawless and satisfying experience. Building a loyal customer base is a challenging task. However, even then, they would leave you for your rival without hesitation if you made a mistake.
Understanding your talents is vital, but it's also crucial to know where your weaknesses are so you can work on them. The consumer would be encouraged to share their shortcomings in response to this product survey question.
Question 10: Are There Any Problems You Would Like To Bring To Our Attention?
With the help of this product question, you can learn just what your customers want. You might use it to discover the area that requires work.
Customers adore learning that you genuinely care about their experiences and pleasure. The likelihood of gaining their loyalty is higher.
They feel that their opinions count when they are asked questions like these. Therefore, they would absolutely take advantage of the opportunity.
Summing It Up
Getting the target audience's attention requires understanding the audience.
The two questions that will aid you in the process are "who they are" and "what do they desire." You will be better able to produce precise insights that will lead you as your knowledge grows.
It would help if you also considered how you distinguish yourself from your competitors and why clients would keep doing business with you. If you want to ensure that your consumers have a positive and seamless experience, you should ask yourself these questions.
However, only if the product survey questions are as potent and valuable as intended. The method you asked your questions matters more than the questions themselves sometimes.
Not sure where to begin?
Explore our solutions to discover what is most important to your customers, clients, and prospects. Brownie points – it doesn't take any coding!
Free Trial • No Payment Details Required • Cancel Anytime
Heena Shah – Content Writer at Sambodhi