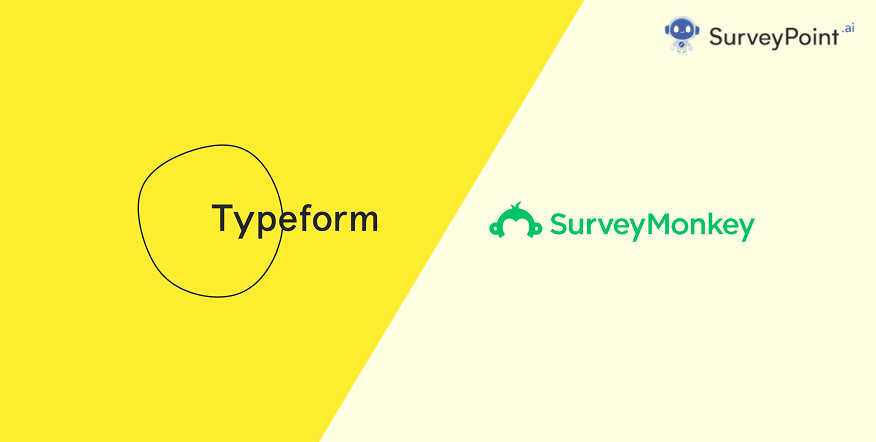 Multiple online form-building tools have made data collection and analysis more convenient than ever before. However, picking one out of the many possibilities available on the market might be a daunting task. What is the best online survey tool for a building survey, Typeform VS SurveyMonkey? Still over the fence about it? Don't worry have compiled a detailed guide to help you come up with an informed decision.
What Is Typeform?
Typeform is an excellent tool if you are looking to build fun surveys backed by an inspiring user experience. Something that users rave about it is its minimalistic accents and the easy-to-use interface. The platform also offers a number of different features, including customization and branding.
The price for a premium membership for Typeform is $25/month.
What Is SurveyMonkey?
If you are into researching and conducting surveys, we bet you must have heard the name before. Perhaps the most common choice, SurveyMonkey, is the 'coolest' platform out there. Loaded with a bunch of features and a great theme, there's no wonder it's a popular choice.
The platform has advanced features like reporting, data tracking and branding effects that make data collection easy and covenant. You can also keep tabs on real-time responses.
The price for business membership for SurveyMonkey starts at $25/month.
What's the verdict?
Both options have certain benefits and drawbacks, although the costs are the same. And, if you are searching for Typeform VS SurveyMonkey alternatives, SurveyPoint can serve the cause pretty well.
Affordably priced at $15/month, SurveyPoint has a bundle of features like advanced reporting and millions of templates that helps you design a survey within seconds. You can make, circulate, collect, track and even analyze the data in real time. Plus, the platform has a pretty easy learning curve, making things easy for beginners.
RELATED: Top Rated Online Form Builder Apps You Can Switch To
Features To Look For When Choosing A Survey Software
Before we dive deep into the detailed comparison of Typeform VS SurveyMonkey, let's take a look at the features you should look for when choosing software for survey building.
The choice you make should ultimately depend upon your needs. If you are an individual researcher, you don't need advanced data tracking or analysis features. However, selecting the right software is necessary if you own a company and want to conduct massive market research.
Apart from easy-to-use and highly functional features, it would help if you also considered the user interface and the software's learning curve.
An ideal survey-building tool should have the following:
It can easily be integrated into other applications.
It allows you to add chatbots on websites.
It will enable you to share the survey through emails.
The platform comes with a website embedding feature.
It should offer a rich dashboard experience.
All the features should be easily navigable.
The platform should have an easy learning curve.
It should also provide 360-degree feedback.
SurveyPoint VS Typeform VS SurveyMonkey
| Features | SurveyPoint | Typeform | SurveyMonkey |
| --- | --- | --- | --- |
| Review Ratings | 4.5 | 4.5 | 4.4 |
| 360 Assessments | Yes | No | Yes |
| NPS Surveys | No | No | Yes |
| Mobile First Surveys | Yes | Yes | Yes |
| Insert Videos or Images | Yes | Yes | No |
| Conditional Logics | Yes | Yes | Yes |
| URL Customization | Yes | Yes | Yes |
| Payment Gateway | Yes | Yes | Yes |
| Custom Domain | Yes | No | Yes |
| Save and resume responses automatically | Yes | No | Yes |
| SSL Encryption | Yes | Yes | Yes |
| Custom CSS | Yes | No | No |
| Pricing | $15/month | $25/month | $25/month |
Typeform Features
Here are a bunch of the best features offered by Typeform: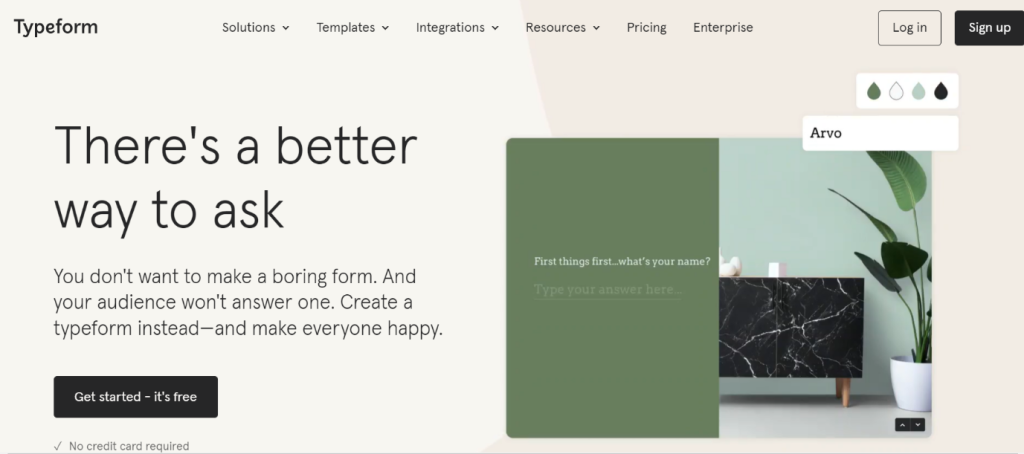 Customized User Flows
Each customer is unique, and they may have different needs and expectations.
They won't be motivated to finish the survey if the experience you provide for each consumer is going to be a generic one that applies to everyone. You may design workflows using Typeform that are ideal for particular consumer segments.
Drag & Drop
The drag-and-drop survey builder on Typeform ultimately simplifies the process of creating your survey. You may quickly and easily create your survey using this function.
APIs
The Typeform API facilitate the simple installation and deployment of the product. You may integrate your surveys, questionnaires, and other content with every other application.
Condition Logic
Conditional logic, which enables responders to bypass topics that aren't pertinent to them, is one of its best features.
By taking advantage of Typeform's capabilities and the logic you want questions to display based on user responses, you may improve the survey taker's experience by removing any superfluous questions.
SSL Encryption
Typeform takes seriously the information it receives from clients. When it comes to safeguarding its clients' data, there are no ifs or buts. In every transaction, the data that is transferred is encrypted.
SurveyMonkey Features
Here are some of our personal favorite SurveyMonkey features: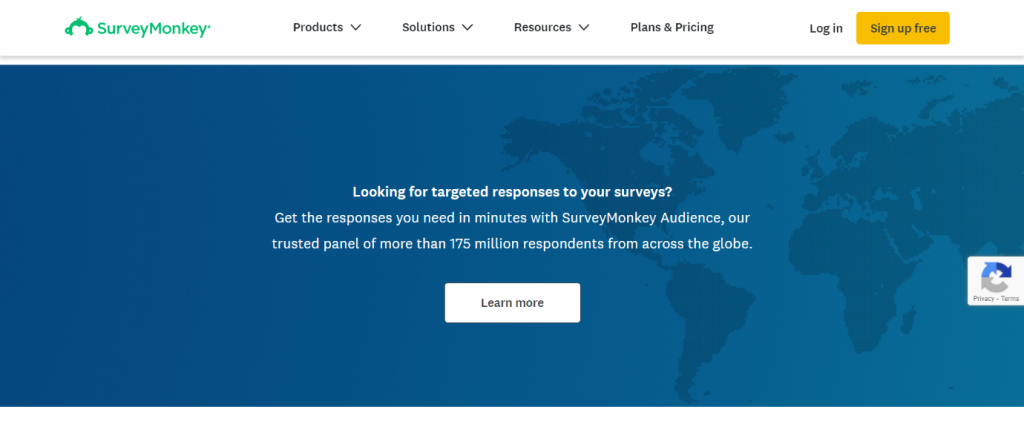 Business Branding
Customer surveys from SurveyMonkey are unbranded and can be used by your company. As you may include all of your brand elements, it is a fantastic opportunity for your customers to view your brand in all its grandeur.
Multilingual Surveys
Surveying your customers is a terrific way to learn what they think about your brand. However, allowing people to react in a language they are familiar with is crucial. Numerous languages are supported by SurveyMonkey, which is also available on all devices.
Fun Interface
You can alter the survey's appearance, modify the survey's colors, choose the language you want it to be sent in, and update the survey's questions. All of this makes it possible for the company creating the online survey to have a smooth experience.
Interface Based On NPS
Every survey created by SurveyMonkey starts with an NPS question. SurveyMonkey obtains the most outstanding results for each survey when a straightforward question, like "How likely you are to suggest SurveyMonkey to your friends and family," is used appropriately.
Typeform VS SurveyMonkey: Integration Features
It is crucial to integrate the software with other tools so that your consumers can obtain data from numerous sources. Thanks to the simple data exchange process and integration options, missing data will never be a problem. One benefit of software programs that support integrations is the ability to offer first-rate customer assistance.
Typeform Integrations
Software such as customer support, collaboration, documents, email marketing, IT & engineering, file management, sales and CRM can easily be integrated with the platform.
Some standard apps that integrate well with this platform are Airtable, Slack, OneDrive, Intercom, Coda etc.
SurveyMonkey Integrations
Though Typeform offers some stunning integration features, SurveyMonkey's features are far better. The platform can be integrated with software like analytics and reporting, CRM, G Suite, Office 365, productivity etc.
In short, you can integrate SurveyMonkey with apps like HubSpot, MailChimp, ActiveCampaign, C-Connect, Built.io, Flow etc.
Not sure where to begin?
Explore our solutions to discover what is most important to your customers, clients, and prospects. Brownie points – it doesn't take any coding!
Free Trial • No Payment Details Required • Cancel Anytime
Heena Shah – Content Writer at Sambodhi