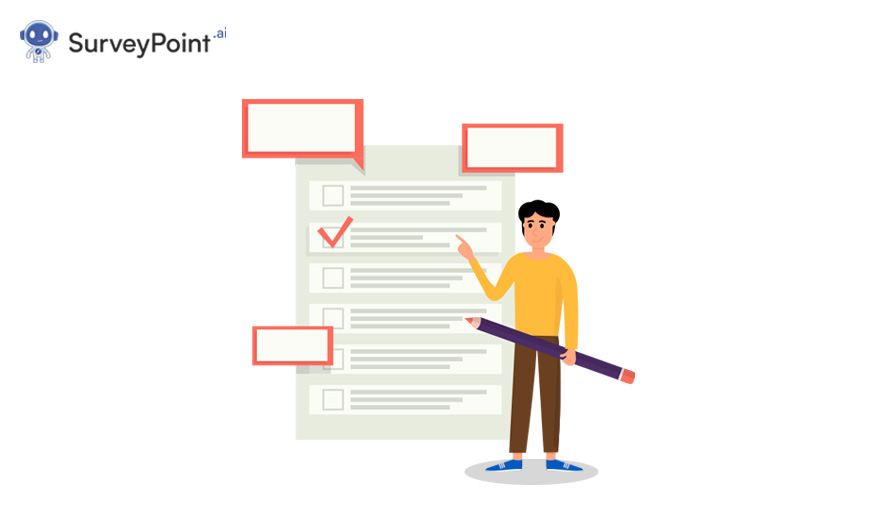 Have you ever felt lost while two or more people conversed around you? If yes, then we assure you this is just not your problem. Many jargons that experts know are unfamiliar to laymen. In addition, terms that are bombastic or known only to a limited group can have a detrimental impact on an inclusive conversation and make others feel excluded.
In the case of surveys, this problem is the most prominent. Is the participant a seasoned expert in the language you're using for this survey, or are they just an amateur? You can never know for sure.
Therefore, participants may feel hesitant to participate in your survey if the language used is outdated and difficult to comprehend. They may give their answers casually, without any sense of authenticity. The best way to avoid such scenarios is to use plain language when conducting a survey.
Definition of Plain Language for Surveys
In plain language, grammatically correct sentences are written in a way that is easily readable by first-time readers.
It is clear and concise, free of jargon and confusing phrases, and conforms to other standards applicable to the topic at hand and the readers to whom it is addressed.
It is highly recommended that you use clear, concise language to communicate with your audience so that you can…
Obtain what is required.
Take in the information they discover on the first try.
Discover resources that meet their needs.
Therefore, specific criteria should qualify a language to the category of plain language. We will discuss them in the following section.
Why Should Simple Language Be Used For Communication?
Surveys are meant to gather honest feedback on a product derived from its loyal customer base. And the customer base of a company has a different set of people present in it. Thus, a survey needs to be designed taking into account everyone's background.
Plain language fits the best in such cases. The simplicity of the plain language allows it to be easily understood by the diverse pool of customers.
All survey questions should be worded in simple language. In a survey, technical jargon and critical terminology should be clearly defined to allow even first-time participants to understand the topic. Forming surveys in a way that assumes no prior knowledge is optimal.
But if a survey is created with a bunch of big phrases that people need help understanding, it will fail to convey its point. The response rate and quality of responses to these types of surveys suffer due to their sloppy design. These surveys are usually only partially understood, if at all, by the general public. As a result, they stop caring about them.
RELATED: Top Fun Questions To Make Surveys Enjoyable
Guidelines for Designing Plain Language Surveys
In order to derive the best results, surveys should be plain and follow a few general principles. Check those out here:
Make sure the language you use is linked directly to your research aim and objective. Your research purpose must be fulfilled by the answers obtained through the questions.
You need to keep your questions simple yet short. In order to reach the target audience, it must only contain words that each of them is familiar with.
Ensure that the questions do not contain any double negatives, adverbs, or adjectives in excess.
Words that carry emotional resonance should be avoided.
Remember to include answer sets in unambiguous language for closely related questions.
The headings are logical, clearly state the purpose, and are appropriately formatted.
The design techniques used in graphics match the tone of the language.
A cohesive pattern should be used to form the questions.
RELATED: Anonymous Vs Confidential Surveys: Which Is Better To Use?
Advantages of Using Plain Language
It is beneficial to use plain language for a number of reasons. Let's explore them in depth below.
Plain language is efficient
The attention spans of modern consumers are shorter than ever. Marketers estimate that the typical reader spends at most 12 seconds on any given post.
These bloggers aim to get their readers interested in them in that short length of time.
With plain language, you can increase retention with the least amount of effort. It's simple and easy to grasp. People that are interested in learning anything seem to be attached to it.
There is no better marketing tool than plain language
Easy-to-understand, simple phrases are a marketing wizard's secret weapon, whether you're writing a web page, a blog post, or a full brochure. Digital marketing content that is produced in simple language has a lower bounce rate. Using simple language in online content increases revenue and client retention rates.
Maintains clarity of the message
In the business arena, the clearer a message is circulated, the better the audience retention rate remains.
Plain language is nothing more than an 8th-grade language. But this 8th-grade language is simple and easy to be communicated. Such a language also ensures the inclusivity of audience pools.
Builds a positive image
Promoting a positive image of a brand helps to anchor trust among the brand's audience. A clear audience tends to trust your brand more when your business communications are loud, which is one of the main goals of marketing. Building trust has a better conversion rate. It converts more audience into loyal customers. That's why plain language is always appreciated from a business point of view.
Final Thoughts
Whether through casual chat, formal correspondence, or surveys administered to the general public. Regardless of who you aim to target, you'll succeed more if your message is easily digestible and familiar to them.
If you want a higher response rate from your surveys, utilising plain language is one thing you can do. However, you'll still need the correct survey technologies to provide the quality of insight you'll need to take action based on the results. SurveyPoint can be an excellent companion for it!
Want To Create an Eye-Popping Professional Survey?
Take advantage of all of the advanced features by signing up for FREE.
Free Trial • No Payment Details Required • Cancel Anytime
Heena Shah – Content Writer at Sambodhi