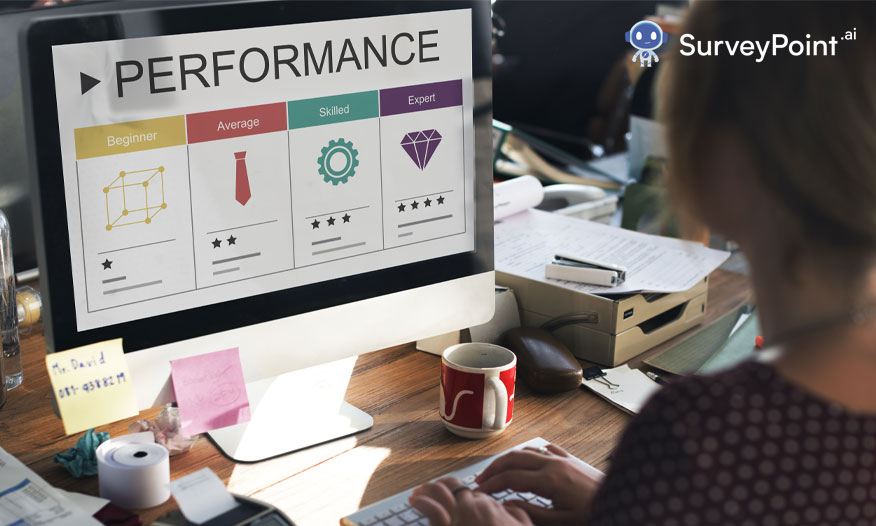 Performance Evaluation is a formal process to evaluate how well employees justify their job responsibilities. It analyzes employees' productivity in terms of how much they have contributed to increasing returns on investment, giving the brand an edge over its competitors.
Modern companies systematically evaluate their employees against a set of parameters related to their performance scale. Providing periodic employee feedback also enables companies to facilitate open communication between employees and employers about expectations.
Human-Centric Principles For Performance Evaluation
In modern companies, employee performance is evaluated based on the following human-centric principles:
Task Performance: An employee's performance measures how efficiently they perform their current role and job description.
Citizenship: Corporate citizenship is the yardstick of an employee's willingness to work with others. Each worker is evaluated similarly, according to how productive and pleasant they make the business appear to others. Firms are increasingly placing a premium on these traits in potential hires to maintain a healthy mental climate in the workplace.
Counter-Productivity: Employees' counter-productivity includes their avoidable absences, lack of cooperation, reputational harm, harassment, fraud, etc. Companies always measure employee productivity against a counter-productivity scale to dissuade employees from engaging in such disruptive behavior and preserve the company's good name.
RELATED: Focus on Mental Health Awareness in the Workplace
How To Perform An Effective Performance Evaluation Process?
There is a 3 step process that can effectively help a company to start off with its performance evaluation process:
Step 1:
In most organizations, an employee's performance is evaluated every three to six months, provided they have worked with the company all along that time. The concerned HR department can handle the situation following a two-way method.
The HR can send the employees a survey form and ask how they find their workplace regarding satisfaction and engagement.

In parallel, HR can send survey forms to the employee's supervisor to gauge how they contribute to the company's success.
Step 2:
The HR will then engage the manager and the employee in a face-to-face meeting. A detailed employee engagement survey will form the basis of the meeting. Generally, such scrutiny takes place after a year.
Step 3:
The employee satisfaction survey's feedback can be kept anonymous. This feedback awaits a real-time analysis from a centralized dashboard.
Based on the analysis, the manager might consider another round of interviews to clarify knowledge gaps or jump to conclusions about the employee's performance.
A company's probationary employee is termed a tenured employee when the employee has worked for six months. Employees' first six months are crucial, as companies evaluate their managerial skills based on their performance, claiming ownership of projects and maintaining punctuality.
Following confirmation, the employee's direct manager will assess past performance and decide whether to offer the candidate a full-time position for one year or reject the opportunity altogether.
RELATED: The Art of Writing Effective Overall Performance Review Comments 
Types Of Performance Evaluation Method
There are five broad categories of performance evaluation models. Let's go through them one by one:
Types of Evaluation Methods
Objective
Steps Performed
Self-Evaluation
Self-evaluation objective is to make an employee understand his performance levels.
A set of MCQs is sent to an employee.

In addition to helping employees gain insight into their work, open-ended questions can help a company grow.
360-degree Employee Evaluation
To rate an employee in terms of their professional advancement in an organization.

To scrutinize the employee's efforts to move inside the ecosystem of both an internal and external group.
Inputs from senior authorities are fetched while doing an engaging review of the employee.

These inputs are derived from direct supervisors, indirect senior supervisors, and immediate peers.
Graphic Rating Scale
Supervisors use this method to review the performance of their subordinates, using numerical and textual descriptors that range from 'poor' to 'excellent.'

The graphic scale method is widely used to scrutiny of employee skill, conduct, expertise, and qualities.
Surveys are sent to individuals or teams with questions that can be answered with a number.


Example: Rate the technical ability of the Communications department of XYZ company on a scale of 10.    On this scale—  0-3 means poor;  4-6 means average; 7-8 means above average; and good 9-10 means excellent
Developmental Checklist
This is one of the most straightforward performance evaluation methods that is used to maintain a particular checklist for the development of each employee.
A checklist is prepared consisting of several dichotomous questions. Generally, the management expects positive responses from employees to these questions.
Demanding Event's Checklist
This is a blueprint for a manager to assess his subordinates' good and bad qualities by engaging them with interesting, varied, and purposeful events.
Inside the managerial team, an event list is prepared per employees' standards, job roles, demands, and other criteria.

The manager creates a step-by-step guide to managing time better and resources— to align them with a pinpointed objective to create memorable events, engaging his teammates.
Why Evaluation is Beneficial For Your Company?
When it comes to promotions, transfers, and terminations, the management can make human-centric decisions.
It helps the HR management better cater to an employee's needs and accordingly arrange developmental training for career upgradation.
With this information, businesses can gain insight into their staff from the inside out. What traits and values the company appreciates in its employees are made clear to the employee. In a similar vein, workers should not be afraid to express their hopes for future promotions to their superiors in the workplace.
The same is valid for how performance evaluation helps businesses find and retain top personnel by rewarding achievement.
Conclusion
Employee evaluation is a common practice in almost every organization. It is used in either a formal or casual setting, and it affects all workers.
Employee performance is often evaluated in some capacity by most businesses. In today's cutthroat business climate, organizations can only thrive with the help of individuals who consistently provide above and beyond.
After hiring the right people, giving them the proper training, and keeping them inspired, it's time to evaluate how they're doing on the job.
Evaluation of job performance is how management learns how successful its personnel decisions have been. Issues are communicated to and addressed by staff members if they are discovered.
Need to make one for your business?
Sign up now at no cost to use one of our pre-built templates.
No strings attached – 14 days Free trial