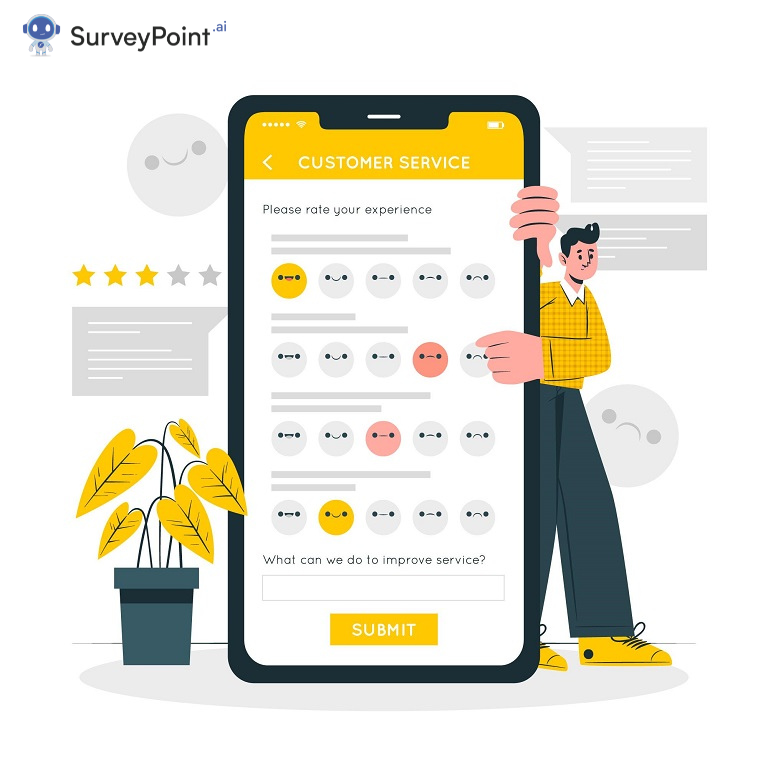 Using app user experience survey questions about a mobile app can help you find out crucial data that can be utilized to improve the user experience and market the app better.
If you want to improve your mobile app and the user experience, we've put together a list of the best mobile survey questions you can send to those who use your app.
Regardless of your industry, smartphone apps are becoming an increasingly important way to reach customers. Putting app usage survey questions in your mobile app is a great way to find out what people think about it and how you can improve it and market it to more people.
What are Mobile Survey Questions?
Mobile app surveys are a fun way to get feedback from users, confirm what customers want, provide customer-driven help, and make a better product.
"In-app survey" refers to consumer surveys built into a mobile app that pops up at set times while the app is being used.
When you order a service or finish a particular task in an app, you may be asked for immediate feedback in the form of a star rating. This is one of the in-app survey best practices most of the time.
The app automatically sends out these surveys to get more people to fill them out and get helpful information.
Mobile app user experience surveys are now common among smartphone users worldwide. People also like being able to share their opinions through surveys and give immediate feedback to the companies and people they meet through the app itself.
That's the value of a mobile app user experience survey: you get immediate feedback from your customers that you can use immediately without bothering them.
Benefits of Mobile Survey Questions
As mobile app survey technologies have become more popular, the market research industry has changed dramatically. This has given marketers and researchers in all kinds of sectors more options. So, let's talk more about why mobile app surveys are helpful:
Deeper Impact
GSMA real-time intelligence statistics show that more than 3.8 billion people have smartphones or about 48.2% of the world's population.
Given these numbers, the number of people who could use in-app polls is almost infinite. If a respondent has a mobile device, even in distant parts of the world, they can be reached and asked for their thoughts.
Real-time Insights
User comments are saved locally on the mobile app and instantly sent to the web servers through the internet. This makes it easier to gather data and lets scientists collect and analyze information in almost real-time.
No Internet Required
Offline feedback submission is now a feature of many modern apps. When the app is connected to the internet, it sends this information to remote servers, which can be accessed later.
Cost-Effective
In-app surveys have a lower cost per respondent than traditional survey methods like paper and email. This is also practical because it gets more responses and reaches more people.
Flexibility in Design
Mobile app survey tools can be made to fit their needs so that surveyors can get the most out of their time. Developers are free to build on and change the survey's design and the questions it asks.
Avoids Interview Bias
When you use a mobile app to survey, you don't need an interviewer or survey taker. This keeps the response from being judged based on things that need to be seen or said, which could change the results.
Avoid Bots
Mobile app feedback is an excellent way to get data from real users and avoid bots that collect data automatically.
Accessibility in Remote Locations
The fact that smartphones are so common makes mobile app feedback a lot more common. This makes it possible to gather data in parts of the world where people don't have access to the internet or even transportation.
Let us now look at examples of mobile app user experience survey questions.
Questions About Mobile Apps Features
Please give us an example of when the app came in handy.
Does our app assist you in getting things done?
What objectives did you hope to achieve with this app?
What other things would you like to see?
What do you think of this new feature's rating?
Which do you utilize the most?
How often do you think you'd use this?
Was it simple to locate this item or button?
What did you expect to discover but did not?
Is the mobile app lacking any functionality that you think you require? Describe.
What do you intend to accomplish with the app when you use it?
With the capabilities it already has, how does the mobile app assist you in achieving your goals?
Describe a time when the mobile app was handy to you.
Which elements of the app are you most/least interested in?
App Usage Survey Questions
How did you hear about our app in the first place?
What do you think of when you think about our app?
Why did you select us instead of someone else?
Which problems did you have the most trouble with while using the app?
Please explain the issue you had in more detail.
How easy is it to move around in the mobile app?
How do you like the new look of the app?
Does the app perform better after the upgrades?
What about the app confuses or upsets you?
How useful do you think the application is?
Questions for Market Research
How much are you willing to spend on this app?
How do you understand our prices?
How do you think our app is worth the money?
What other apps besides ours are you thinking about?
How is the app different from close competitors?
Are you willing to pay more if the prices change? Why and why not?
Questions for General Survey
What's your favorite thing about the app?
What aspects of the mobile app do you not like?
Is there anything else you'd like to say about the app?
Why did you decide to use the app today?
What would you do if you couldn't use the app anymore? Why?
What did you hope to do today with the mobile app?
What would make you start using the app?
Conclusion
Mobile survey questions are a new way to get customer feedback and learn more about users. They are the best and most advanced way to improve customer experience, design, and development, and they also have many other benefits.
Always remember to ask the appropriate questions and follow in-app survey best practices to get actionable information and make the most of your users' time. Use Survey Point to incorporate surveys into your mobile app quickly.