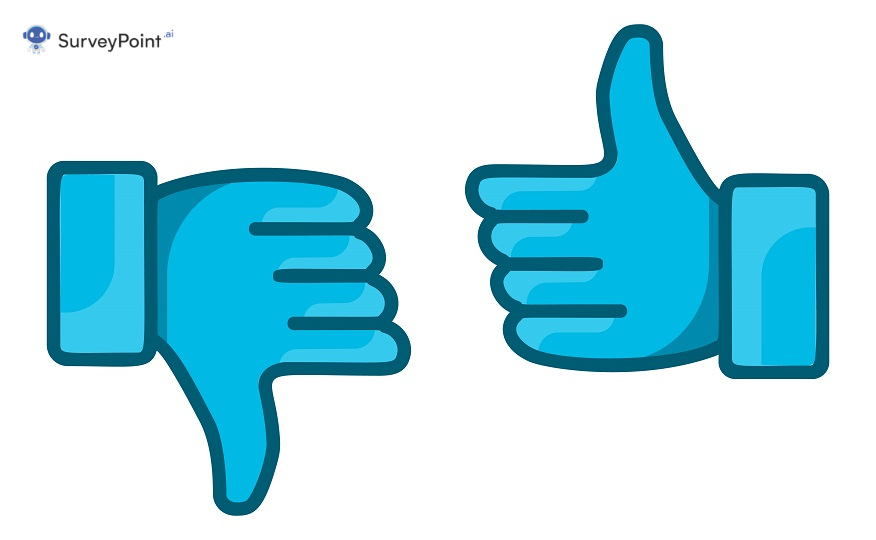 A good audience reputation is essential for a company to succeed. For every successful company, the audience adores its product or certain product specifications. Enterprises should be aware of its strength to establish a firm footing in the market. There are a lot of products capturing the market. In this pool full of options, businesses should be aware of how they contribute by trading off ineffective options. In order to make a successful trade-off, marketers rely on MaxDiff Analysis.
The target audience must well receive the choice. Businesses can boost their promotional content's quality with MaxDiff to reach a larger audience. In the same vein, it can help lower risks and introduce new product lines. Alternatively, it might enhance the current product in ways that are beneficial to the consumer.
What is MaxDiff Analysis?
MaxDiff or Best-Worst analysis— survey people's preferences regarding the 'Best' and 'Worst' options in a given set. Researchers implement this method within an appropriate experimental design. In it, each choice is designated with a certain value.
Let us go back to the previous example related to the tourism industry. A MaxDiff-appropriate question here would be:
Example: 1
Which are the most and least important factors when deciding on an African Jungle Safari?
Luxury Accommodation
Witnessing the maximum number of animals
Cultural Activities
Shopping and Souvenir collecting
Suppose the respondent puts maximum emphasis on the 2nd option and the least on the 4th one.
Now the data-backed decision derived from this set would be—
Witnessing Wildlife> Luxury Accommodation> Cultural Activities> Shopping and Souvenir Collecting.
Accordingly, the enterprise will spend its resources on features of its jungle safari. 
To incorporate new features in its tour plan, the company can again rely on MaxDiff. The following section lets you know how…
RELATED: Why you Should Use Cross Tabulation in Survey Analysis 
Why Should Businesses be Interested in MaxDiff Analysis?
MaxDiff analysis is an analytical methodology to examine survey respondents' preference scores. It is a compilation tool to identify customer preferences about products, services, or issues.
For example, MaxDiff analysis benefits a low-marketing budget travel enterprise. Tourism marketers can use the same marketing tool to address both marketing problems and differences.
Use case of the analysis
For tour companies, tour planning remains the most critical factor for attracting customers. Consider the hypothetical case of a tour company arranging African Desert Safari tours.
In their tour itinerary, they include:
Accommodation at a 4-star hotel
Complimentary breakfast
Desert and jungle safari
Cultural activities
Local village expedition
Nightlife
Shopping
Now market researchers can go one by one and ask the respondents to furnish their answers. But, such in-person surveys yield skewed data. The respondents generally place reasonable to high importance on most features.
Seeing only a lion may not satisfy the tourists because of the African Lion Expedition. At the very least, they'd like to see a pride of lions. In reality, this only sometimes happens.
First-timers have trouble weighing the costs and benefits of available choices. They give too much weight to each and every factor, leading to subpar deductions.
Analysis with MaxDiff is a major part of the curriculum. Effective Trade-Offs are accounted for in the information gathered using this approach.
So, using MaxDiff, any business can discover which features within a set of possibilities appeal to its target demographic. Concurrently, it can determine how much weight each attribute gives in decision-making.
With MaxDiff analysis, businesses can efficiently allocate funds toward developing crucial, customer-centric enhancements.
Testing and Claiming with MaxDiff Analysis
Every company wants to include new products in its range. But with each new development comes a list of options.
A discerning judgment lies in choosing which feature the company should incorporate and which it should reject.
An enterprise chooses effective marketing to create audience interest in new launches. In marketing, the product's most essential features get showcased for the best traffic. Thus, enterprises should know their product's actual strength.
Consider, for instance, an African Desert Safari tour enterprise that collaborates with a specific hotel brand. The hotel arranges battery-operated four-wheeler desert safari. 
At the same time has 4-star accommodations, a luxury spa, unique cuisine, wifi, and room service.
Now again, consider the preference list of example one. It shows the company's customers prefer the largest amount of Wildlife witnessing.
Hence, the company should emphasize the battery-operated jungle safari in its advertisement. It can also talk about unique features the customers can leverage of the hotel via booking through them.
The whole point of designing ads is that they will resonate with the maximum audience. MaxDiff analysis, besides highlighting these audience-specific data, also highlights different information hooks. The hooks are great for promotional messages.  
How MaxDiff helps in Designing Goal Oriented Messages?
MaxDiff analysis aids goal-oriented messaging by introducing need-based segmentation. Need-based segmentation exclusively groups the brand's audience— based on their attitudes and behaviors.
By analyzing these traits, MaxDiff can tailor exclusive marketing ads. The MaxDiff segmentation yields better results for:
Maximum Convenience
Return for Invested Money
Optimal Performance
MaxDiff is highly focused on convenience and helps promote the product's amplified features.
RELATED: Fundamental Concepts For Regression Analysis 
Benefits of MaxDiff Analysis 
Clear Insight
By MaxDiff analysis, companies get maximum insight into the most customer-centric features on them. This affirms product development, product marketing, or product launch.
Greater Efficiency
MaxDiff analysis helps to gather the maximum amount of insightful market data. By applying them properly, businesses can smoothen out their operations for future growth.
Effective Recommendation
MaxDiff analysis jots down data in black and white. It gathers a lot of feedback. Based on them, you can recommend changes in business operations point-to-point.
To Wrap Things Up
Now that you know the benefits of MaxDiff, put it into action. To leverage the data-driven customer-centric outcome of MaxDiff, make sure you take the help of an expert.
No doubt, for companies MaxDiff can be a game changer— when applied in the proper setting to optimize product performance. 
SurveyPoint enables users of all skill levels to gain insight from data, unearth hidden trends, and create prediction models thanks to its unique combination of robust statistical analysis and user-friendly interface. There's no need to learn stats.
In addition to performing statistical analysis, it presents the results in an easy-to-understand and usable format. With prediction at your disposal, you can zero in on critical experience drivers, learn what impacts your business, employ optimal regression techniques, spot data problems, and much more.
Learn to work smarter, not harder!
Explore our solutions that help researchers collect accurate insights, boost ROI, and retain respondents.
Free Trial • No Payment Details Required • Cancel Anytime