Organizations need to know whether the customer is satisfied or not. They can get this information through customer satisfaction surveys. In this blog post, we will discuss the customer satisfaction surveys, customer satisfaction survey template, and a customer satisfaction questionnaire.
Today every business is successful because of their customers and keeping them happy and winning their long-term loyalty is much harder today than it was a few years ago. So today, organizations pay a lot of attention to customer needs and hope to satisfy the customer.
What is a customer satisfaction surveys?
A customer satisfaction survey is the questionnaire which helps businesses find out what their customers think about their services and products, their brand, and their customer service. Customer satisfaction surveys help companies make strategic changes to their products, improve the user experience, and give the market exactly its wants.
In addition to the good things, companies want to know more about opportunities to make reasonable changes for both the company and its customers.
Identifying and resolving common process bottlenecks that negatively affect customer experiences
Creating better customer experiences
Developing ideas for improvements or new products/services
Finding brand advocates to help promote the company
Overall, customer satisfaction surveys aim to get customer feedback that can be used to improve everything from the products and services a company offers to the business processes that work to make customers happy.
5 Types of Customer Satisfaction Surveys
Net Promoter Score (NPS) Survey:
Net Promoter Score is a survey that asks just one question to find out how loyal a customer is:"How likely is it that you would tell a friend or co-worker about our company, product, or service?" Customers can score between 0 (not likely at all) and 10. (extremely likely).
Instead of asking customers about a specific product or experience, businesses use NPS to find out how loyal their customers are and how they feel about the company. NPS is used in many fields, so it can be an excellent way to compare your customers' loyalty and happiness to your competitors. NPS can also be used to find customers likely to switch to a competitor or spread bad news about your company.
Most of the time, NPS surveys are sent to customers via email or text message. But online businesses can also show up as pop-ups or chat boxes on the site. AskNicely is one example of software for getting customer feedback that collects NPS data and gives businesses NPS insights.
Customer Satisfaction (CSAT) Survey: CSAT, which stands for "customer satisfaction survey," is a way to find out how happy a customer is with your goods or services (unlike NPS, which is used to gauge customer loyalty). CSAT surveys ask a variation of the same question: How satisfied are you with the products or services you received?
Customers would choose from the following 1 – 5 scale:
1. Extremely unsatisfied
2. Unsatisfied
3. Neutral
4. Satisfied
5. Extremely satisfied
Customers are sent post-purchase surveys after they have bought something from your company. These surveys are meant to determine how customers felt about this particular transaction (unlike a study like NPS, which gauges overall loyalty).
This survey should determine which parts of the business need to be fixed. For example, if your NPS score is low, post-purchase surveys can help businesses decide whether to focus on customer service or product quality.
Product or Service Development Survey:
Development surveys, also called "Concept Testing," are sent to customers before a new product comes out to determine how likely it is that those customers will buy the product. A product development survey aims to find out if a new product or service will make money or to get feedback on how to make the product better before it goes on sale.
For this survey, you want to show customers a prototype of the product you're testing, along with the price, either in person or online. Then, ask them questions to find out how they feel about the product and leave room for them to say whatever they want. Send these surveys to your most loyal customers and the ones who buy the most from you.
Usability surveys, also called user experience surveys, are used by online businesses to find out what their customers think about their website so they can make it better for their customers. Most of the time, these surveys pop up while a customer is on your site. They can be multiple-choice, open-ended, or even live messages that point shoppers to the information they need.
Usability surveys are best for improving the customer experience, simplifying content, or making it easier for people to find their way around a website.
Customer Satisfaction Questionnaire examples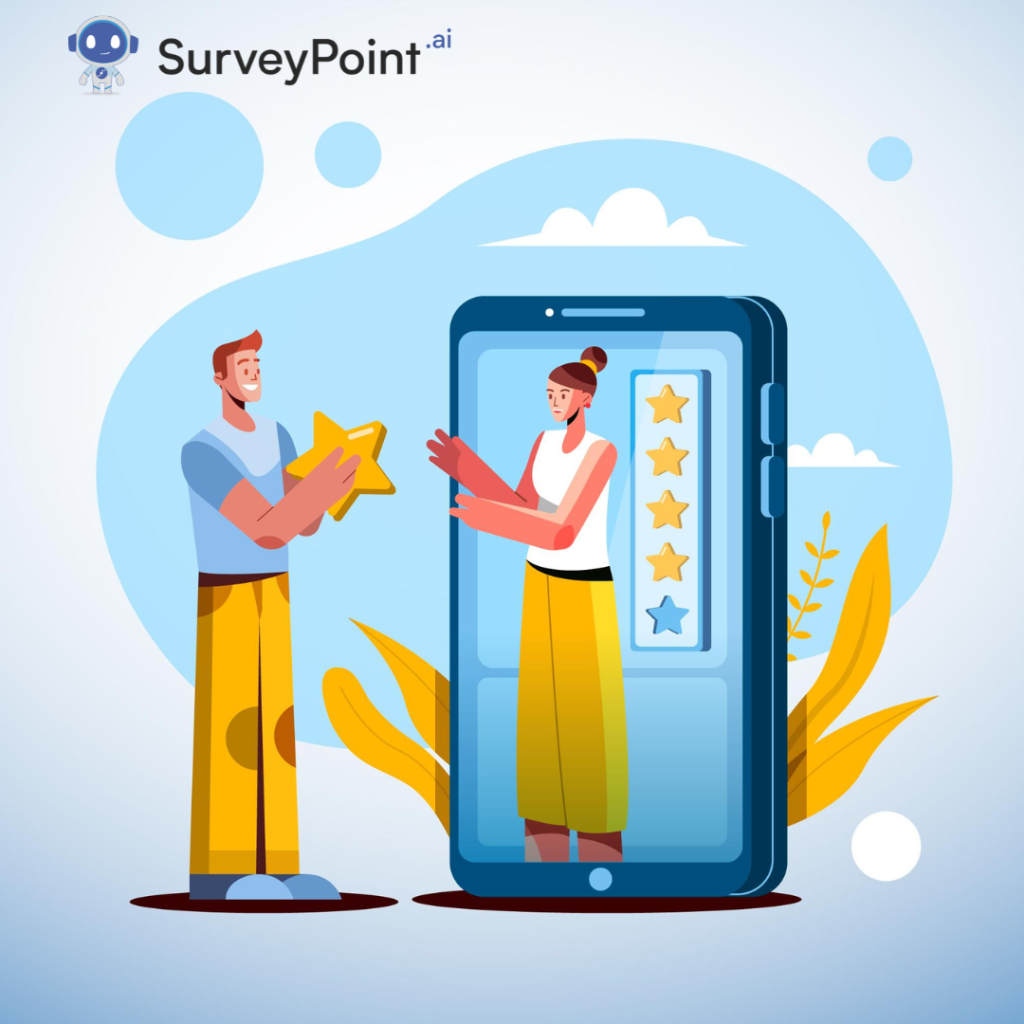 · How happy are you with your experience in the store today, from 1 to 10?
· How likely will you tell others about this product?
· Rate how well you think our team solved your problem.
· Did you feel like our team responded quickly to your question?
· Do you agree or disagree that the problem was solved?
· How likely are you to purchase this again from us?
· Why did you buy our product instead of one from a competitor?
· Will you take this survey again in the future?
· Would you be willing to talk about ways to improve your product?
You Must Like: The Ultimate Guide to Performance Review Questions: Boost Your Team's Performance
Customer Satisfaction Survey Best Practices
Make sure you choose the correct survey tool: If you need the right customer survey feedback tool, you'll have a lot of data but no way to make sense of it or learn anything from it.
Always ask short and direct survey questions: No one likes to spend much time filling out surveys, so make sure your questions are short and to the point.
Send the surveys at the right time: Think carefully about where to put your surveys at different points in the customer journey.
Consider different ways to ask questions: When making survey questions, you should consider how you word them. How people answer your question will depend on how you request it.
Thank your customers for their feedback: No matter what the feedback is about, always thank the customer for their time. You can do this with a gift card, a discount, or friendly email.
Test your survey: Before putting it out there, you should test it with the people you want to answer it. Please send it to a small group of customers instead of all at once and see what happens.
Customer Satisfaction Survey Template 
Net Promoter Score (NPS) Template
Note: This is your copy. Please do what you'd like with it (edit, send it around, etc.).
How likely are you to tell a friend or co-worker about us?
0 1 2 3 4 5 6 7 8 9 10
What is the most crucial reason for your score?
_________________________________________________________________________
Insert additional question(s) [Optional]
_________________________________________________________________________
Customer Satisfaction Score (CSAT) Template
Note: This is your copy. Please do what you'd like with it (edit, send it around, etc.).
How much satisfied are you with your experience today?
1 2 3 4 5
Any additional feedback?
_________________________________________________________________________
Insert additional question(s) [Optional]
_________________________________________________________________________
Conclusion:
You need to know how your customers feel about you to grow your business. Use customer satisfaction surveys to find out how your business can be improved in a way that will last. When you know how your customers feel, you can make decisions that will help you make more money and keep more customers, which will help your business grow.
 Organizations want to know the behavior of their customers, and the customer satisfaction survey fulfills this. It generates insights into the customer's demands and needs and tells about how to achieve them and satisfy the customer. It generates more business and benefits customers' long-term loyalty.