Teachers are often considered second parents of any children. Well, they should be because they are the ones who teach us the basics of life and educate us to become humans. So, to select the best teachers for your school, or college, it is crucial to evaluate them properly before employing them. In this article, we will discuss the top teacher evaluation techniques which will help boost your institution's productivity.
Let's begin by understanding the meaning of this term and how it helps us. We will also explore some of the most relevant examples of the methods used for evaluating teachers.
What is Teacher Evaluation?
Let us start first by defining the term teacher evaluation. It is a structured and well-planned procedure for analyzing the performance and abilities of a teacher in the classroom.
The process is a three-step procedure, where you first observe and examine the teaching methods and abilities of the teacher using various evaluation techniques.
Next, you must do a detailed analysis of the same; after recording the observations, you comprehend them and reach a conclusion.
Lastly, one has to give teachers evaluation comments so they can improve and grow in their careers.
Importance of Teacher Evaluation
The education field is evolving and reaching new heights every day. With this, the expectations from teachers and educators are also increasing. First, to be a teacher, you already need to undergo various examinations and training, but teacher evaluation becomes crucial while employing teachers.
A teacher's role goes beyond simply teaching reading and writing, as it profoundly shapes a child's life. So it is vital to evaluate the teachers properly. Here are some other advantages you can reap from the teacher evaluation system:
Teachers' evaluation system helps in tracking the performance of educators. It makes it easier for an institute to find and work on weaknesses.

Teacher evaluation should not be considered a one-time activity. You should conduct it after regular intervals as teaching quality can increase or decrease over time. It is also noticed that regular teacher evaluation leads to better teaching qualities.

It helps the administration to make informed and well sound decisions. Based on the evaluation findings, they can substitute unqualified ones and promote the competition.

The teacher evaluation comments also provide constructive feedback, which helps them know their strengths and weaknesses.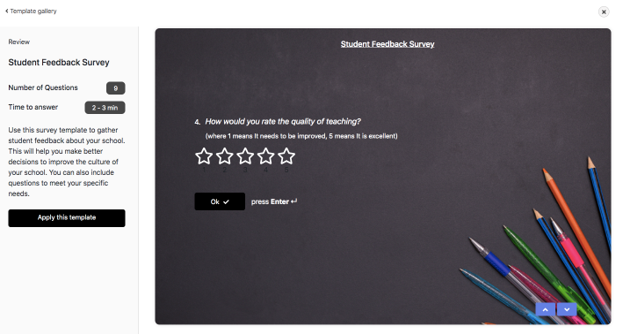 You can easily start evaluating teachers using attractive survey templates from SurveyPoint. It allows you to gather all integral information in one place and have a high-level analysis with effective visualization. 
Teacher Evaluation Methods
You need to design a comprehensive and well-planned teacher evaluation system before you begin to evaluate teachers. The approach should be holistic and be able to analyze all the essential aspects of the teaching-learning process.
It should consider some important things like lesson planning, student engagement, way of instructions, communication ability, classroom management, etc.
Designing a teacher evaluation system should be aligned with your needs and goals. Focus on the specific areas you want to analyze and discard those which may not benefit you.
Here is a list of top teacher evaluation methods and techniques you can choose from.
It is the most effective and reliable technique to evaluate teachers. The principal, vice-principal, or some senior teachers of specific departments usually do this.
This method includes simply observing the classroom, including
how a teacher is teaching,
do they have the subject knowledge or not,
whether students are able to understand the language and
way of instructions of the teacher, classroom management, etc.
You can create a list of abilities and score or tick them if the teacher meets the listed requirements or not.
ALSO READ: Course Evaluation Survey Questions: A Deep Dive with Examples
No one can tell if a teacher is better or not at accepting a student. That's why student reviews and feedback become essential tools for evaluating students' performance.
You can conduct surveys by making questionnaires or select a group representing the whole class and then conduct a detailed interview with them. In this case, it is essential to maintain anonymity. Otherwise, they may feel uncomfortable expressing their honest thoughts and feelings in class.
ALSO READ: Why Should You Consider Student Course Evaluation Surveys?
This method sends other peer teachers to analyze the teaching methods, study plans, class management, and assignments. Doing so lets you gather information about their work ethic and professionalism in and out of the classroom.
To conduct a fair peer evaluation, you should set clear guidelines; otherwise, it can be biased. This method also helps the observing teachers to learn from one another and to watch different teaching and learning styles.
It is another valuable and proven method of teacher evaluation. During this session, teachers examine and analyze their own knowledge, teaching methods, abilities, and areas for improvement. When a person identifies the challenges by themselves, there is a higher chance that they will try to improve them.
It is important for any educator's personal and professional development. A clear set of guidelines concerning self-assessment methods is also essential for maintaining teacher honesty and ensuring the evaluation process complies with the school's needs.
Another indirect way to analyze the teacher's ability is by measuring the students' performance. The quality of their assignments, test scores, results on exams, etc., can all be checked.
In addition, you can speak with the parents and request visible changes in the children's behavior and study quality.
Also Read: Teacher Evaluation: Meaning, Types & Examples 
Conclusion
Evaluating teachers regularly can be highly effective in keeping up their performance. Additionally, they can improve their contribution based on your feedback, creating a conducive environment with required checks and balances.
You can easily get started with teacher evaluation by floating surveys and recording what students and other staff members have to say about a teacher. 
Not Sure Where To Begin?
Explore our solutions to discover what is most important to your customers,
clients, and prospects. And best of all – it doesn't take any coding!
Free Trial • No Payment Details Required • Cancel Anytime