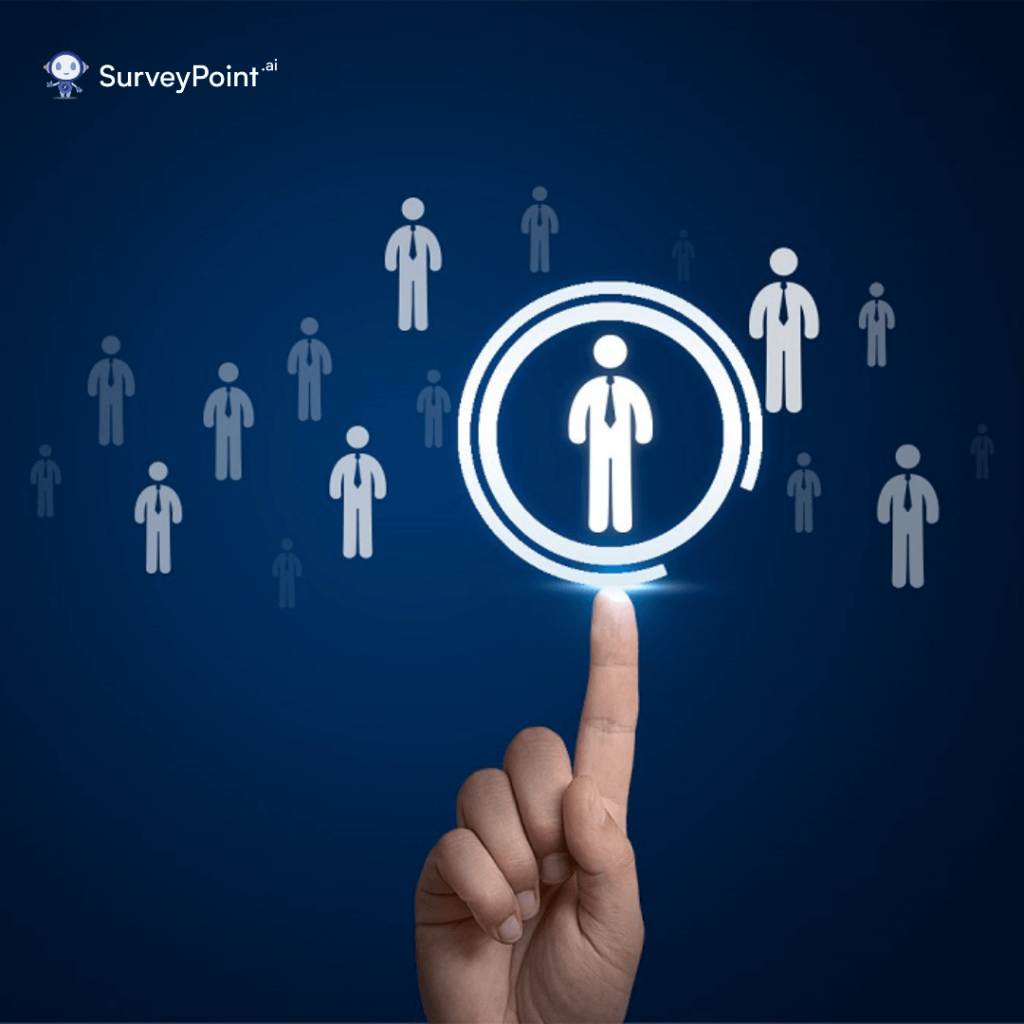 In research, selecting a subset of participants for a study from a larger group is known as sampling. Of the many types of sampling, judgmental sampling is crucial. This non-probability sampling strategy relies on the researcher's professional judgment.
In this article, we'll describe judgmental sampling, explain examples, and address its advantages and disadvantages.
What is Judgemental Sampling?
Judgemental sampling is a non-probability sampling strategy, often known as purposive or authoritative sampling. Researchers use it to choose volunteers based on skill, knowledge, and judgment.
This approach involves the researcher carefully selecting individuals who would be the most representative of the population under investigation. Studies involving qualitative data frequently employ this sampling technique. The researcher seeks to identify a particular group of participants most likely to offer the most useful data. 
Why Do We Use Judgemental Sampling?
To acquire a sample is to provide the necessary data for the research study. It is the primary justification for using judgmental sampling. This is particularly helpful if reaching or defining the population under study is challenging. 
For instance, a researcher will employ judgemental sampling when researching a specific occupation, such as law or medicine. They will choose individuals with the most pertinent expertise and experience.
Utilizing judgmental sampling can also help you save time and money. Without laborious sampling procedures, the researcher can choose participants using this sampling technique swiftly and effectively. Additionally, the researcher can choose individuals who are likely to provide the needed information using their own experience and knowledge. This can save time and money.
Things to Keep in Mind
Simple rules govern the judgmental sampling formula. Based on their experience and judgment, the researcher chooses a sample. Better to keep in mind that judgmental sampling precludes the estimation of sample size or error margin. These are essential elements of sampling methods using probability.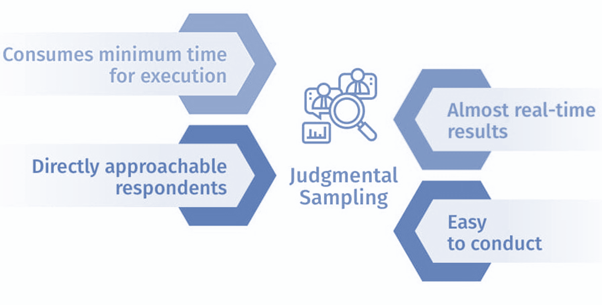 Advantages and Disadvantages of Judgemental Sampling
Like with any study methodology, judgmental sampling has advantages and disadvantages. The major benefits and drawbacks of using this technique are on the list:
| | |
| --- | --- |
| Advantages | Disadvantages |
| 1. Quick and easy to use | 1. Prone to researcher bias |
| 2. Cost-effective | 2. Limited generalizability of results |
| 3. Useful in exploratory research | 3. Difficult to replicate and validate results |
| 4. Can provide unique insights | 4. The small number of participants may not adequately represent the community |
| 5. Allows researchers to select participants who are most relevant to the study | 5.  It can be subjective |
| 6. Saves time since researchers can quickly identify and select participants who meet their criteria | 6. Lead to a non-representative sample affecting the study's validity and generalizability |
ALSO READ: Sampling Bias: A Threat to Accurate Analysis 
Judgemental Sampling Examples
The following are some situations in which research investigations might employ judgmental sampling:
For a new teaching technique, a researcher may choose teachers who have experience implementing the method in their classrooms.
A researcher looking at how tourism affects a local community can choose locals who know of the tourism sector. 
After looking at the effects of a new medicine, a researcher may choose patients with a specific medical condition. 
A researcher is investigating how social media affects teens. The researcher could choose participants using judgemental sampling instead of randomly selecting a sample of teenagers. The individuals who use social media frequently have huge followings.  
A market research firm is surveying to learn what customers think of a new product. Instead of choosing a random group of consumers, they choose participants renowned for being early investors or extremely powerful in their social network. 
A researcher looking at how climate change affects agriculture may choose farmers who have directly experienced its impacts. 
ALSO READ: 6 Common Potential Traps in Market Research 
When to Use Judgemental Sampling?
In experimental studies, where the aim is to understand a specific subject or phenomenon better, judgmental sampling is frequently used. Additionally, it is helpful when the researcher has sufficient knowledge of the community under study. Or when they lack the time or resources to gather information from a more diverse population. 
Although it can produce biased results, judgemental sampling should be one of many methods used in a research study.
Conclusion
Judgemental sampling is a helpful sampling technique in research studies. It is used mainly in qualitative research where the researcher wants to select participants with specific experiences. It is quick, cost-effective, and can provide unique insights into a particular topic or phenomenon.
However, it is prone to researcher bias and needs more generalizability of results. Therefore, judgemental sampling should be used cautiously and with other sampling techniques. This will ensure the validity and reliability of research findings. Before using this technique, researchers should consider the advantages and disadvantages of judgemental sampling.
Before using this technique, researchers should consider the advantages and disadvantages of judgemental sampling. 
Not Sure Where To Begin?
Explore our solutions to discover what is most important to your customers,
clients, and prospects. And best of all – it doesn't take any coding!
Free Trial • No Payment Details Required • Cancel Anytime