This is what people say when they see a bad quiz. But did you know there are the best online quiz tools out there that can help you? Whether you are a teacher or an entrepreneur, we have compiled a list of all. Ranging from free online quiz makers for teachers to free online quiz makers multiple choice ones, we have compiled these top 5 quiz tools for you – 
Edapp Quiz Maker
Hubspot Quiz Maker
Thrive Quiz Builder
SurveyPoint.ai
Google Forms (you must be aware of this one!)
Getting the audience's attention takes time and effort to maintain throughout the end! While people nowadays tend to switch to another form in less than 8 seconds, quizzes can be a great way to grab their attention at first glance!
So, it's time for us to look at these fantastic tools and learn how they can be helpful for you!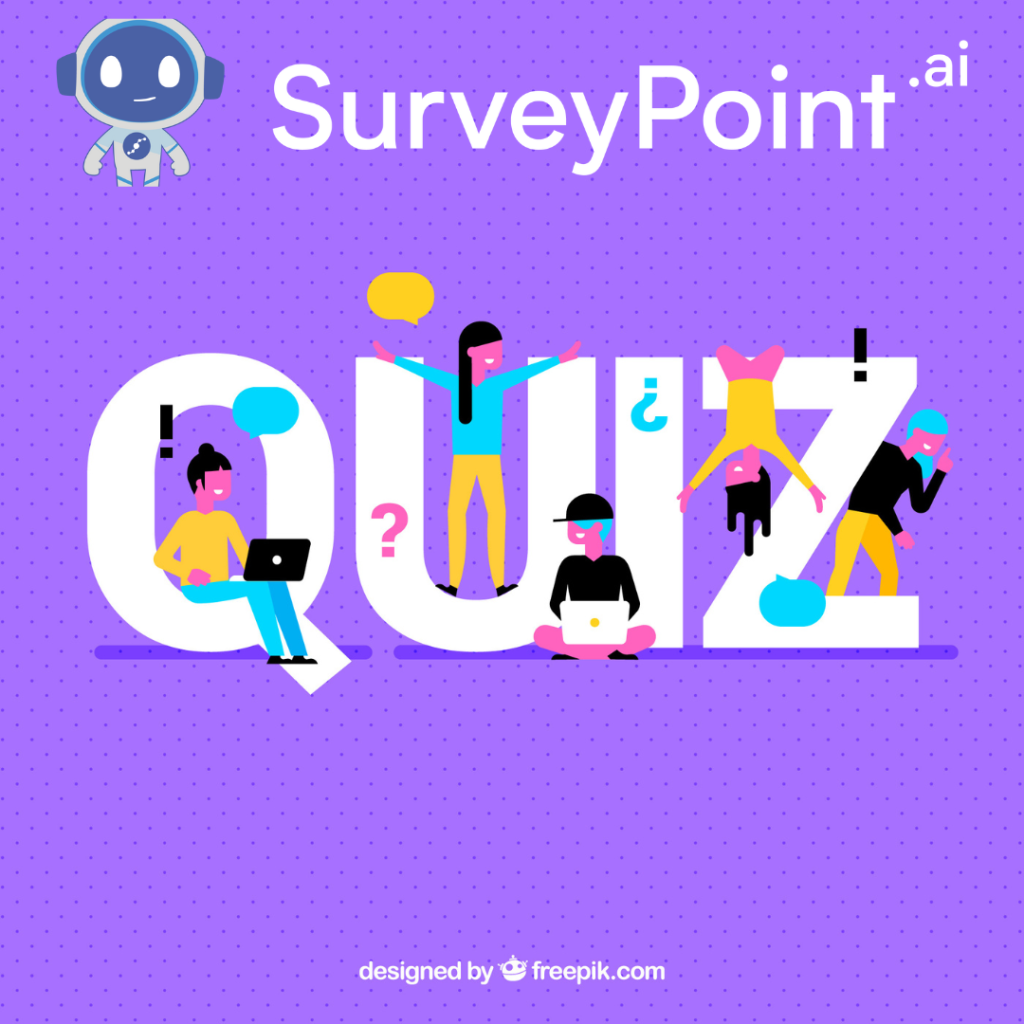 5 Best Online Quiz Tools Free
If you are in a time crunch, this free quiz maker is here to save your day! Here's what the quiz maker offers us:
Mobile Accessibility: You don't need a laptop to sit at a place and make quizzes like a nerdy one! With the Edapp quiz maker, you can make your quiz whenever and wherever without compromising the quality and, of course, the catchy appearance.
Real-time Leaderboards: A rare gem in a free quiz maker. You can watch the competition live via real-time leaderboard and see who's going to win this challenge.
Built-in reinforcement: Your content must be catchy to ensure the audience sticks. Are you sure you are reaching the mark? This app will provide the same for you with this built-in refresh.
Spreadsheet feature: With a simple spreadsheet template, you can create hundreds of questions ready for the quiz in a few minutes. Saves time!
Where can you use the Edapp quiz maker?
Despite which field you're in, this free quiz maker is used to quiz their team on almost every field out there. Here are some popular domains –
Hospitality
Health sector
Construction
Hubspot Quiz Maker
A CRM platform, the Hubspot Quiz Maker is a marvellous free online quiz maker for teachers and businesses. Here are some of its popular features –
Free CRM: This free Client-Relationship Manager software will save you time and help your business.
Live Chat: You can do real-time chat and connect with the audience to support them and convert potential leads if you are into business.
Meeting Scheduler Link : You can make any appointment or set up a group meeting with this link. You're done when you add it to your email and website.
Website Builder: This drag-and-drop builder makes it hard to make changes to your website. You can change the website to fit your needs and wants by using this feature.
Thrive Quiz Builder
The beautiful templates under the thrive quiz builder are perfect if you teach the kids! It assists you like your personal assistant and helps you to:
Create the quiz at your discretion
Allow branch questions by analyzing answers to previous questions
Play between text-based questions and image-based questions
Sends the fastest communication delivery if any problem occurs with the person attempting your quiz.
The Thrive Quiz Builder collects all the information and compiles a detailed report. This way, you can see and analyse things like how many people tried your quiz, what answers were chosen the most, what answers were chosen the least, what branch questions were chosen the most, how many people tried above a certain level, and so much more.
Isn't that interesting?
We thought so too.
SurveyPoint.AI
Let's begin by saying why surveypoint.ai is among the best 5 –
Revolutionise data-driven decisions: Bringing to the market better ways to make, track, analyse, and report on surveys.
Custom layouts & themes: Access our expansive selection of templates and customisable features.
An easy-to-use interface: Experience superior user experience and minimal design
Sit back & watch your workflow: Unprecedented convenience in creating, tracking, analysing, and presenting online surveys.
"Your quest for the best survey solution ends here."
This is what is claimed by the surveypoint.ai
And after researching this builder, we would not deny its claim. This is indeed one of the best online quiz tools.
This online quiz builder is applicable to more than just the functioning of making quizzes. It can be used for other purposes as well, such as –
Market research
Customer satisfaction
Employee engagement
Education
Demography
With unique features like this, you can create a new level of engagement and increase your selling point by enhancing your sales stocks.
Google Forms
You must have heard about this. In our opinion, who doesn't?
Being one of the most popular and having a good ranking in the Free Online Quiz maker multiple choice questions category.
With the features of sharing and easy quiz creation, Google Forms are not just used as a free online quiz maker for teachers but also for creating surveys!
Here's what you can do with Google Forms –
Make different kinds of multiple-choice questions, like short-answer, long-answer, paragraph-based, etc.
Automated summaries – You can immediately review the answers and change the sheet.
No device constraint – You can make and change forms as you please on your phone, tablet, or laptop. No matter where you are, you can answer the quiz or survey.
Raw and formatted data – Whether you want all of the responses or just the ones you choose, you can get both (at no extra cost)
Conclusion
Go for these best online quiz tools, as claimed and reviewed by the users, to stand out from the rest of the crowd.
You can refer to the know-how of these free quiz maker platforms via tutorials on social media platforms like Youtube or their official website.
It is time to step up and upgrade to the next level!
Go for it now
Use these