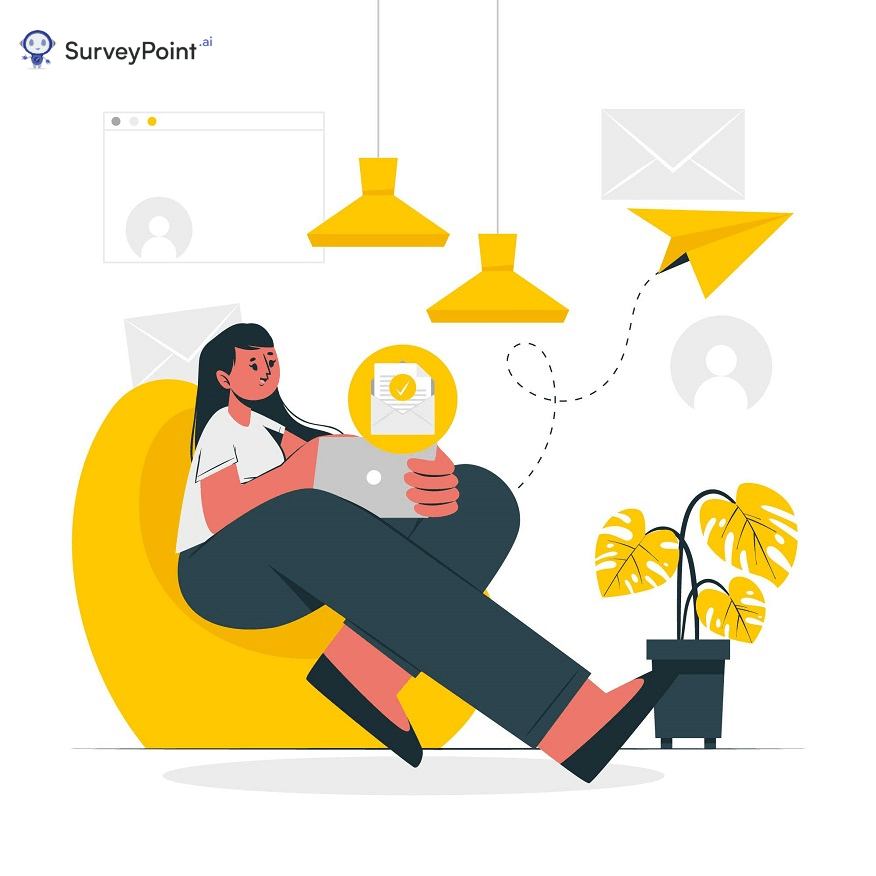 Many companies these days take the help of customer satisfaction surveys to maintain a healthy relationship with their clients and build new relations with prospective clients.
For this, they use a variety of resources just to get a response from their prospects using emails or social media. However, many times they fail to get a response from them on the first attempt. This is where you need to learn through follow-up email samples that help you increase your chances of getting a response.
Failing to get a response from your prospects and customers indicates that they might be uninterested. But it might also be that they might have skipped your email or did not have the opportunity to go through it. In such situations, it is beneficial to send a second round of emails or even a third. This ensures that your audience will ultimately notice your email and maybe even respond to it.
According to cold email statistics, the initial email is said to receive only 16% of responses on average. At the same time, sending a follow-up email increases the chances by up to 27%.
Follow-up emails force your prospects to notice you. This sends a message to them that your company is interested in getting their reaction.
What Is A Follow-Up Email?
A follow-up email is a mail or a series of emails that are sent to get a response from or in response to an action of a subscriber. A follow-up emails
A follow-up email to clients is like an update, letting them know that you are awaiting a response from them. Sending the initial email to your prospects is just the first step in checking up on them. There is a very high chance that the initial email will go unnoticed. In simple words, follow-up emails are like periodic updates and checkups on clients to remind them of you.
There is a higher possibility of receiving a response on your second or third emails. This is basically what a follow-up email does. A follow up email for update is like a tool that attracts the receivers' attention and extracts a response from them.
Many studies have shown that follow-ups improve response rates. A study conducted by Iko System revealed that they saw an 18% response rate for their first email, but a follow-up, be it the first or the fourth, increased the response rate to 27%.
The main usage of a follow-up mail is to work as a reminder for a previous email sent by your company. It is to remind the prospects to send a response to the company.
ALSO READ: How to write emails that increase response rates like magic!
How Is A Follow-Up Effective?
Follow-up message samples are highly effective. Know why: –
They help in building customer loyalty
Helps you understand your audience better.
Increases your value as a company in the market.
Establishes your organization's credibility
Makes you stand out from your rival competitors.
The main purpose of a follow-up email is to convince your customers to go through the email and share their feedback, which in turn also encourages an increase in sales. Through follow-up emails, businesses can expect prospects to become regular customers, schedule appointments with them, and much more.
Whatever their goal is, the purpose must be mentioned and communicated to their customers through the follow-up email.
A follow-up email to the client should not be informal or impolite. A warm follow-up email ensures higher response rates. This shows your prospects that you are sincere and that you are not a waste of their time. They will acknowledge why you want to reach out to them, making it more likely for you to gather information or the responses that you expected.
How To Write A Follow-Up Email?
There are different kinds of follow-up emails for different purposes. Best ways to follow up with customers examples that can be useful in writing an effective follow-up email: –
ENSURE CLARITY: Personalizing your follow-up email by including something specific relating to the person is a great way of increasing the response rate. This would require having a little knowledge about your customers and prospects. This would make them feel needed and valued, which also shows that you were listening attentively.
BE SINCERE: Show your credibility through your follow-up messages. Refrain from sending long, bland emails. Scavenge for innovative ideas that make your emails interesting and worth responding to. Show your sincerity by clearly mentioning the goal of sending the email and what importance the responses have to you.
PROVIDE AN ATTACHMENT: The follow-up email should be such that it mentions the original message that was contained in the initial email. This would free the recipient from the hassle of looking through the previous email to know about the context.
Write an effective follow-up email through careful planning and effective writing. Remember to be polite and respectful. Do not get too personal or offensive.
A warm follow-up email is what the recipients would like. You can begin your follow-up message: "I would like to follow up on my previous email." But remember to provide an attachment of the initial email. This would provide the recipient with a heads-up about the previous email. Make it as convenient and easy to understand as possible.
Follow-Up Email Sample
Professional follow-up email samples use the following format:
Email subject: Keep it short, sweet, and simple. Do not be offensive by including statements like, "Why didn't you respond?"
Greeting: Focus on formality and always use professional greetings
Body: Provide context in the opening line of the email. You can forward the original email as an attachment or provide a reminder of the crucial points.
Closing: Let the person know how to use the response and what you will do if no response is forthcoming.
Sign-off: A polite and professional sign-off is essential.
KNOW MORE ABOUT: How you can improve your customer services through follow-up emails 
When To Send A Follow-Up Email?
Usually, if a recipient has to respond to an email, he will do so on the day it is sent. But many times, it is skipped unintentionally. Apart from planning and writing a follow-up email following a proper format, paying attention to the timing is also essential.
A follow-up email should be sent at a time when the receivers are most likely to notice it. Sending an email during a weekday or working hours is useless, as it is going to be ignored. Therefore, sending a follow-up email requires proper planning and should be sent strategically.
Waiting for a couple of days after the first email is sent, you can send your first follow-up email as this is a good amount of time. The period for waiting can be extended by a few days for each following email. But ensure that you don't annoy your targets with daily emails.