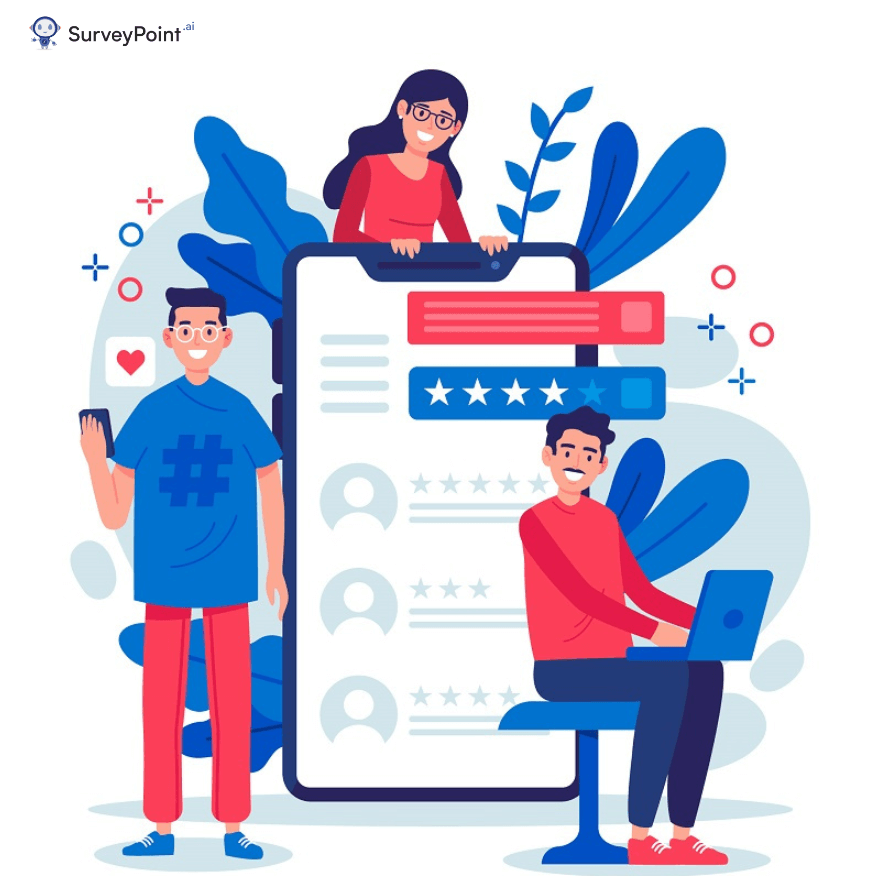 In today's competitive business world, solely relying on your product quality is not enough. You must offer an extraordinary customer experience to stay ahead of the curve and retain your customers for a long time. Gathering consumer data and understanding what your target audience has to say is crucial to achieving this, and a customer experience survey can help you here.
The customer experience refers to the total interaction that a consumer has with your company. It is the culmination of every touchpoint a client may have had with your business or with your services. The overall experience also considers how clients leveraged these interactions to create opinions about your organization.
Today we will discuss the most important benefits of conducting customer experience surveys and take a look at the best practices for designing an effective survey for your buyers.
What is a Customer Experience Survey?
A customer experience survey is a tool used to gain insights into customers' opinions and thoughts about their interactions with a company's products, services, and overall brand. The survey is a questionnaire that asks people about their experience with the company.
By leveraging these surveys, you can keep track of the emotions of your customers and use them to enhance your offered experience. Mapping the customer journey is important to discover the key touchpoints with your customers.
They can prove to be very useful when you are trying to understand customer satisfaction, collecting reviews for a new product or service, conducting market research, or trying to build a customer experience program.
Customer experience surveys can be of different types. Some customer experience survey examples are Net Promoter Score (NPS) surveys, Customer Satisfaction Score (CSAT) surveys, Visual rating surveys, and Custom surveys.
ALSO READ: Why Should Businesses Send NPS Surveys?
Why Are Customer Experience Surveys a Game-Changer?
There are various advantages that a customer experience survey can confer upon you, proving to be a game-changer for your business. It also helps the business improve and reach new heights. We have listed some of the top benefits of a customer experience survey below:
Identify Improvement Areas
Customer experience surveys bring companies invaluable feedback and reviews that can help in identifying improvement areas. Businesses can quickly address customer issues and alter the products or services they offer to better serve their demands.
Customers who feel that their feedback is valued are more likely to become loyal to a brand. A satisfied customer always comes back. By soliciting feedback through customer experience surveys, businesses can show their customers that their opinions matter and that they are committed to providing a great customer experience. You can also project future sales based on consumer loyalty which eventually boosts customer retention.
Boost Customer Satisfaction
Increase customer satisfaction by learning what makes customers happy and what they value most through customer experience surveys. Businesses can raise customer satisfaction and increase the number of devoted consumers by implementing this feedback into their business strategies.
Acquire a Competitive Edge
Companies can remain ahead of the competition by knowing what their customers are looking for. They can also differentiate themselves from their competitors by providing a special and extraordinary customer experience.
Identifies Your Promoters
Customers who promote or support a brand can be found with a customer experience survey. To classify consumers as promoters or detractors, you might utilize the Net Promoter Score as an initial guide. Additionally, you can utilize this data to give customers personalized texts and encourage critics to become your promoters.
There are also several customer satisfaction survey companies that can provide you with survey questionnaires tailored according to your requirements. With tools like SurveyPoint, creating dedicated surveys becomes even more convenient. Choose from the multiple template options offered by the platform and customize it as per your needs.
Best Practices for Creating a Customer Experience Survey
It is very crucial to know the customer experience survey best practices that can help you in utilizing all its offered benefits. Here are some best practices for developing a customer experience survey that you must be aware of:
Simple & Clear Surveys For The Win!
Short, straightforward surveys are more likely to be finished by customers. Keep your survey to no more than 10 questions, and make sure each question is clear and concise. The options given in the answer should also be very clear.
Providing multiple-choice options can make it easier for customers to provide feedback and can also make it easier to analyze the data. The options given in the answer should be very clear.
Include Different Types of Questions
When conducting market research, rating scales can yield useful quantitative data, while open-ended questions can yield more insightful qualitative data. Mix both kinds of questions to make your survey more interactive.
Conclusion
Customer satisfaction surveys occupy a key position for companies striving to enhance their offerings. By seeking feedback from customers, businesses may quickly set themselves apart from rivals. A customer experience survey should never be seen as a one-time project by businesses but as an ongoing activity.
By consistently enhancing services, exceeding customer expectations, and forging lasting relationships with clients, it is simple to win their loyalty.