Survey data can help you make internal decisions based on what your workers say or give you a better idea of how your customers feel. You can send out a poll and get a lot of information about many different things in just a few hours. It makes sense that businesses are looking for ways to do surveys. But which survey program should you use?
Two of the most well-known names on the market are Qualtrics and SurveyMonkey. If you need help deciding which one to use, this post will  help you. Compare the benefits of Qualtrics and SurveyMonkey to find out which is best for you. 
Online survey tools such as Qualtrics and SurveyMonkey make it simple for organizations and individuals to construct and distribute surveys to collect valuable feedback and data. The two systems have certain parallels but are also significantly different in crucial ways. Here's the distinction: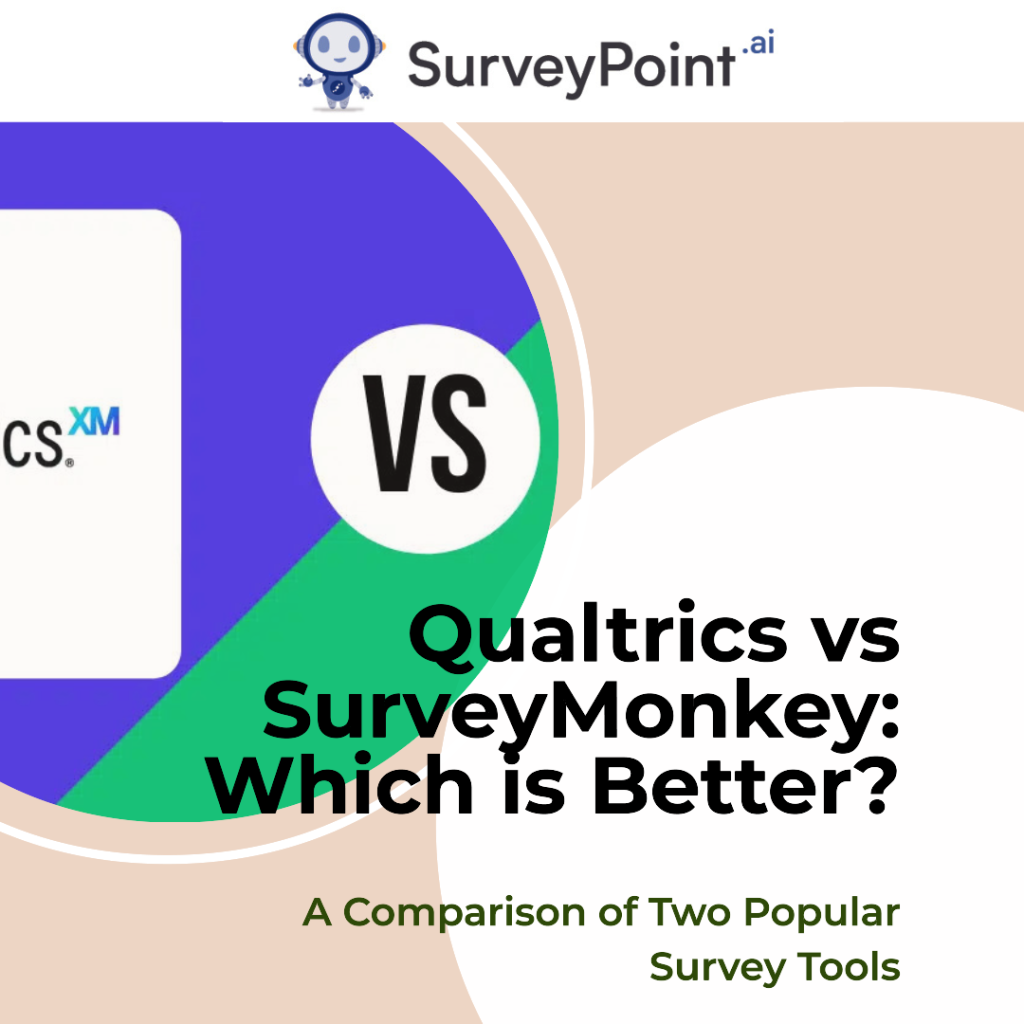 1.Specifications and capabilities:
SurveyMonkey: SurveyMonkey is ideal for short and straightforward polls due to its ease of use. It contains a variety of fundamental question kinds and survey logic, but it has fewer capabilities than Qualtrics. However, SurveyMonkey is constantly improving its platform and gradually adding more advanced stuff.
Qualtrics: Qualtrics is a trustworthy survey tool with many advanced capabilities that can be used for simple and complex surveys. Advanced question types, branching logic, and skip logic are also available. Qualtrics also includes robust data analysis and reporting options, making it an excellent choice for college and research surveys.
2.Easy to Use:
SurveyMonkey: SurveyMonkey is a beautiful option for folks who have never created a poll before and do not require a lot of functionality. It is simple to use.
Qualtrics: Although it offers more extensive capabilities than SurveyMonkey, learning how to utilize it may take longer. Even said, the learning curve is worthwhile for those seeking greater freedom and customization possibilities.
3.Pricing:
SurveyMonkey : SurveyMonkey offers a free version with some limits and subscription plans with additional features and survey replies.
Qualtrics: Has a higher price tag than SurveyMonkey, especially for more complex features or those used by major businesses. It deals with larger companies and frequently offers them varied costs based on their requirements.
4.Target Audience :
SurveyMonkey : Most of SurveyMonkey's customers are small to medium-sized enterprises, individual users, and those who wish to create surveys for fun.
Qualtrics : Qualtrics is better suited for larger companies, academic institutions, and researchers who require advanced survey tools and data processing.
5.Data security and adherence to the rules:
Both systems are concerned with protecting user data and provide several options. Many corporations and institutions utilize Qualtrics, which focuses on data security and compliance.
Conclusion
The choice between Qualtrics and SurveyMonkey comes down to your specific needs, budget, and how complicated your surveys need to be. Qualtrics is better for more in-depth research and data analysis and for bigger businesses with more money to spend. On the other hand, SurveyMonkey is a great choice for customers who want simple surveys and are on a tight budget.