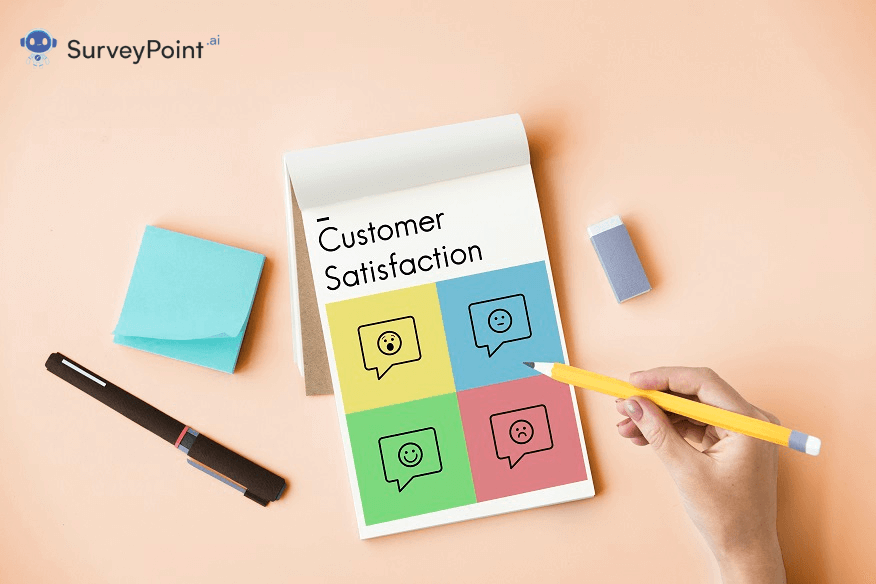 Customer satisfaction (CSAT) Surveys are an essential function for businesses to realize the needs and preferences of their customers. The customer satisfaction score derived from these surveys puts a numeric value on user experience. Via an assemblage of feedback form, businesses can identify areas of improvement, design new products and services, and enhance the overall user experience. 
The Customer Satisfaction Surveys fulfill a myriad of purposes to ensure customer loyalty.
It not only measures customer satisfaction but can also compute their expectations, identify problems, and determine customer preferences. 
Identifying Target Audience
It is vital to determine who will be part of the survey, such as current customers, potential customers, or a mix of both. 
Once the target audience is identified, the survey should be designed to capture the most relevant information.
The questions should be customized as per the audience. Ensure you design them to measure customer satisfaction, expectations, and preferences.
Selecting Mode of Communication 
Once the survey is designed, choosing a method of administering the survey is essential. Surveys can be administered through various methods, such as:
 1. Online Customer Satisfaction Survey: conducted online and collected customer feedback through an interactive questionnaire.

2.  Telephonic Customer Survey: conducted on a call where the customer with the help of a set of questions.

3. In person- Customer Survey: conducted face-to-face, which allows the customers to address their experience with the product or service directly.

4. Social Media Customer Survey: As the name suggests, these surveys are conducted on social media platforms where a business can gather relevant information.

5. Focus Group Satisfaction Survey: conducted with a diverse set of individuals in a focus group setting.
Customer Satisfaction Survey Examples and Types
The customer satisfaction (CSAT) surveys can be classified into broad categories based on the type of survey. 
Product Usage CSAT 
In order to obtain more insightful and relevant knowledge on the usability of their product or service, the business must collect information on it straight from the mouth of the users. 
Customer Satisfaction Survey Examples – Product Usage  
Q. How long have you been using this product or service? 
Q. How often do you use this product or service?

Q. How can we Improve this product or service? 
Q. What are the problems you faced while using this product?
Demographics 
To create customer buying personas, demographic customer satisfaction surveys can be used to identify and categorize them into different groups. 
Customer Satisfaction Survey Examples – Demographics
Q. What's your Age?

Q. Which industry are you employed in? 
Q. What's your annual household income? 
Q. What's your Job Title? 
Psychographics 
Commercial organizations use psychographic customer satisfaction surveys to learn more about the target audience's tastes, habits, and inclinations.
Customer Satisfaction Survey Examples – Psychographics 
Q. What's your preferred mode of shopping? 
Q. What are the major issues you face while using the product/service? 
Q. How do you feel about the product type? 
Satisfaction Scale 
This is the type of Customer Satisfaction Survey that allows businesses to quantify the insights of their customers. 
Customer Satisfaction Survey Examples – Satisfaction Scale 
Q. On a scale of 1 to 10, how did you find the user experience of our website? 
Q. On a scale of 1 to 10, how would you rate our after-sales services? 
Q. On a scale of 1 to 10, how likely are you to reorder our product or service? 
RELATED: Customer Experience in the Digital Age: Opportunities and Challenges 
Customer Satisfaction Survey Best Practices 
1. Straightforward: Keep the survey straight and to the point. It is essential, it should entail only important questions. 
2. Clear Language: The survey should be easy to read and understand. It is advisable that the survey should steer away from technical jargon. 
3. Multiple Choice Questions: In order to streamline the process, a survey can entail multiple choice questions to the customers to make it easier for them. 
4. Open-Ended Questions: In order to gain detailed feedback from the customer, the questions in the survey must be open-ended. So that the businesses can identify the pain points of the customers. 
5. Measure Satisfaction: Employing a five-point scale from "very satisfied" to "very dissatisfied" allows the businesses to measure satisfaction and makes it easier for the customers to participate in the survey. 
6. Use Follow-up Questions: Employ follow-up questions to drill down into customer feedback. This will help the business to understand why customers are satisfied or dissatisfied with the product or service.
RELATED: How to Measure Customer Satisfaction: Tools and Techniques 
How to Calculate Customer Satisfaction (CSAT) Survey Score? 
The CSAT in Customer Service allows businesses to quantify the customers' reactions by dividing the positive and the total reactions and multiplying the result by 100 to compute a percentage. 
For example, in case you have conducted a survey with 75 participants. Out of which, 50 participants had positive feedback. Then the CSAT score would be calculated in the following manner.
 By employing the following formulae,  
Positive Feedback/ Total Feedback * 100 = Customer Satisfaction Score
i.e. 50/75 * 100 = 66.66% 
So, the CSAT score of the survey would be 66.66%. 
Customer Satisfaction (CSAT) Survey Template
A business can find and select from the diverse assortment of Customer Satisfaction Survey templates available online for free. They can choose from the options available and put in use that fulfills their organizational needs. 
Refer to the following examples of the Customer Satisfaction Survey Template for a clear picture.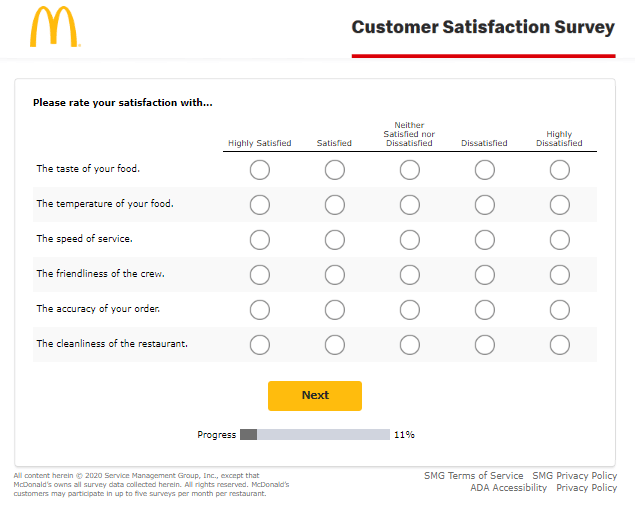 Conclusion
Customer satisfaction (CSAT) surveys can provide invaluable insight into customer experiences and opinions, ultimately leading to enhanced customer experience. Through customer feedback, companies can adjust their services and products to ensure that customers receive the best services possible. 
Ultimately, customer satisfaction surveys allow businesses to demonstrate customer-focused strategies and build long-lasting relationships. The Customer Satisfaction (CSAT) survey will also enable companies to identify new target groups and customize their next product around it to stimulate sales and customer satisfaction. 
Not Sure Where To Begin?
Explore our solutions to discover what is most important to your customers,
clients, and prospects. And best of all – it doesn't take any coding!
Free Trial • No Payment Details Required • Cancel Anytime