Prospecting for new customers by hand is a time-consuming process that can detract from other revenue-generating sales efforts. Using lead generation software, or simply lead generation software, the prospecting process can be automated and improved. By automating inbound and outbound lead generation, it helps sales and marketing teams attract better-qualified leads.
A proper set of B2B lead generation tools can make what seems like a daunting task (generating leads) much easier and faster.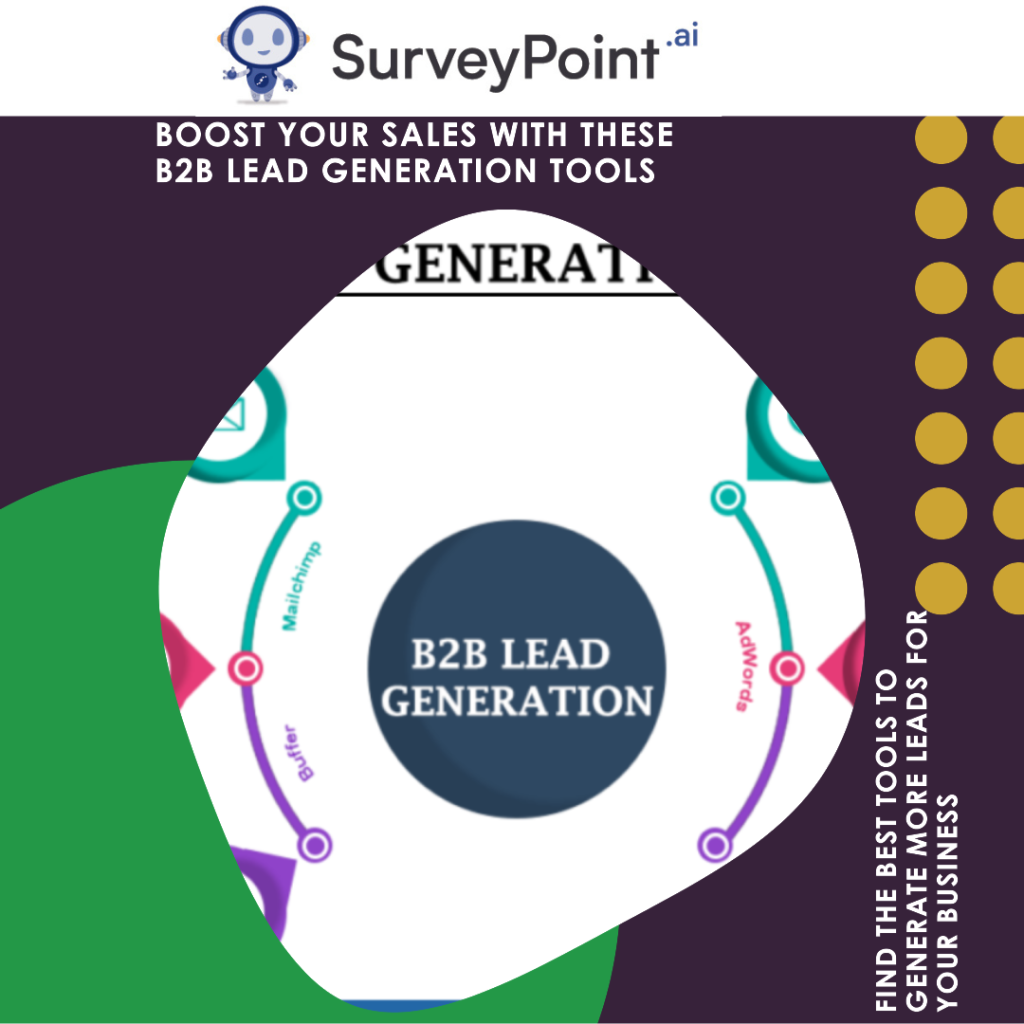 In this comprehensive guide, we will introduce you to the top five lead generation tools of 2023, so that you can target your ideal customers with pinpoint accuracy and equip your sales agents to exceed their quotas. We have also included pricing information, as some are free while others are not.
What Is a Lead Generation Tool?
Advantages of Lead Generation Tools
Key Characteristics of Lead Generation Tools
The Top Lead Generation Tools
How Do You Choose the Right Lead Generation Tool?
What Is a Lead Generation Tool?
Lead generation tools are software applications that assist businesses in attracting, capturing, and nurturing potential customers, commonly known as leads.
It automates and streamlines the lead generation process, making it easier for companies to identify and engage with their target audience.
By leveraging various strategies and features, such as landing pages, lead capture forms, and lead magnets, this software efficiently collects essential contact information from potential customers, paving the way for effective sales and marketing campaigns.
Advantages of Using Lead Generation Tools
Lead generation tools improve productivity, conversion rates, data insights, and connections with customers.
1) Greater Productivity: Lead generation automation helps businesses save time and money so that their sales and marketing departments can concentrate on other, more important tasks.
2) Higher Conversion Rates: Tools for lead generation help marketing efforts work better by capturing qualified leads. This makes it more likely that those leads will turn into paying customers, which increases conversion rates.
3) Data Insights: These platforms give businesses valuable data and analytics about how leads act, which helps them improve their marketing strategies for better results.
4) Better relationships with customers: Businesses can build stronger relationships with potential customers by using personalized communication and targeted content. This makes customers more loyal to the brand.
Key Characteristics of Lead Generation Tools
Landing page creators, forms and popups, lead magnets, email marketing integration, lead scoring and segmentation, and so on are all crucial features for any lead generation tool.
1) Landing Page Makers, which help you create stunning landing pages that are conversion-optimized for effective lead capture.
2) To convert visitors into leads, you can use pop-ups and individualized forms on your website and landing pages.
3) Use lead magnets like e-books, webinars, and free trials to attract and engage prospective customers.
4) Integrate with Email Marketing Platforms Seamlessly Nurture leads with automated and targeted email campaigns by integrating with email marketing platforms.
5) Lead Scoring and Segmentation: Sort leads into different categories based on how interested they are and prioritize them accordingly.
Top Lead Generation Tools
There are a wide variety of B2B lead generation tools available today. The right solution will adapt to your company's changing needs and facilitate lead management in large volumes. We have compiled a list of the top lead generation tools expected to be available in 2023 to assist you in making a decision.
1. Hunter
Hunter is an effective tool for finding messages in your inbox quickly. Put in the domain name, and it will figure out the format of the email address for you. To help you determine whether or not an email is trustworthy, Hunter provides a confidence rating. This makes Hunter a formidable competitor to other email search engines.
Key Features:
The email verification service ensures the authenticity of any business email address in a database.
Add-ons for your web browser and Google Sheets
Sending out cold emails via Gmail is now a thing.
Hunter's pricing is based on the volume of your requests. Up to 25 searches and 50 verifications can be performed each month at no cost. Plans with additional features and support cost between $49 and $399 per month.
2. HubSpot Sales
 HubSpot includes a sales tracking feature as part of its suite of tools for small businesses. It provides a sales CRM, engagement tools, quote functionality, and more to help you save time while generating leads.
HubSpot Sales provides users with email outreach tools and templates to facilitate more productive communication with potential clients.
Features:
Compatibility with more than 940 applications available in the HubSpot App Marketplace
A meeting planner helps you stay on top of your busy schedule.
Use live chat to quickly connect with potential customers
Starter plan without the cost
HubSpot Sales is priced with a free plan that includes some paid features.
3. LinkedIn Sales Navigator
As might be expected, LinkedIn's databases contain a wealth of information about businesses. LinkedIn's Sales Navigator provides access to that data.
To effectively communicate with your target audience, use the information this lead generation and sales tool provides.
By integrating with your CRM and offering advanced lead searches, LinkedIn Sales Navigator helps you close more deals.
Features:
Gaining access to LinkedIn in-mail Messages
Job Seeker and LinkedIn Learning are just two of the premium features available to LinkedIn subscribers.
tailored sales prospects
Compatibility with other sales software
Sales Navigator on LinkedIn costs between $79.99 and $108.99 per month. Larger businesses can get tailored pricing by contacting the sales team.
4. Pipedrive
Pipedrive is user-friendly because of its straightforward design.
This fast and automatic B2B lead tracking software monitors all interactions with leads. When you log in, you will be able to view everything on a single, consolidated dashboard.
It is also a breeze to figure out what to do next.
Features :
Build your sales funnel from the ground up or start with one of Pipedrive's pre-made templates.
Training geared toward achieving your sales objectives
Control panel for keeping tabs on who is accessing company files, when they are being accessed, and from where.
Pipedrive's Essential plan costs $12.50 monthly, and the Advanced plan costs $24.90 monthly. Both plans allow integration with over 250 other tools. Their Professional package costs $49.90 per month.
5. Drift
With Drift, you can have meaningful conversations with customers, allowing you to provide them with helpful and individualized support.
The principles of "Conversational Marketing" and "Conversational Sales" serve as the backbone of this instrument.
As an alternative to having site visitors fill out forms and wait for follow-ups, Drift enables instantaneous two-way communication with them.
Features :
The ability to connect with other marketing and sales tools to provide a tailored experience for each customer based on their previous interactions with your company
Lead qualification and nurturing chatbot
Connect with potential customers in real time on your website to cut down on unnecessary back-and-forth.
In terms of cost, you can get started with Drift for free.
What Should You Look for When Choosing a Lead Generation Tool?
When deciding on a lead generation tool, you should prioritize its usability, availability, cost, and customer service.
1) Its usability must be intuitive. Otherwise, it will end up gathering digital dust like so much other unused software.
2) It must be cloud-based so that you can access it from any device with an internet connection.
3) Lead generation tools are accessible to businesses of all sizes and budgets. Do not go overboard on an expensive plan just because it has more bells and whistles than you need.4) Help when you need it: Get in touch with customer service when you need it. Documentation for the software should be available in multiple formats, such as text, screenshots, and videos.