Organizing your small business means more than just cleaning up your office. Everything is included, from the systems and methods to your technologies. If you want to know how to set up your small business, read this post first. We'll break down the process into ten easy steps to help you take charge of your business.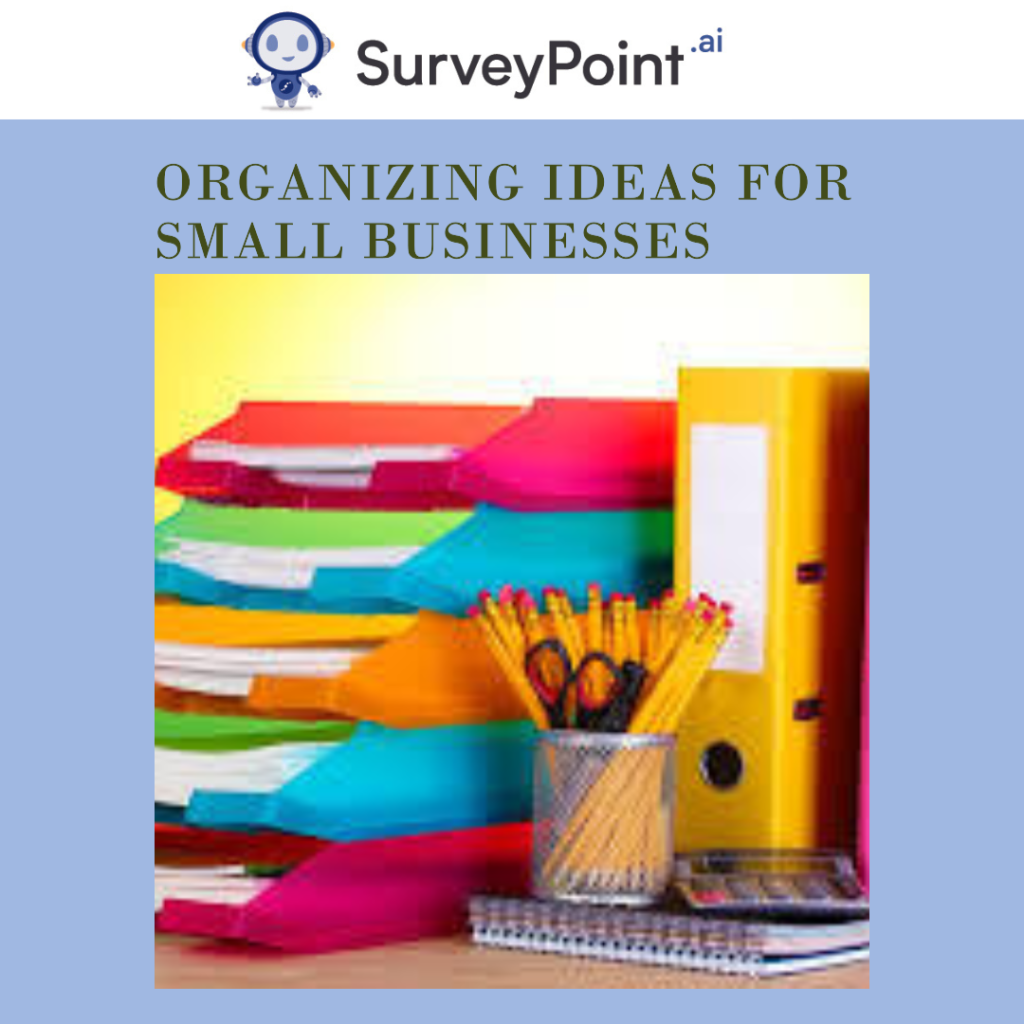 Advantages of organizing up a business
There are many reasons why your small business needs to be organized ,some of which are listed below –
1. Help you do what you do better.
2. Get more out of your employees
3. Help people dodge costly mistakes and slip-ups
4. Make it easier for you to focus on the things that are most important to you.
10 Tips to keep Small business Organized
Getting your business in order doesn't have to take a long time or be brutal. These ideas are an excellent place to start.
1. Turn paper-based methods into digital ones
Look at how your business works and find ways to replace paper processes with digital ones. Using a tool like Jotform, you can turn anything, like invoices, intake, and order forms, into a digital format. Less paper will be used, and organizing your digital information in the cloud will be easy.
2. Make a plan for social media
Don't try to post on social media daily; make a social media schedule. A schedule makes it easy to see all your posts for the month at once, so you can carefully arrange them to make them more effective.
If you use a monthly plan, you can write all your posts in one or two sessions instead of doing it every day or every week.
3. Use a tool for project management that keeps track of tasks
Task tracking will help you and your staff stay on top of things. With a project tracker template, giving different workers' or team members tasks and due dates is easy. It also makes it easy to check on the progress of each job so you can follow up as needed and ensure your project is done by the deadline.
4. Use technology to do work in human resources
Tasks related to managing human resources could take a lot of time. By automating some of these tasks, you can improve your business quickly and keep your employees and HR staff happy. Consider using digital forms to help with everything from hiring and interviewing candidates to getting new workers up to speed.
5. Make it easier to handle money
Consider using an expense report to make tracking how much your business spends easier. Expense information can include essential details like the person in charge of the cost, the client or project it was for, and how far along the return is.
With this information, you can keep track of your spending and quickly evaluate it based on the client and the goal. When you have an up-to-date cost management report, it's easier to approve spending or decide whether to review it.
6. Start keeping track of bills
If you lose your records, you might have to pay late fees or do your books wrong. With the help of an invoice tracker, you can keep your invoices in order so you can get payment dates.
You may find it easier to keep track of your spending and costs if you write down important details like what's on the bill and when it's due. Digital invoices can also help your business stay organized because they are generally repeating records that need to be watched and kept track of.
Having all your invoices in a digital file makes it easier to handle them, set up payments, and make sure that your accounts with all your vendors are in good standing. Paper copies of bills are easy to forget or put at the bottom of a stack.
7. Make plans for keeping track of orders
You must be able to keep track of the orders your company gets and act on them quickly. An order tracking process can help you keep track of all the demands that come into your online store, service-based business, or restaurant. You can keep track of each order's state and due date and ensure you've taken care of them all by putting their information in one central place.
This method can also improve the quality of orders, which can cut down on the number of returns you have to deal with. Keeping track of orders can make customers happier and boost the reputation of your business.
8. Put the passwords in order
As a business owner, you must keep track of dozens or even hundreds of passwords. Use a password-protected document or a password storage app to put them in order so you can find them quickly when needed.
9. Get ready for taxes early
Tax season can be stressful if you don't have all your forms ready. Start by having your workers fill out a W-9 form when they work for your company for the first time. Your employees need to fill out a W-4 form. By making these forms available online, you can speed up the process and ensure they are ready for tax season.
10. Make sure systems work together
Have you ever added a new tool or app to your process, only to find that you had done more work for yourself? Tools must work well with the methods and procedures you already have to be helpful.
Conclusion
You don't have to use all of these ideas simultaneously. Start using them one or two at a time in your small business. You'll notice immediately that you're better organized and can do some of your most common tasks.