Businesses may, for once, not rely on statistics while making decisions, but the world of politics is almost immune to making arbitrary decisions. Thus, political surveys can serve as a powerful tool for gathering objective information.
Many governments, political consultants, parties, and political action committees resort to online surveys to tailor to the interests of their constituents. From gauging election fever to understanding the voter base to launching political campaigns and formulating winning manifestos, the results of these surveys can be beneficial for various purposes.
You can assess your current efforts and discover if your audience favors your ideology. Then, make final adjustments to your marketing initiatives for pitching success.
Similar to political ideology, the nature of political survey questions can vary based on regional context. Below are a few examples of political survey questions that can be employed to tackle a wide range of facets relating to politics.
Political Participation Survey Questions 
Using these questions as a warm-up will help you gauge the primary mindset of your respondents. 
"Are you currently registered to vote in a local or federal election?"
"In the last year, have you attended any political speeches, rallies, or events?"
Political Affiliation Survey Questions 
Using these questions, you can readily figure out which party is favored by the majority and which one needs to work the hardest to gain popularity. 
"What prompted your decision to join the current political party?"

"Have you consistently been a part of the same political party?"

"How much do you believe the current administration serves your interests?"
Note:  Keep the disclaimer that the responses will be anonymous so the respondents can freely express their views.  
Political Ideology Survey Questions 
This category of questions gives you an insight into your participants' political opinions and biases. 
"What is your opinion about full disclosure of government actions to the public?"
"Do you agree that tighter laws and rules are necessary to combat corruption?"
"What are some of the prime political concerns according to you?" 
Political Awareness and Political Knowledge Survey Questions 
Data collected from these questions can help you understand where your participants stand, as some people are more interested in politics than others.
"Do you have a voter's ID?"
"Where do you obtain your news on politics?"
"Do you feel at ease bringing up politics with others?"
"How often do you discuss politics with others?"
You might also be interested in reading: How to Ace Audience Analysis with Market Research  
Political Efficacy Survey Questions 
Finally, these questions shed light on the public's faith in the government's ability to lead a change in social and political policy.
"Do you think equal rights for all parties and organizations are a priority for the current government?"
"Do you believe in the government's ability to do the right thing?"
Furthermore, a question might arise: Why do we conduct political surveys? What is their function?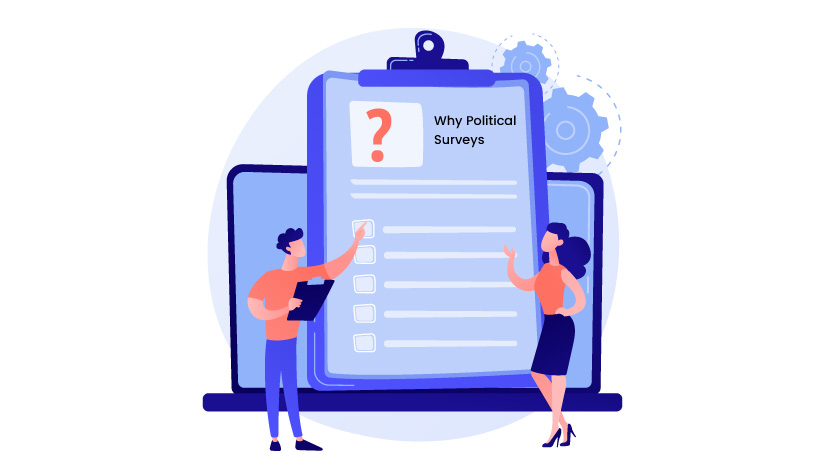 What is the purpose of sending out political surveys?
Taking a political survey is a terrific way to uncover your voters' true feelings and determine what matters most to them. Through these surveys, you can assess your voters' resolutions and desires. This is of utmost significance while trying to sketch out the basic framework of your political campaign.
Additionally, speeches are an integral part of any campaign. There is often no homogeneity between political ideologies and strategies. The data collected through political surveys come in handy when adjusting your campaign speech according to the context of various regions.
When it comes to forecasting outcomes, surveys are often the only reliable source of information. A candidate can identify their supporters (and those who might not be in their favor) in advance and predict the electoral turnout.
Some other benefits of conducting political surveys are: familiarising yourself with the strengths and weaknesses of the opposing parties, gathering direct and honest feedback, and having access to data that might help prevent any potential damage to your reputation.
Political surveys are invaluable regardless of your objective because they allow you to gather a wealth of information. Therefore, constructing concise, high-quality survey questions can give you insight into causes that need to be addressed at an atomic level.
Looking for a way to get started?
If you believe that you must spend a lot of money and use various survey methodologies to achieve your political objectives, you are mistaken!
With SurveyPoint, you can manage, intelligently plan, and effectively run complex political campaigns. So are you ready to take your survey from bland and boring to dynamic and interactive? Get a FREE membership today! 
Heena Shah – Content Writer at Sambodhi