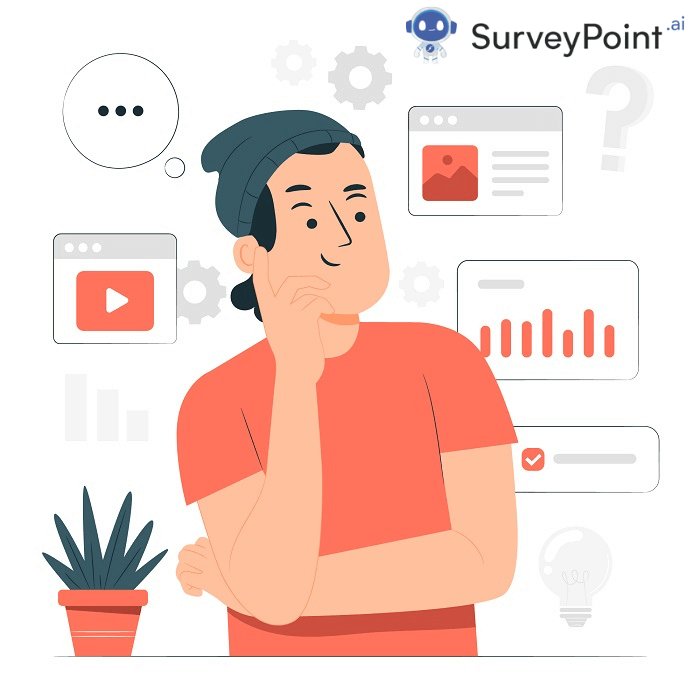 Data collection is made simple and quick with this online survey tool. Now that we know what kinds of questions to ask, let's look at how you can utilize these questions to create a basic survey. As technology advances, researchers have more options when it comes to online survey tools and apps. While there are dozens of survey tools and apps to choose from in 2022, these 12 are the best:
1. SurveyPoint

2. SurveyMonkey

3. Qualtrics

4. LimeSurvey

5. Google Forms

6. Zoomerang

7. Wufoo

8. SoGoSurvey

9. QuestionPro

10. Survio

11. PollDaddy

12. Surveysparrow
But before jumping right into the review, let's first understand why you should consider investing in online survey tools in the first place.
Why Should You Consider Online Survey Tools in the Digital Age?
The internet's speed and convenience in facilitating research are two of its many strengths. Indeed, this is the case in the field of survey analysis. You may quickly and easily build surveys with one of the several online questionnaire producers available today. There are several scenarios in which these services might be helpful. For instance, researchers may quickly and easily gather data from a large sample size using online survey technologies.
By using online questionnaire producers, survey creation is simplified. The questionnaire builder tool will generate a survey based on the product or category. As a result, you'll be able to reduce costs and gather results more efficiently.
You can use these free online survey makers for a variety of commercial purposes, including but not limited to market research, employee engagement surveys, and getting feedback from customers and users of a certain product.
It's Time To Switch To Online Survey Makers
The easiest way to collect survey data is to do so online. Online survey tools offer the following benefits:
An online survey can be quickly created and deployed. With a few clicks of the mouse, you can have a survey up and running in no time. This is ideal when gathering feedback quickly or having a limited time window for data collection.
In addition to being cheaper, the cost of conducting the analysis process for an online survey is faster than for a traditional paper survey.
Last but not least, researchers may get immediate responses and data through online survey tools.
1. SurveyPoint
This free online survey tool allows you to create and deploy questionnaires through a simple drag-and-drop interface. You can use SurveyPoint to gather research for your next project or to get feedback from your customers or clients. The questionnaire builder is easy to use. Additionally, you can create custom questions and choose from several themes and templates.
Key Features
Survey Point is a survey tool that is suitable for all research purposes
Various question types are available, including multiple-choice, rating scale, and matrix.
No-code pre-built templates make it easy to create surveys in minutes.
Complete flexibility and customization options
Results are automatically tabulated and can be viewed in real-time
Advanced features include logic skips, intuitive reports, and dashboards
In order to do more analysis, you may export the data to Excel
2. SurveyMonkey
Data collection is made more accessible and convenient with SurveyMonkey. The questionnaire maker offers a variety of question types, including multiple-choice, rating scales, and open-ended questions.
Respondents can also choose from a series of questions based on their responses to previous survey questions created with branching logic. In addition, SurveyMonkey offers a variety of reporting options, making it easy to analyze data collected through survey questions.
3. Qualtrics

Qualtrics is a survey platform that allows users to design, create and publish surveys. It also allows respondents to complete surveys online and provides detailed reports on survey results. Businesses, universities, and other organizations employ it for market research, customer feedback, employee engagement, and other purposes.
Users can design intricate surveys using the platform's extensive features, which are easy to use. In addition, respondents can provide feedback in real-time as they take the survey.
Qualtrics provides detailed reports on survey results, which can help organizations understand what their customers or employees think about them.
4. LimeSurvey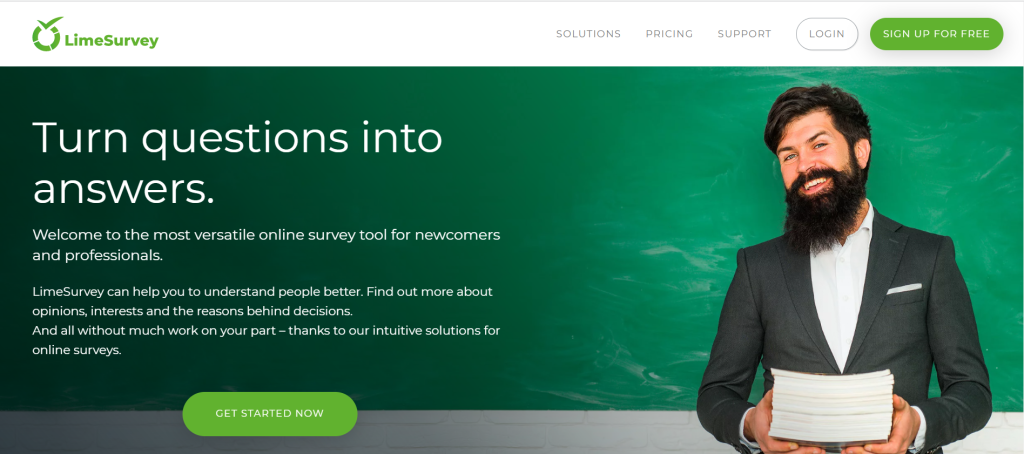 LimeSurvey is a powerful, open-source online survey tool that can help you get your research done quickly and easily. The software allows you to build surveys, compile responses from respondents, and analyze the results. You can also export your survey data to Excel or CSV files for further analysis.
5. Google Forms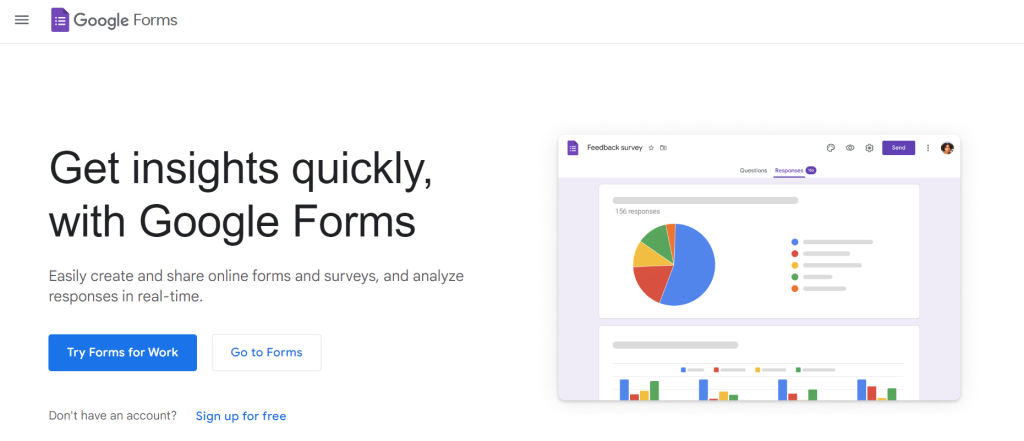 In terms of free survey tools, Google Forms is hard to beat thanks to its user-friendly drag-and-drop interface and extensive set of features. Depending on your needs, questionnaires can be tailored to meet your needs.
You can also track responses and see how people respond to your survey. This can help you gauge your questionnaire's effectiveness and make necessary changes.
6. Zoomerang
Zoomerang is an online questionnaire maker that assists researchers in getting their work done faster. With its simple and easy-to-use interface, Zoomerang makes creating questionnaires a breeze.
Researchers can create questionnaires with multiple-choice, open-ended, and rating questions, as well as add multimedia content like photos and videos. They can also set up surveys to be sent to a target audience and track the results in real-time. Zoomerang has been integrated into SurveyMonkey, the industry-leading survey platform.
7. Wufoo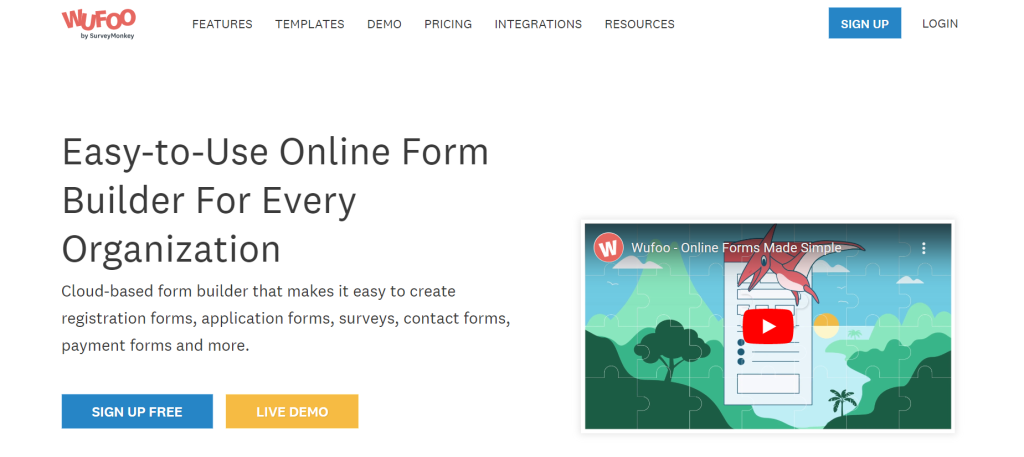 Online survey tools are a convenient way to collect data from a group of people. Wufoo is one such tool that is easy to use and can be accessed from any computer with internet access.
To create a survey, you first need to create a form. The form will contain the questions you want to be answered by your survey respondents. If you don't want to type the questions yourself, you can use Wufoo's templates.
Once you have created your form, you must decide how to distribute it. It's easy to send survey links via email, post them on your website, or share them on social media.
8. QuestionPro

Question Pro is one of the best online survey tools available, allowing you to easily make surveys, polls, and quizzes in a matter of minutes. Analyses that are readily accessible may greatly benefit commercial enterprises.
You may include media like videos and photographs in your surveys, let questions branch off into other paths, and design your own reports, just to name a few of its capabilities.
9. Survio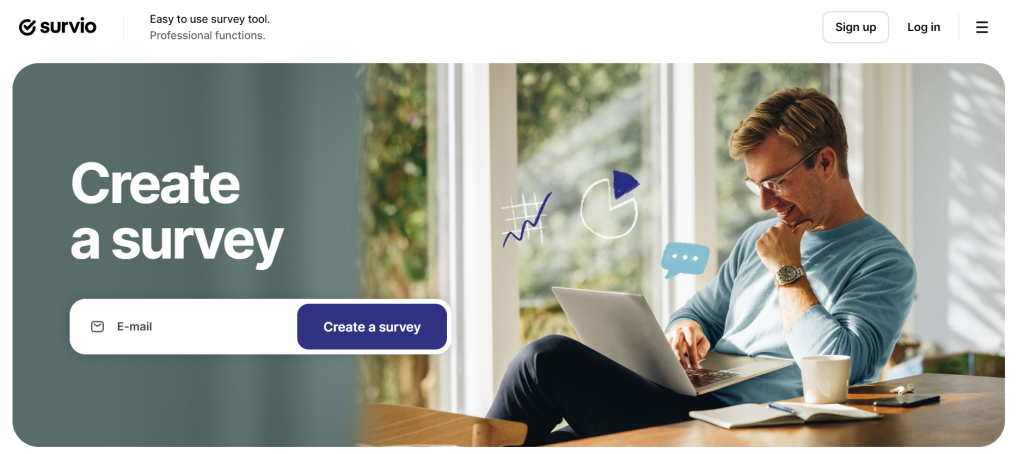 Its easy-to-use interface makes Survio popular. You can create surveys by simply typing in the questions and answers. Video and image attachments are also possible. The surveys can be public or private, and you can invite others to participate.
Participants can answer the questions online or offline. The survey can also be saved, so they can return to it at a later time if they need to.
10. CrowdSignal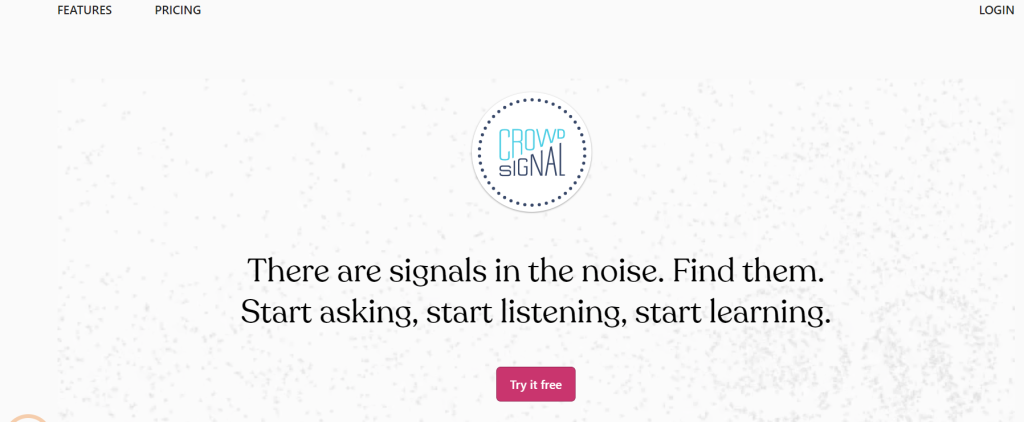 CrowdSignal (formerly PollDaddy) is a user-friendly online survey tool that allows you to create and publish surveys in minutes without learning to code. You may quickly and easily design your survey's layout and questions using the intuitive drag-and-drop interface.
Email and social media may spread the word about your survey and encourage people to participate. You may see how respondents break down by gender, age, and country using PollDaddy's reporting options. The data may be exported to many formats, allowing for additional analysis.
11. Surveysparrow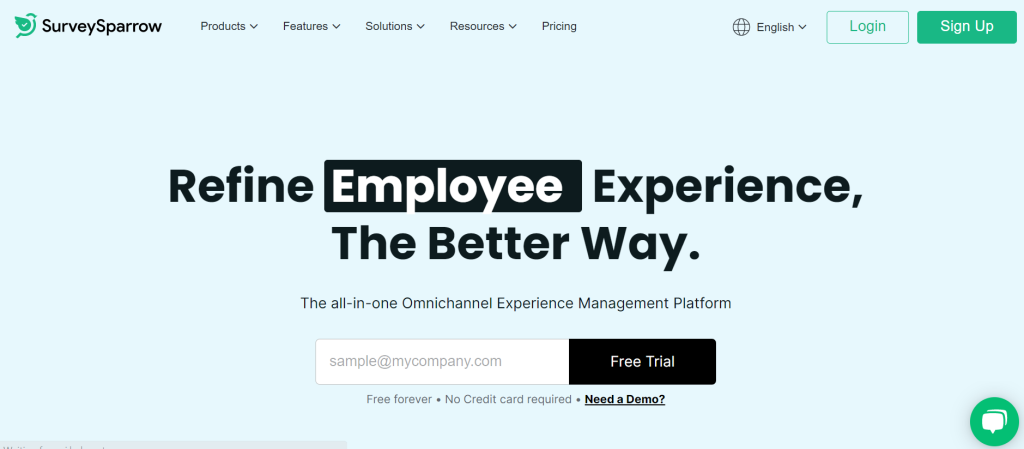 Surveysparrow is an online questionnaire maker that makes it easy to get your research done quickly and easily. Check out Surveysparrow if you want a quick and simple solution for doing online surveys.
This questionnaire builder is intuitive and quick so that you can complete your study without hassle. Directly import data from Excel into surveys using Surveysparrow in minutes. Thanks to the software's instantaneous feedback, you may monitor your development in real-time.
12. SoGoSurvey

SoGoSurvey is a powerful data management platform and enterprise online survey software that helps large organizations and businesses manage their data more efficiently. Its extensive capabilities make it the best option for survey managers who need to gather reliable and thorough data, while its user-friendly design makes it suitable for businesses of any size.
SoGoSurvey streamlines the survey creation, response tracking, and analysis processes. As a bonus, SoGoSurvey works with other survey tools, allowing you to simply distribute your surveys to the rest of your team. SoGoSurvey gives you all the tools to perform effective market research or increase client interaction.
Conclusion
Market researchers and data collectors have increasingly turned to online survey solutions. Their accessibility from any location in the world adds to their convenience. A wide range of online survey instruments exists, each with its own set of advantages and disadvantages. According to the needs of the survey, choose the appropriate tool.
Heena Shah – Content Writer at Sambodhi