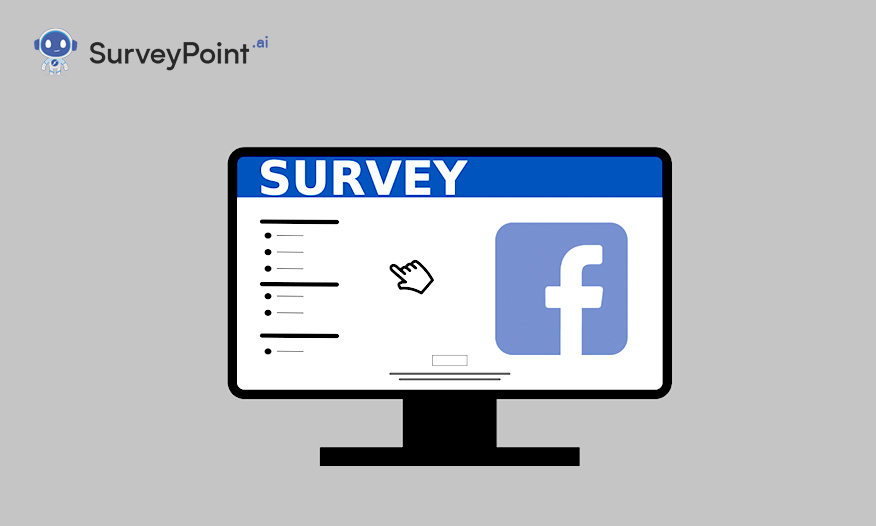 Facebook surveys can boost your online presence and help you grab the attention of your target audience. But how do you build one? Here's how can you create Facebook survey if you're looking for a way to do so.
But, before we get into this, did you know that these surveys are more than about grabbing attention? These quizzes can be a great way to conduct market research efficiently. Moreover, Facebook is one of the best platforms where you can conduct research through surveys.
How To Create Facebook Survey?
The process of creating a survey on Facebook is pretty straightforward. Generally, there are two methods to build one. Either directly on Facebook or with the help of survey software like SurveyPoint, you may design a highly interactive, adaptable survey.
Here's how to create one on Facebook:
You can start by typing "Survey" on the search tab of Facebook. Once you click on it, the app will open a survey app page.
Click on "Use App," displayed at the bottom of the page.
Provide access to the app by lining it with your account.
Give your survey a name.
Add the questions and answers and edit them if required.
That's it. It's that simple. However, Facebook survey questions and templates are generally limited. If you want to wow respondents with eye-catching designs, use an online survey-building tool like SurveyPoint.
If you use SurveyPoint, you can have a survey up and running in no time. Select a template, give the survey a name, and make any necessary changes. After the survey has been designed and its content has been finalized, you can add personal touches, such as your company's logo.
In addition, the software provides a highly dynamic dashboard for real-time monitoring of the answers. After you finish creating the survey, you can share the link on your Facebook page by copying the URL.
How To Create Facebook Survey The Right Way?
Here are some things you can keep in mind when creating a Facebook survey:
Establish A Goal
Setting a goal is not just mandatory for businesses. Defining a clear goal once you start regulating the survey is essential. Figure out what you want and then craft the related questions.
To define the goal, you can ask yourself questions such as, Do I need to gather information, or is it just for publicity? Surveys are an excellent way to collect essential data and make critical business decisions, regardless of their purpose.
Experiment The Survey

 
Before you publish the survey, you can use Facebook as a fun tool to create polls and stories to keep your audience on their toes. You can also add some questions in the polls and then ask your audience to visit the survey to complete your response.
And, if you need to take a break from the ordinary, you can create facebook surveys for fun, like what is your personality or what FRIENDS character are you?
Keep The Questions Short 
Let's admit it; no one likes long and tedious questions. Long surveys will probably cause your customers to leave midway through.
Facebook surveys should be crisp, engaging and fun. So, make sure you keep the survey short and specific. To make your visitors more comfortable, ask only what is required and add features like skip logic.
Include Close Ended Questions 
Asking questions open to individual interpretation can make the survey boring and might also stop you from collecting valuable insights. Your respondents would always prefer to complete the survey as soon as possible. So, instead of including open-ended questions, you should always have close-ended questions and answers in plain language to your Facebook survey 2022.
You can include questions like:
How satisfied are you with our customer support services?
How likely are you to shop our product again?
You can include answers like:
Extremely Satisfied
Not Satisfied
Somewhat Satisfied
Neither Satisfied Nor Dissatisfied
Related: Survey Questions 101: Are You Making These Bizarre Mistakes? 
Why Should You Add Surveys To Your Facebook Account?
It's true that you can share the survey by emailing or embedding the link on your website. But why Facebook? There's no denying that social media has a lot of potential to help you get in touch with your target customers.
Facebook's massive monthly user base makes it an ideal setting for businesses that wish to do market research or interact with their target demographic.
It's a fast and easy method to communicate with individuals worldwide and from all walks of life. You can identify people on Facebook who shares your interests, professions, hobbies, and opinions with the help of Facebook Groups, which is a great plus when doing surveys on Facebook. After all, Facebook's ads are so successful because they can be tailored to specific audiences.
So, with that in mind, here are a few reasons why you should add a survey to your Facebook:
You Can Target A Specific Group. 
Every business has a target group. And once you know your target audience, you can curate your marketing strategies, keeping them in mind.
Surveys help you improve your online presence and connect with your target audience. So, whether it is a fun quiz or something more of information collection, surveys can help your target group feel related to your business.
You Can Improvise Your Ad Campaign.
Are you worried about your Facebook ads not getting enough attention? You can run a Facebook survey ad to get higher responses and reach the target group.
However, before creating a survey, determine its purpose to add questions related to it.
Develop Mobile-Friendly Surveys. 
Facebook is one of the most famous social media platforms that are also mobile-friendly. So, the surveys you make will allow the respondents to answer using a phone.
This will make the surveys convenient and easy to answer and might also increase the response rate.
Related: 5 Simple Formulas for Success in Demographic Survey Questions
Why Choose SurveyPoint?
Although there is a wealth of options, we recommend SurveyPoint for its ease of use and extensive customization options when it comes to survey design. The platform simplifies data collection through the use of an intuitive dashboard and other cutting-edge capabilities. You can keep tabs on the data in real-time and adapt your strategy accordingly.
Ready To Build Your Own Survey?
Free Trial • No Payment Details Required • Cancel Anytime
Heena Shah – Content Writer at Sambodhi