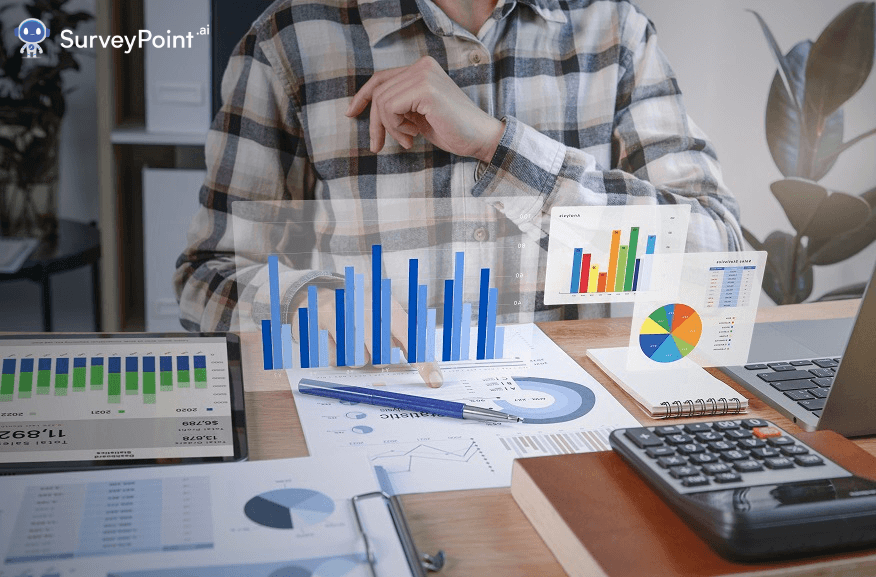 Doing a survey can be a great way to gather prime industrial insights and keep track of the preferences of your target audience. However, conducting a survey is only the first step in collecting that data. Once you have the data with you, creating a survey result report is the next step.
But how do you do it the right way? Read the blog to explore the ins and outs of writing a survey results report and a survey report summary.
What is the purpose of conducting a survey?
Here are some benefits of conducting a survey:
They Are Cost-Effective.
As opposed to popular belief, conducting a survey does not require a large budget. In fact, online survey platforms are often much more cost-effective than sending out paper surveys or conducting phone polls. It is possible to receive thousands of responses without offering incentives.
They Are Scalable.
An extensive population can be better understood by conducting surveys. There is no better way to obtain a representative sample from which to draw meaningful conclusions and make informed decisions than this research approach.
They Offer The Needed Flexibility.
Online, by email, on social media, on paper, with mobile devices, over the phone, or even face-to-face are just a few survey methods. Survey research approaches may need to be more diverse when trying to reach hard-to-reach respondents like those in rural areas.
The Basics For Writing A Survey Result Report
Most companies conduct surveys to either obtain feedback on the products or services they offer or to determine how satisfied customers are with customer support. A survey report helps you analyze and navigate your data by including graphs or pie charts in a visually appealing way.
You can use these reports to learn how your customers or potential prospects feel about your company and how you can improve.
The first step is making your survey report easy to understand and interactive. You can include visual representations like a pie chart, table, or even graphs to showcase the data interactively and keep things engaging.
It is also a good idea to include headers and subheaders to make navigating the data more accessible and categorize it. While the survey result report should be interesting, it should also be uniquely displayed, easy to understand and highly informative.
Different Types Of Data Collection Methods
Now, before we give you some tips on putting questionnaire results into a graph or how to write one, here's what to consider when conducting research.
Before you make your questionnaire and start distributing it, it is vital to understand what you want from it. Is it simple data collection for your personal project or analyzing your customers' thoughts about your company?
Here are two types of question type you should include in your survey:
Qualitative: These queries elicit additional information about the experiences and viewpoints of the responders. You could, for example, ask respondents to suggest ways you could enhance their purchasing experience if you were an online business.

Quantitative: These are questions with a measurable outcome. Some of the most popular quantitative questions ask respondents if they are pleased with a good or service or whether they would suggest it to a friend. Afterwards, respondents are asked to choose from a scale of numbers. Variables may be measured using this numerical data, and the results can be displayed graphically.
Related: Quantitative and Qualitative Research: Definitions and Key Differences
Tips For How To Write A Survey Report
Keep An Introductory Tone: Explaining the survey's goal will help establish the mood. Give the facts you're delivering context.
Make Use Of Visuals: A narrative may be effectively told using graphs and pictures. Use a variety of visualizations, such as pie charts, bar graphs, and other formats, to keep it interesting. To be certain, make sure you use the visuals that best depict the results.
Emphasize On Key Facts: What are the essential facts you wish to convey? Include those in the survey report's opening section.
Categorize The Data: Assemble related facts to demonstrate relations. Consider breaking up the content with headers and subheadings.
Provide A Summary: Give the reader an overview of the data at the conclusion of the survey report. Ensure you include lessons you learned that you could apply to future situations.
Include Brand Values: Find methods to include your brand in the survey report. Adding your logo to the top of the page and your company's details to the bottom are smart choices. Also, remember to use presenting colors that are consistent with your branding requirements.
Related: The Top Survey Report Examples To Make Your Data Speak
How Can SurveyPoint Help You Make Reports?
If you are looking for a form or survey builder tool that helps you make surveys or survey reports within seconds, SurveyPoint can be a great option. With a set of pre-made templates, the platform transforms data collection with the latest technology. The survey can be sent through the mail, inserted on your website, or distributed through email.
The tool also allows you to manage and track the collected data in real-time. You can search for survey report templates to improve the quality of your reports and keep your audience engaged.
Interested in creating fantastic survey reports?
Use our intuitive survey dashboard panel to identify respondents in even the most niche markets
No Payment Details Required • Cancel Anytime
Heena Shah – Content Writer at Sambodhi