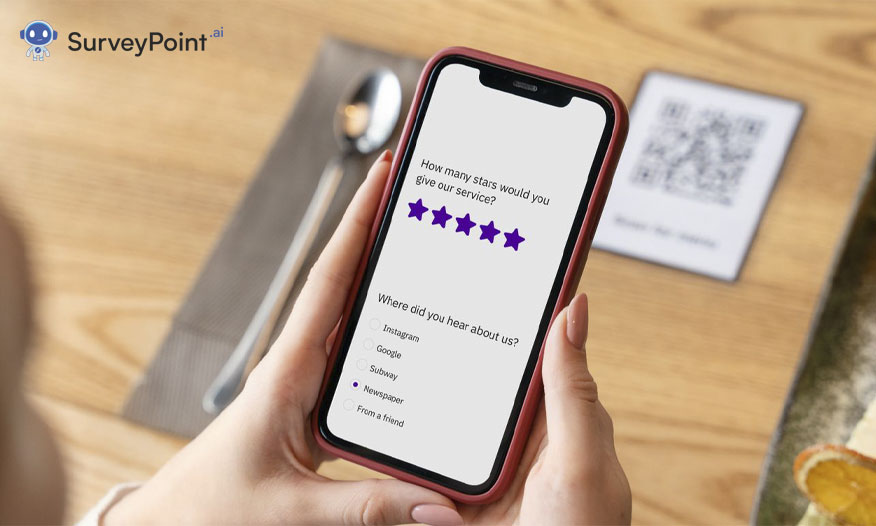 Getting to know what your customers think about the food you serve is an excellent way to start. Honestly speaking, you can't just guess what your customers think about your food quality. So, conducting a survey and adding the right food quality survey questions can help you get the insights necessary to improve your offerings.
In addition, discovering your favorite menu item is always a good idea. You can improve your marketing or sales strategy by conducting a survey on the quality and delivery of your food.
This guide to creating a survey on food quality will cover the following things:
Benefits Of A Food Quality Survey
How To Send Your Survey?
20+ Survey Questions For Determining Food Quality
To add, SurveyPoint is a fantastic value if you need a web-based survey creation tool. The platform has an intuitive dashboard where users can select from a variety of pre-made survey themes and construct their own surveys in a matter of seconds. As an added bonus, you can tailor your survey and view results in real-time.
Benefits Of A Food Quality Survey
Do you want to be your customer's first choice? How about going the extra mile? The results of a survey can be helpful. You will get an idea of where you should work, and the survey will also make your customers feel valued and build that trust factor.
The following are some of the common benefits of a food quality survey:
Surveys Can be A Good Idea To Gain Valuable Feedback.
Unless you know what your customers think of you, you'll never get the needed feedback. Data collected from a survey can help you determine whether your restaurant is performing well or needs improvement.
For instance, you can hand out customer comment cards to get feedback once you have served them. Also, did you know that 58% of the customers don't visit again if they experience bad service? Addressing your customers through a survey can undo some of the damage and help you evaluate where your restaurant falls short.
You Can Improve Customer Experience.
Once you have gathered insights into what your clients think about your service, you can figure it what part needs the most work. Conducting food quality surveys can help you improvise your services and enhance the overall customer experience.
Moreover, surveys can also help you reduce the risk of getting panned with negative reviews.
It Maintains Customer Loyalty.
Conducting a survey is not only suitable for gathering insights, but it also builds loyalty. Once you have the best interest of your customers in mind, you can work on those areas and offer the services your customers expect from you.
Moreover, surveys can be that golden deal to interact with our customers and build the needed trust personally. This will improve the number of retained customers and also improve your sales.
It Helps You Keep Tabs On Trends.
While surveys can pinpoint the pressing problems your customers face, they can also help you with trend mapping. A survey can help you keep in sync with what's the latest thing in the market.
As a result, you learn how to talk effectively and increase your sales.
RELATED: Top Survey Question Types To Win Higher Response Rate
How To Send Your Food Quality Survey?
Let's face it: Your clients are incredibly busy. Conducting a lengthy restaurant survey while talking to customers face-to-face would be impractical. Picture this: you're out to dinner with friends or family, and a restaurant staff member approaches you with a survey. Wouldn't that be strange?
Consumers are becoming more accustomed to conducting business online in the current digital era, which makes using digital questionnaires for your restaurant's surveys a great choice. Here are some methods for reaching your guests using technology.
1.

Via Emails Or Text Messages
We're all guilty of cutting a call short as soon as we realize the person on the other end wants to take a survey.
Sending your consumers text messages is a more cutting-edge, productive approach to getting customer feedback. This strategy has the best response rate at 40% among all survey methods.
Since so many people spend a lot of time in their email inboxes, you can also send your customers a restaurant questionnaire by email. Using this strategy, you should anticipate a 25% response rate.
2.

Via Reservation Platforms
Using reservation software to manage a restaurant's customer flow during peak hours is even more crucial.
You may make it simple for visitors to offer comments following every visit. You can set it up and leave it. After a guest makes a reservation and visits your restaurant, an email asking for feedback will be automatically sent to them.
3.

Via An Embedded Link On your Website
Encourage customers to complete a customer satisfaction survey you've established using a platform like SurveyPoint on your restaurant's website.
For this tactic to work, you'll need to let customers know the form exists; this can be done in person during a meal or over social media. Make sure the form is simple to find on your website as well.
20+ Survey Questions For Determining Food Quality
Here are 20+ questions you can add to your food quality survey:
What is your opinion of the food we serve?
O a scale of 1-10, rate the quality of our food.
Was the food hot when served?
Do you think our menu offers a wide variety of choices?
Was the food flavorful and tasty?
How warm and inviting did you find the service to be?
Was the food fresh?
Have you ever visited our restaurant before?
Was the food quality the same as before?
Do you think we offer premium ingredients in our food?
What is the quality of the food that was served?
What is your opinion about artificially processed food?
Rate our culinary expertise on a scale of 1-10.
How did the online order look and taste in terms of freshness?
What is the best thing you have tried on the menu?
What is the worst thing on our menu?
What are the new drink options that we can add to our menu?
Did we miss anything on the menu?
Rate the value of our beverages on a scale of 1-10.
Is there anything in the food we serve you want us to improve?
Please rate the meal presentation on a scale of 1-10.
In case you had any dietary restrictions, were you accommodated well?
Did you feel the service was quick enough?
How can we improve our beverages?
Is there something else you want us to improve?
RELATED: What Is The Perfect Number Of Questions To Ask In An Online Survey?
Concluding Remarks
Not knowing what diners think is a surefire way to fail at running a business. When you own a restaurant, you should always be looking for ways to improve the client experience.
Take the time to craft the appropriate restaurant survey questions. You'll gain insights that can help you increase revenue and improve the dining experience for your customers. Get off to a good start using SurveyPoint's pre-built templates.
Want assistance creating surveys that people can't resist filling out?
Sign up for FREE and explore our solutions to collect accurate insights, boost ROI, and retain respondents.
Free Trial • No Payment Details Required • Cancel Anytime
Heena Shah – Content Writer at Sambodhi