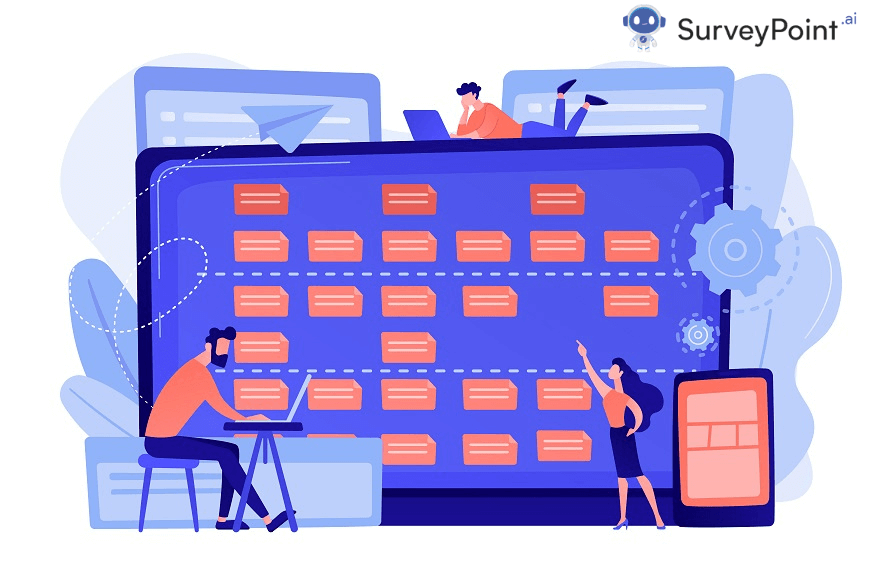 Subscription management can be derailing. From gathering all the required details to making invoices, there's a lot to do when handling subscriptions. And things can take a turn if you have a considerable customer base. Obviously, you can't just upload everything on your excel every day. In this case, subscription management software can look like a second coming.
With the software, you can automate this tedious process and save time.
Read on to learn about subscriptions and the recommended programmes for managing them.
What's A Subscription Management Software?
Businesses can increase the sales and recurring billing of services and goods by using subscription management software. This aids in revenue management and improves customer service for the organizations.
RELATED: Maximize Your Company's Potential with Power BI Apps
Top 10 Subscription Management Software
In fact, there is no shortage of such resources available nowadays. However, we've compiled a list of the best subscription management programs to make life easier for you. Let's dive straight in.
Chargebee
Best Suited For: SaaS, PaaS, eCommerce, and other subscription-based enterprises.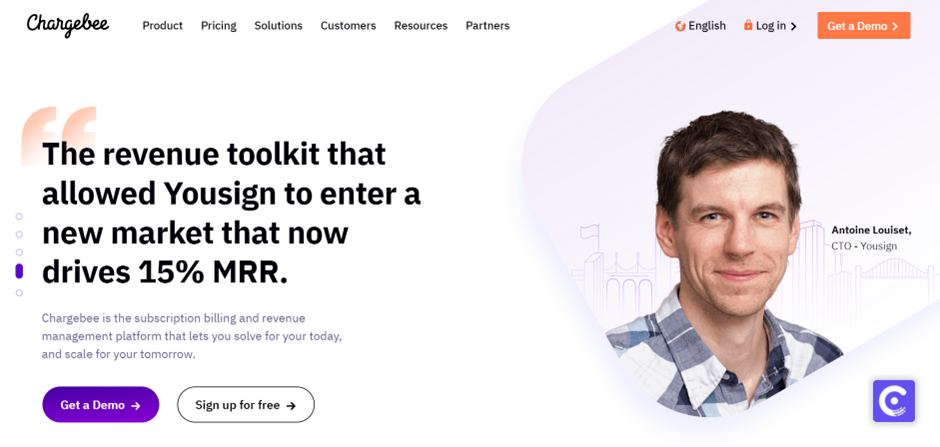 Utilize Chargebee's extremely well-liked subscription management and recurring billing tool to streamline your billing processes. You can automate billing, payment collection, and notification processes using Chargebee's robust interfaces.
A dependable integration ensures subscription charging with third-party apps like Xero, QuickBooks Online, NetSuite, MailChimp, Zendesk, Slack, and more.
Some of Chargebee's main features include dunning management; a product portfolio; cancellation management; m-revenue recognition; treasury administration; a self-service portal; usage tracking; revenue restoration tools; trial management; and so on.
Besides this, Chargebee's customer service system is excellent, which makes it very popular with users.
Stripe
Best Suited For: Organizations of any size.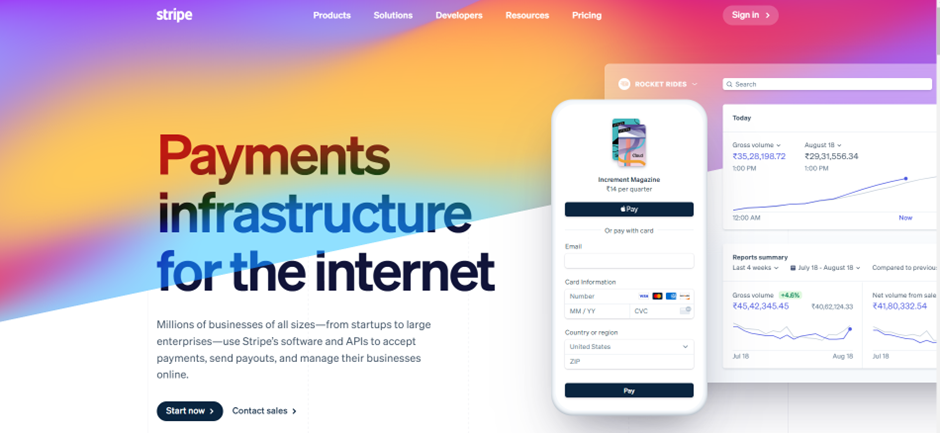 It is undoubtedly the most well-known subscription management tool, and thousands of companies of all sizes utilize it.
With its substantial collection of integrations, Stripe has made accepting credit cards and other forms of payment simple. For this reason, they may truthfully claim, "we build everything required to develop websites that collect money and transfer dividends globally."
And the most exciting part. All of this is accomplished by prioritizing data security above all else. As a result, businesses can easily oversee their subscription operations, make bills, and foil any efforts at fraud.
Stripe's features simplify processing ACH payments, managing recurring billing, and accepting mobile payments.
You can start using it for free once you sign up.
Chargify
Best Suited For: B2B SaaS businesses.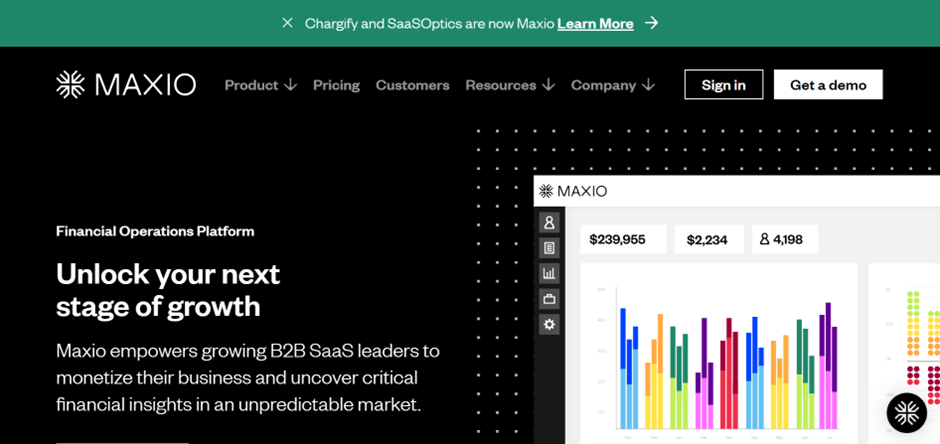 A subscription management tool called Chargify looks far further than just the surface of invoicing. The solutions go beyond simple billing in their pursuit of insights.
Elastic Billing from Chargify can help you revamp your subscription and price structure while keeping you one step ahead of the competition. Utilize event-based billing, gain a thorough insight into your recurring revenue business, and use Chargify to automate the quote-to-cash process.
Additionally, this subscription management tool makes it simple to trace payments and, upon request, reverse duplicate payments.
All things considered, Chargify does appear to be subscription management software worth considering for your business.
Sage Intacct
Best Suited For: Mid-sized organizations.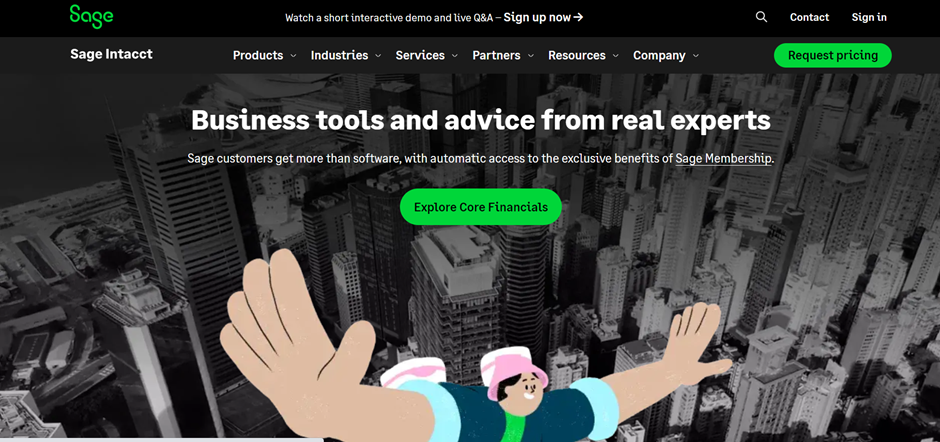 You can monitor and track subscriptions with Sage Intacct, a financial management tool.
Sage Intacct mostly caters to medium-sized businesses and serves over 11,000 companies worldwide. With the subscription management software in the cloud, you can see your company's finances in real-time while keeping them safe.
One of Sage Intacct's most well-known functions is dunning management. Other well-liked features include payment processing, recurring billing, deferred billing, multi-currency, recurring invoicing, a self-service portal, multi-period recurring billing, online invoicing, and configurable invoicing.
Sage Intacct continues to be one of its peers' fiercest competitors despite having so many features and more.
Verifone (2Checkout)
Best Suited For: Built specially for small or growing businesses.

You can manage and optimize subscription billing with 2Checkout, a complete subscription management tool. With this simple platform, you can control every revenue-generating stage of your customer's lifetime, including first orders, upgrades, bills, and renewals.
You may receive strong payment support for recurring billing from 2Checkout. With a subscription management solution, you can also reduce churn rates and grow active customers and subscriptions.
Some of the services offered by 2Checkout include automated dunning management, online bills, a billing portal, a contact database, hourly billing, fully configurable invoices, and mobile payment processing.
Recurly
Best Suited For: Appropriate for all businesses, from SMEs to international conglomerates.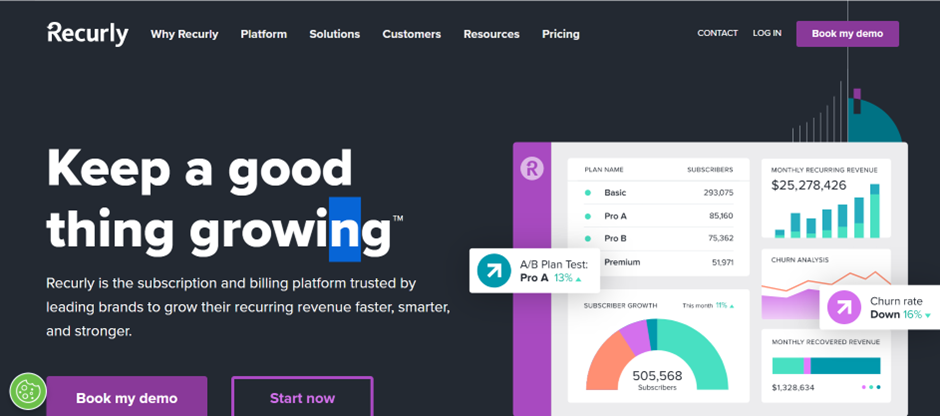 Recurly is a powerful subscription management tool that allows you to explore subscription models.
Reduce customer churn and increase monthly income by 12% by implementing a Revenue Optimization Engine powered by machine learning. Recurly's features include a self-service portal and tools for recurring invoicing, cancellation management, dunning management, multi-period recurring billing, and deferred billing.
Although Recurly is a fantastic tool, be aware of its high learning curve.
RELATED: The Best 360 Feedback Tool To Look Out 
Zoho Subscriptions
Best Suited For: Small to medium-sized businesses across a range of industries.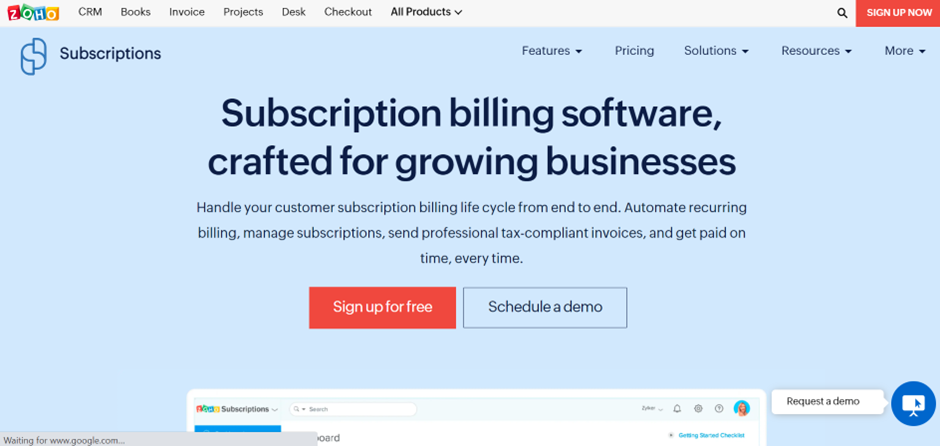 We bet you must have heard about this one. You can track subscription billing and invoice throughout the customer journey with the help of Zoho Subscriptions, an end-to-end subscription management tool. The platform also boasts a distinguished clientele, which includes some well-known names like EuroBox, HeadApp, Opinion, etc.
With such a technology in place, managing subscriptions is simple. You can schedule payment cycles, automate proration, maintain tax compliance, and store credit card information with high levels of data security.
Deferred billing, usage tracking, a self-service portal, tax administration, cancellation management, and trial management are other platform capabilities.
Additionally, the program is connected with the complete Zoho ecosystem, including projects and Zoho CRM. Therefore, you might find Zoho Subscriptions to be the perfect tool for you if you use Zoho's products frequently.
ProfitWell
Best Suited For: B2B and B2C Companies.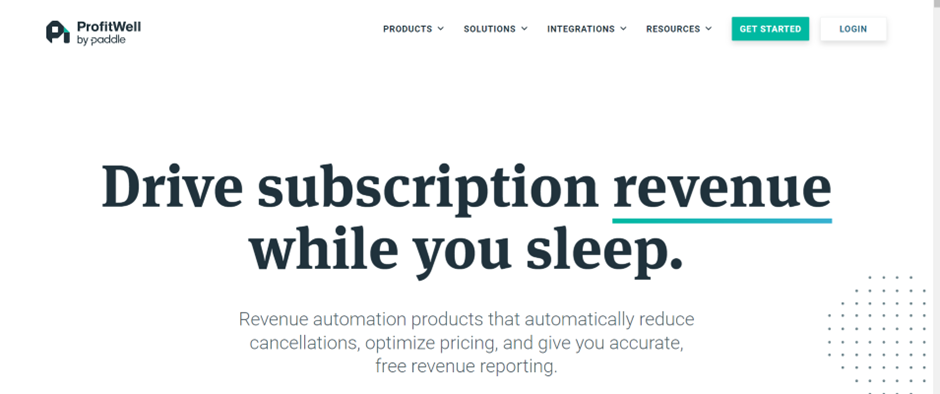 ProfitWell is a platform for subscription management that offers outcome-focused tools to help with pricing optimization and simple subscription administration.
A pricing Audit tracks the expansion of your pricing plan, while Retention Audit examines and identifies revenue leaks. Additionally, ProfitWell's subscription reporting and analytics allow you to obtain precise details.
The user-friendly subscription management tool is relatively simple to set up and does not have a steep learning curve. Moreover, ProfitWell's customer service team is attentive to your needs.
SaaSOptics
Best Suited For: B2B SaaS and other organizations.
For B2B SaaS and other subscription-based organizations, SaaSOptics offers an excellent subscription management tool, as the name would imply. With this reasonably priced subscription management software, you may use interfaces with systems like Quickbooks, Salesforce, etc.
Quickly get and distribute accurate invoice and revenue schedules, and instantly sync orders between your CRM and GL. Additionally, use SaaSOptics analytics and reports to obtain precise information about your subscription plan.
You can entirely do away with the need for spreadsheets and manage subscriptions painlessly with SaaSOptics' superb array of capabilities.
Zuora
Best Suited For: Businesses that want to deliver an exceptional subscriber experience.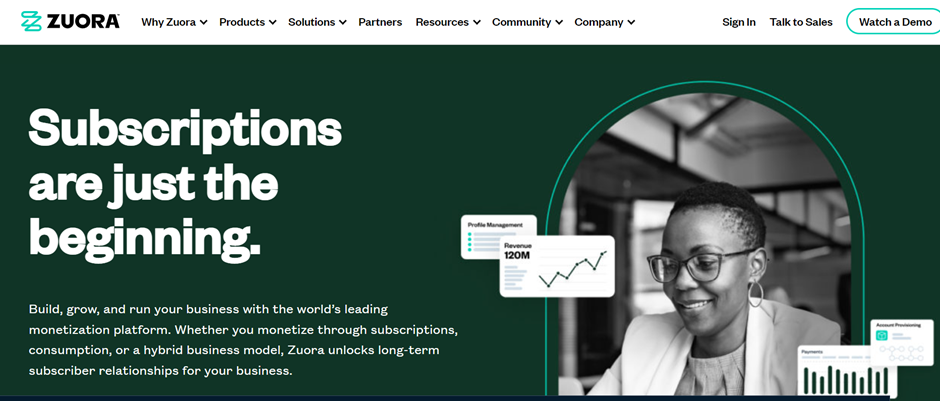 Leading subscription management tool Zuora assists in the real-time synchronization of your subscription order-to-cash processes. As a central hub for managing subscriptions and keeping up with marketing trends, Zuora provides several dependable services.
Automate payment and invoicing calculations for each customer while tracking and monitoring the subscription lifespan. Calculate the critical subscription metrics to gain insightful knowledge about subscriber behavior and revenue generation.
Zuora's prominent features include dunning management, revenue recognition, tax management, usage tracking, coupon administration, recurring billing, trial management, etc.
Ready To Future-Proof Your Business?
Sign-up for a FREE account and get a sneak peek into our intuitive survey dashboard panel.
Free Trial • No Payment Details Required • Cancel Anytime
Heena Shah – Content Writer at Sambodhi