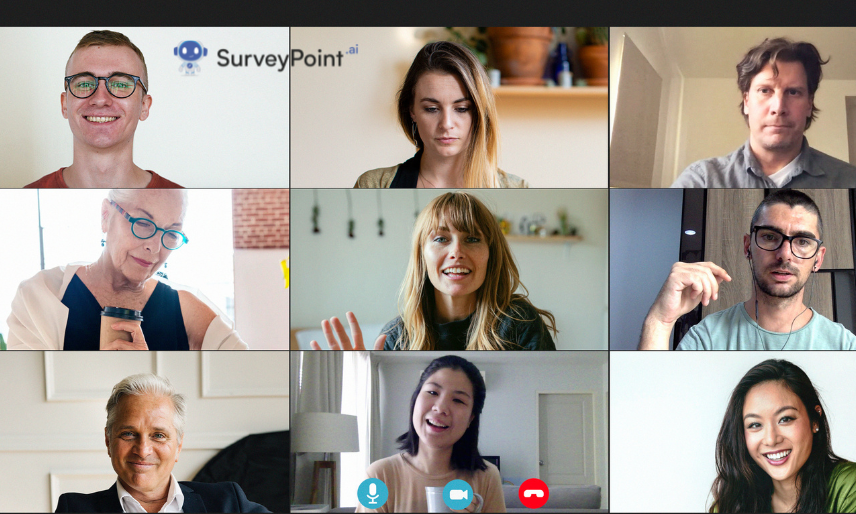 After the 2020 pandemic outbreak, Video Conferencing App have become a crucial business component. With video conference applications and interactive videos, online meeting apps offer unbreakable bonds that bring together friends, coworkers, and enterprises under one roof. 
According to Statista research, the global market for video conferencing applications was valued at $14.6 billion in 2021. By 2026, this is expected to treble and reach $27.3 billion. Based on research, we've created a list of the best video conferencing apps for 2023.
We have outlined the features and prices of the various video conferencing platforms to make things easy for you.
1) Zoom
With good reason, Zoom is the most widely used video conferencing app. It is an open-source platform for video conferences. The business world is excited about this ubiquitous video conferencing tool. It has a wide range of options depending on the needs and size of the business and is feature-rich.
Just clicking on the link will take you to the meeting. The excellent video, crisp audio, and quick screen-sharing capabilities of Zoom enable you to conduct meetings and collaborate with your team more effectively. This user-friendly video conference solution is compatible with many gadgets, including desktops and mobile. The SSL encryption used by Zoom also ensures safe video calls.
The caller can send private or group messages while the call is in progress. Additionally, you can share a video, your entire screen, a specific application, or just a portion of your screen. It is also possible to broadcast audio from your computer.
It is hard to find a better product than Zoom in dependability. Even if you have a shaky internet connection, your movie will play, albeit at a lower quality. It currently has one of the greatest whiteboards available, which makes it quite simple to quickly create a digital board with diagrams, pictures, and sticky notes. Closed captioning is supported along with real-time transcriptions.
Zoom Prices
You can use their free service for your own or your team's meetings. Millions of people around the world regularly utilise Zoom's free service. Sessions are 40 minutes long and are open to up to 100 people at no cost.
There's a monthly fee of $19.99 per host for corporations (with a minimum of 100 hosts). Up to 200 attendees, infinite cloud storage, custom emails, a vanity meeting URL, and more are all part of the enterprise-level membership.
2) Google Meet
At first, Google Meet was known as Google Hangouts Meet. Although Meet works as a web conferencing app rather than an app you download, it is a well-liked substitute for Zoom. The fact that the software doesn't need to be installed is an advantage.It is the best video conferencing app for online classes.
As a result of its easy integration with other Google apps, Google Meet is one of the most popular video conferencing apps among G-Suite users. You can access files from Google Drive while in a conversation and share them in chat without ending the session. Starting a call is as easy as clicking the call button in your Gmail inbox.
Language-specific captions are available on Google Meet. There is no doubt that its captioning is the best in the field of video conferencing. The whiteboard and hand raise features are also available to participants, which helps them learn languages.
In a lengthy video conference session, browser-based apps typically struggle. The same rule applies to Meet: noisy laptop fans and poor quality are caused by long calls.
The View-only mode on Meet allows for the joining of up to 100,000 people. In this mode, just the call leader will be visible and audible since other participants' videos will not appear. With endless meetings lasting up to 300 hours, Google Meet also provides 250 attendees and 24-hour online assistance.
Also Read: Your Complete Guide to YouTube Embed Video
Google Meet Prices
Being a part of Google Workspace Business Starter, the service is free for up to 100 participants for a maximum of 60 minutes. Paid options start at $6/month/user.
3) Cisco WebEx
Today, WebEx is undoubtedly among the top video conferencing applications available. The WebEx video conferencing solution from Cisco is a hybrid of voice calling and online conferencing. Based on a participant's location and capacity at the time, it allows them to join meetings either online or over the phone. The conference call's video quality is the key. 
A great whiteboard includes text, sticky notes, drawing capabilities, and even a "magic pen" option to clean up sloppy rectangles and circles. Even without sharing your screen, you can still share a document. It's an excellent approach for a group to brainstorm ideas for a project.
Cisco WebEx Prices
There is a free plan available for meetings with up to 100 participants, although it needs to improve key capabilities such as screen sharing and recordings. The Business plan's advanced team features start at $25 per user per month.
4) GoTo Meeting
GoToMeeting is a video conferencing tool for global cooperation that enables users to get to know their team. With its incredible features, you can simultaneously broadcast webinars to tens of thousands of users.
Scalability is increased by this app's high-end accessibility and dependability. Additionally, users can switch between the collaboration centre and the conference rooms as needed. End-to-end encryption provides very high security for meetings.
After downloading the GoToMeeting software, you may arrange meetings online, participate in conversations, share your screen, and give presentations to the audience. Use in-app messaging and whiteboards, record calls, hold limitless video conferences with time restrictions, and provide personalised meeting URLs to your team.
GoToMeeting Prices
The free version provides Meetings for up to 40 minutes. Groups with up to 10 attendees can pay $14 per month, while groups with 150 attendees can pay $29 per month.
5) Microsoft Teams
The video conferencing capabilities provided by Microsoft Teams is among the most powerful on the market. The application is a team management tool for mobile and online platforms. By creating a hybrid work plan, the team is able to collaborate more effectively. The tool allows for safe meeting interactions supported by excellent audio and video.
On MS Teams, the whiteboard is fantastic. Freehand drawings are allowed, and the application will smooth them out. In the most planned and concentrated way possible, it aids communication. It offers top-notch privacy and security protocols without sacrificing quality.
Even when there are long calls with many participants, teams' function effectively. You may host live events, 1:1 meeting, and video conferences with up to 10,000 attendees. Your team chat application saves the conversation from the meeting for future use. Meeting notes can be taken using a built-in function and distributed to the team after the meeting. It is even possible to share meeting transcripts that are generated automatically. 
With Microsoft Team, you may use a variety of video conferencing services, such as backdrop blur technology, call recording, live captioning, screen sharing, and more. Furthermore, this platform stands out in the industry as a pioneer in integrating video conferencing and digital workspaces, thanks to its integration with Microsoft 365.
MS Teams Prices
Most Microsoft Office versions have Teams as a free add-on. The software is also available for free.
The monthly fee for each user starts at $5. Depending on the plan, each month may cost $12.50.
Conclusion
Selecting top-notch video conferencing software is essential. You may host and attend meetings in the convenience of your home if you have effective video meeting software in place.
Online meetings offer interactions that are just as good or better than an in-person meeting in an office. A fantastic video conferencing tool can make your experience flawless, while a lousy one can make your life miserable.