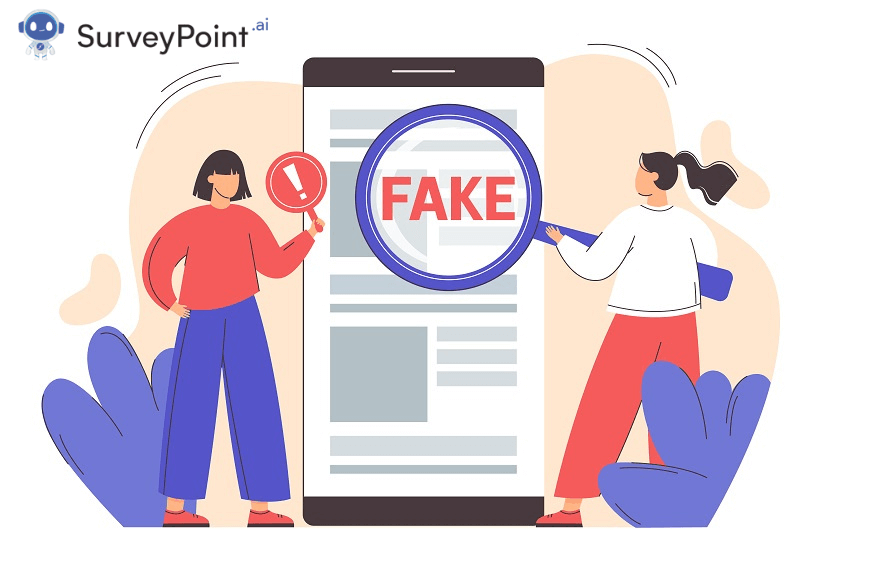 Today, most companies use online surveys to gain customer feedback— to improve their customer experience. However, there looms a big threat of scams to these businesses while they actively engage in conducting surveys.
The sector of online surveys is expanding significantly. As of 2019, the survey software industry was worth $4.87 billion, as reported by Knowledge Sourcing. It is projected that the market will increase at a CAGR of 16.04 percent, reaching $14 billion in value in the United States by the year 2026.
Whenever a market is growing rapidly, scams are always a possibility. Fortunately, fishing out a legitimate survey from fake ones is relatively easy when you are aware of the following red flags.
Spotting Non-legitimate Survey Online
Poorly written sending invites
Scammers often leave traces to identify their intent, and sending poorly written invites is one of them.
In scammed survey invites/forms, it is not uncommon or hard to detect:
Misspelled words
Inconsistent writing
Grammatical error
Syntactical errors
In case of facing any of these issues, concerned survey participants should evaluate or cross-verify if it is a legitimate survey at all. If a gut feeling arises: 'something is wrong'— they must exit without delay!
RELATED: Why Is It Important to Strategize Your Survey Invitation Right
Inconsistent progression
Suppose a big brand from the beauty and wellness industry sends another salon chain/company a survey invite to participate in a Keratin treatment-based survey. The official joins in being allured to the surveyor's promise of a 15% discount on the salon's next purchase of products from the brand.
But as soon as he presses the "ok" button to proceed further, the man is redirected to an entirely new survey page— surveying Himalayan spa preferences. Somehow the official still participates and fills in the form. And after completion, he is notified by the surveyors to win a cash prize of US$1000— "to be received at the concerned brand's bank account."
Do you notice the inconsistency?
From a 15% discount to winning the prize money worth $1000— the official took a round-trip of survey fraud.
Digging dip in furnishing personal detail
Pre-Screening is a common practice among scammers to phish for information cleverly. They conduct false pre-screening tests that ultimately provide them with lots of personal information about the sender, who is supposedly a professional for a brand.
The pre-screening tests are full of questions asking to input sensitive data. By tricking professionals, these tests can enable scammers to get access to the private data pool of a business's customer base.
Scammers can steal sensitive information from professionals and use it for illegal purposes, including extortion, blackmail, software deployment, infiltration into accounts, etc.
If you ever encounter a situation like this one, you should run!
Keeping the sender's information false
One of the most efficient steps to fish out a legitimate survey from a scam is to check the address bar of the company's website.
There are a few steps to detect a malicious URL:
Checking if the URL is too short or its source cannot be read. By clicking these URLs, one can allow malware functions to slip in. A professional can further use ExpandURL.net, CheckShortURL, and URLexpander to verify where the link leads at last.
Looking for extra words behind the real business name. For e.g., www.lorealparis-luxurybeautyproducts.com. One should stay away from these links— generally, they are scams.
Being cautious about misspelled words in an URL as they are a potential scam indicator. Coming across something like this, one should immediately stop proceeding with the survey.
Entering an URL that asks for suspicious private information will redirect the user to a completely different website.
Many professionals glancing at the lock icon on a website's tail mistakenly consider it safe. The lock icon only means the connection to the website is safe. However, it doesn't prove that the website belongs to the company mentioned.
RELATED: How To Avoid Fraudulent Data During Online Surveys?
Tempting free prizes
Scammers highly target businesses via offers like issuing free software add-ons (or likewise) for a smoother operational experience. These add-ons are enough to steal a business's private data.
Induced urgency
Scam surveys frequently use time-sensitive language, such as "only accessible for a short time," "Fill up at the earliest to win prizes," "today is the last day to earn a cash prize of US$500 for completing the survey," etc.
A legitimate business, whether B2B or B2C, will never use tactics like these to coerce customers into taking surveys.
Surveys require a lot of honest answers from participants, so at the very least, they take their time with the form-filling process.
How Can You Segregate Legitimate Surveys From Scams?
As scammers keep evolving their technique to fraud people, identifying such intents is becoming tough even for a professional. However, we here enlist a few steps to help you safeguard private information regarding your workplace.
Install online tools
There are many Machine Learning-based online tools available on the internet that can automatically identify fake surveys. They are generally up to 90% accurate. Professionals can use these tools to minimize their chances of falling prey to a scam.
RELATED: The Best Online Survey Tools Checklist
Registering on research panels
One good way to only expose a company to legitimate surveys is to register it on paid survey platforms that only dedicate their time to survey-based research. One can find legitimate surveys here that match one's criteria to participate safely.
Nevertheless, you should refrain from participating in surveys or contests on these platforms, even if you are offered attractive prizes for sharing your private work information.
In case one feels legit companies are giving rewards or benefits to one's organization for participating in their surveys— it is safe to accept them via e-wallet.
Think Twice about putting sensitive information
Experts should always look for the survey sender's privacy policy and follow the rules given there in full to protect their clients from falling victim to scammers. Only with the company's approval should sensitive information be shared with outside parties.
To Wrap Up…
One-click can save your company's money and security, or it might put it at risk. Understanding how to spot ad fraud and online survey scams might be challenging, but there are indicators to look out for. By pausing for thought and doing some research, you can protect your personal information and reputation from fraud.
Our goal at SurveyPoint is twofold: to enlighten users and to inspire readers to exercise caution while disclosing personal information online. It usually only takes one click to either avoid or fall prey to online fraud and phishing attempts. Keep these safety measures in mind to avoid falling victim to fake online surveys.
Learn to work smarter, not harder!
Use our intuitive survey dashboard panel to identify respondents in even the most niche markets.
Free Trial • Cancel Anytime • No Credit Card Required