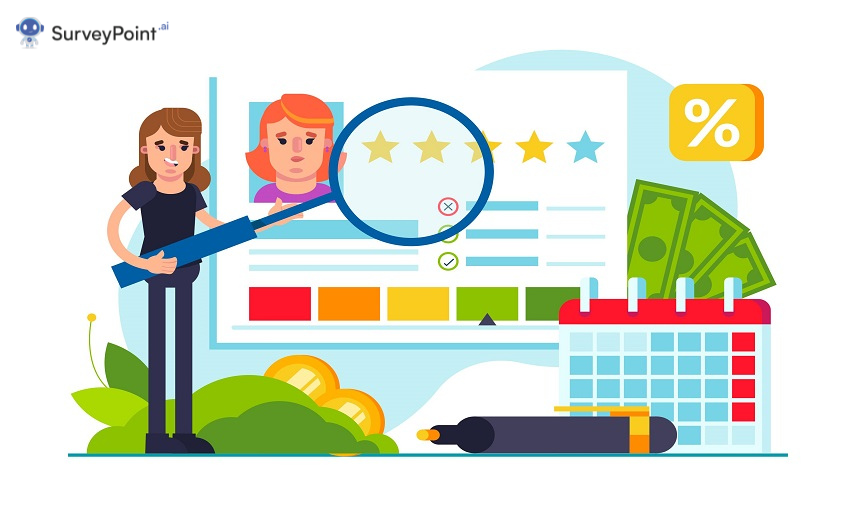 In-depth monetary information can be requested in income survey questions. Such information is frequently needed by governmental organizations, banking institutions, etc. such questionnaires ask a series of questions to get data on the respondent's income and that of their family. For instance, a credit eligibility questionnaire, a questionnaire on rental income, etc.
This article will look at tips to make the perfect Income Survey Questionnaire. We have also included a sample income survey questionnaire for readers to get a range of questions that can be asked for such surveys. Read on to know more!
What are the Income Survey Questions?
An income survey is a questionnaire used to assess a person's financial situation. They are a component of a demographic survey that shows a respondent's economic condition.
Questions on income surveys may be delicate. They provide information about a person's annual income, whether household or individual. Some organizations, like banks, restaurants, and merchants, among others, require information to make well-informed business decisions.
Researchers can use information from income survey questions to identify the ideal target market, carry out pricing research, and much more. It assists the researcher in developing a detailed understanding of the audience. To determine the proper pricing for their items, survey questions about income might be sent by researchers to the target market.
How to Ask Income in a Questionnaire
A person's income can be a sensitive topic to ask. Not everyone will feel comfortable talking about their financial situation. Remember the following tips when conducting an income survey so that the respondents can answer as truthfully as possible.
Know your target market. The researcher should be aware of the respondent before asking questions about income. He is responsible for ensuring that respondents can understand the questions posed.
For example, only adults, not students, may be asked about their income in surveys.
Give clear instructions. To ensure the respondent accurately understands the questions and to prevent confusion. These inquiries ought to be accompanied by clear directions.
Personal income, household income, etc., are a few examples.
Relevance of the questions. The significance of the questions will cause variation in participation rates for your survey. Avoid asking several questions about the person's salary if your research doesn't require exact details.
For instance, if the purpose of the survey is not to obtain data about the respondent's financial capabilities, a sequence of questions on income should be avoided.
Using the correct question language. Always ask the question carefully to avoid offending or annoying the respondents. Select the appropriate range and the "others" option.
Use a range of numbers. It can be challenging to provide a precise numerical response to the question about income. Many respondents said they would rather keep their exact salary private. Therefore, it is appropriate to go with a range of income when addressing a question of this nature.
Describe the intended use of the data. Being truthful with the respondent is crucial in making them feel at ease. Inform them of the purpose of your confidential income survey inquiry. The respondents may be more willing to provide honest responses if they know your survey's objectives upfront.
You Must Read: Training Needs Assessment Survey Template
Sample Income Survey Questionnaire
What is your gender?
Which type of geographical area do you reside in?
Center of the city
Urban
Suburban
Countryside
What is your marital status?
Married
Unmarried
Living in with a partner
Separated/Divorced
Widowed
What's your highest level of education?
No formal Education
High School Diploma
College Degree
Vocational Training
Bachelor's Degree
Master's Degree
Professional Degree
Doctorate Degree
Other
What's your work status?
Employed
Self-employed/Freelance
Interning
Part-time
Unemployed- Looking for work
Unemployed – Not looking for work
Homemaker
Studying
Military/Forces
Retired
Not able to work
Other
How many children live in your family?
How many adults live in your family?
In your household, who is in charge of making financial decisions?
You
You and your partner
You and a member of your family
Others
What was your personal income last year?
>$20,000
$25,000 to 50,000
$50,000 to 75,000
$75 000 to 100,000
>$100 000
What's your family's monthly income?
< $20K
$20-50K
$50-70K
$70-100K
>$100K
Do you have an income source other than a salary?
Did you receive any social benefits income in the last year?
Did you earn any money from stocks/bonds/real estate last year?
Have you received alimony in the last year?
Have you received any income which is exempted from taxes?
Did you receive any monetary contribution for child support in the last year?
Please list all your income sources.
Does your income match your expenses?
How regularly do you keep financial records for your family?
Every financial expenditure our family makes(large or small) is tracked.
We do keep financial records, but not all of them.
We don't like keeping financial records.
We don't keep financial records.
How often have you borrowed money to repay other debts?
Regularly
Very Often
Occasionally
Never
What are the chances of you and your family running out of finances before you are paid next?
Very High
High
Low
Very Low
Never
What usually happens if you and your family run out of money?
We begin to use our savings.
We budget our spending and make every effort to conserve money.
We take out loans from relatives or friends.
We use our credit cards.
To make some extra money, we start working second jobs or work more hours than our regular ones.
Others
What do you do with your savings?
We keep it as it is
We spend it on household goods
We invest it in a profitable market
We loan it to friends or family
others
What are the chances of you and your family running out of finances before your next pay?
Very High
High
Low
Very Low
Never
In the last two years, have you or your family members faced a sudden decrease in income?
No, thankfully, neither my family members nor I have faced a reduction in income.
Unfortunately, due to ill health, an accident, or unforeseen circumstances, one of us faced a drastic income reduction.
Yes, unfortunately, one of us got terminated from work in the recent past, which caused a drastic decrease in income.
Yes, due to divorce or breakup, we faced a drastic income reduction.
Yes, due to retirement.
Conclusion
Building an income Question Survey demands skill that helps better understand your audience's characteristics. It will be easier to create surveys that respondents can accept and answer honestly if you know your target well, have precise instructions, clear and relevant language, and have ranges with acceptable limitations.
With these practical survey tips, you'll be ready to gather client demographic data that your company can use. To design your next survey, create a free account with SurveyPoint and enjoy their templates and analytics dashboard.