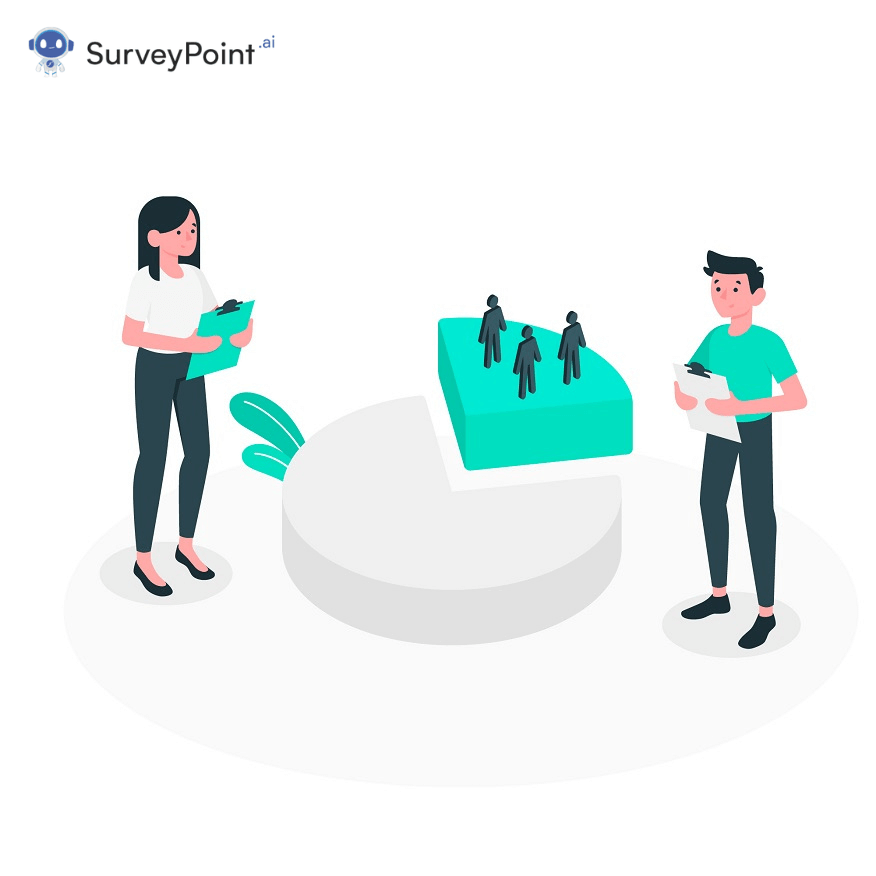 Understanding customer behavior has become crucial for developing effective marketing strategies in today's highly competitive business world. Behavioral segmentation is a powerful technique that helps businesses to understand their customers' behaviors, preferences, and needs. 
Companies can develop targeted marketing campaigns by segmenting the target market based on their behaviors or interactions with products or services. 
In this blog post, let's explore behavioral segmentation, its types, how businesses can use it to improve their marketing strategy, and its associated challenges.
What's Behavioral Segmentation?
Behavioral segmentation divides a target market into groups based on how customers behave or interact with a product or service. It is similar to a data-driven approach focusing on understanding customers' actions and decisions when interacting with a product or service. 
Behavioral segmentation differs from other forms of segmentation, such as demographic or geographic segmentation. It focuses on actual customer behavior rather than external factors like age, gender, or location. 
Some examples of behavioral segmentation include purchase behavior, product usage behavior, decision-making behavior, and loyalty behavior. 
Businesses need behavioral segmentation to understand what drives customer behavior and how to serve them better.
Types of Behavioral Segmentation
Here are different types of segmentation when analyzing behavior: 
A. Purchasing behavior
Frequency of purchase: This type of segmentation is based on how frequently customers purchase a product or service.
Amount spent per purchase: This type of segmentation is based on how much customers spend on each purchase.
Purchase occasions: This type of segmentation is based on why customers make a purchase, such as for a special occasion or daily use.
B. Product usage behavior
Heavy users vs. light users: This type of segmentation is based on how often customers use a product or service.
Occasional users vs. non-users: This type of segmentation is based on how often customers use a product or service.
Benefits sought: This type of segmentation is based on the specific benefits customers seek from a product or service.
C. Decision-making behavior
Decision-making process: This type of segmentation is based on customers' decision-making process when purchasing.
Decision-making criteria: This type of segmentation is based on the specific criteria customers use to make a purchase decision.
Attitudes towards decision-making: This type of segmentation is based on customers' attitudes towards the decision-making process.
D. Loyalty behavior
Brand loyalty: This type of segmentation is based on customers' loyalty to a particular brand.
Store loyalty: This type of segmentation is based on customers' loyalty to one specific store.
Product loyalty: This type of segmentation is based on customers' commitment to a particular product or service.
Steps to Conduct Behavioral Segmentation 
Businesses must follow these steps in order to conduct behavioral segmentation:
Identify the target market
To start with, you must identify your target market and the offered product or service.
Gather data
The second step is to gather data on customer behavior. A variety of primary and secondary sources of data can be collected, such as surveys and focus groups.
Analyze the data
Next, start with analyzing the data to identify patterns and trends in customer behavior. You can identify these patterns using techniques such as clustering and regression analysis.
Develop segments
The fourth step is to develop segments based on the patterns identified in the data. You should name and describe each component and determine its size.
Profile segments
The fifth step is to profile each segment based on its characteristics, such as demographics, psychographics, and behavior. For each segment, marketing campaigns can be designed based on this information.
Test and refine
The final step is to test the segmentation and refine it based on feedback and results. Monitoring customer behavior is vital to ensure the segmentation remains relevant over time.
RELATED: Know the Market Research Challenges with its Solutions 
Uses of Behavioral Segmentation
Behavioral segmentation has many uses in marketing, including:
Targeted marketing
Behavioral segmentation allows businesses to develop targeted marketing campaigns that resonate with specific customer groups. 
By tailoring marketing messages and promotions to the needs and preferences of each segment, companies can improve the effectiveness of their marketing efforts.
Product development
Understanding customer behavior can also inform product development. By identifying customer needs and preferences, businesses can develop products that better meet the needs of their target customers.
Customer retention
Retaining customers can be improved using behavioral segmentation. Businesses can increase customer lifetime value by identifying loyal customers and understanding why they are loyal.
Pricing strategy
Behavioral segmentation can also inform pricing strategy. When businesses have a firm grasp on how much customers value a product or service, they are better able to set prices that attract and retain customers while bringing in maximum profit.
Challenges of Behavioral Segmentation 
Businesses need to be aware of some challenges when using behavioral segmentation. These include:
Data collection: Gathering accurate and relevant data on customer behavior can be challenging, especially for small businesses with limited resources.
Analysis: Analyzing data can also be challenging, requiring specialized skills and knowledge.
Over-segmentation: Oversegmentation can also be a problem, as businesses may create too many segments that are too small to be valid.
Changing behavior: Customer behavior is constantly evolving, so businesses need to be vigilant and adapt their segmentation strategies accordingly.
RELATED: Maximizing Your Survey Results: How to Identify Survey Target Audience 
Conclusion
The ability to categorize clients based on their behaviors is a powerful tool that can aid in developing more effective advertising campaigns. Companies can increase customer retention, product innovation, and receptivity to marketing messages by segmenting their target market based on consumer behavior.
While there are challenges associated with behavioral segmentation, businesses that overcome these challenges can reap significant benefits. By understanding customer behavior, companies can stay ahead of the competition and build strong, long-lasting relationships with their customers.
Want To Take The Hassle Out Of Your Research Analysis? 
Explore our solutions that help researchers collect accurate insights, boost ROI, and retain respondents.
Free Trial • No Payment Details Required • Cancel Anytime